BEUMER showcases new pouch technology at LogiMAT
6th June 2022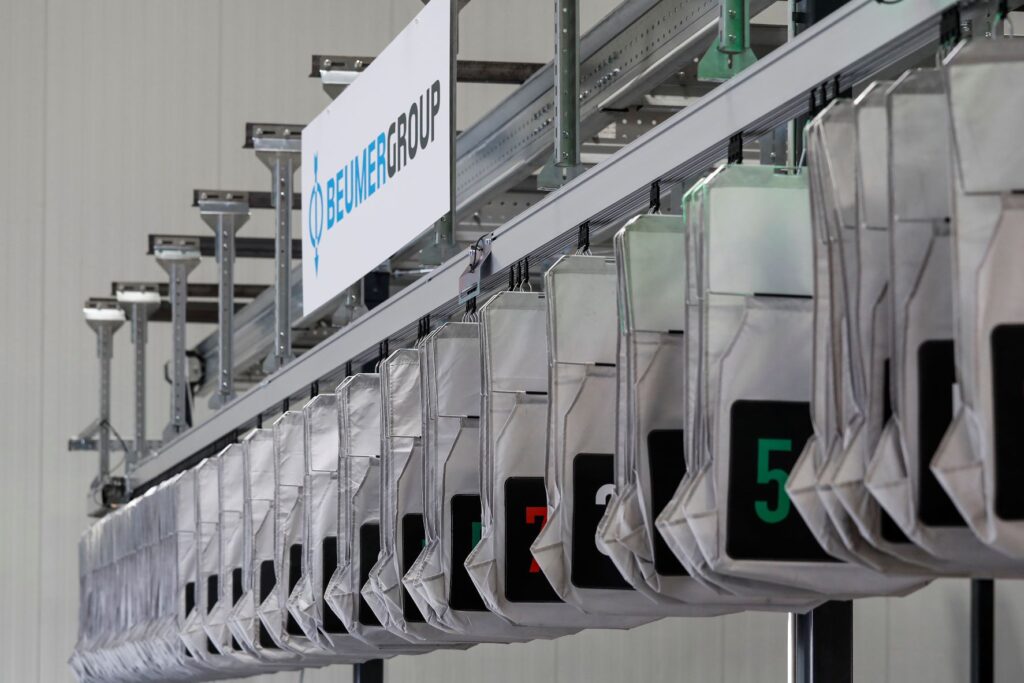 BEUMER Group's BG Pouch System can meet the growing demands of e-commerce fulfilment – and the combination of retail and D2C. The operator benefits from simplified returns handling because dynamic buffering eliminates the need for re-storage and picking. The sorter increases throughput by 25% compared to conventional pocket sorters. It requires little space and is suitable for a wide range of items – from high-tech to high heels. BEUMER Group presented the BG Pouch System to the German public for the first time at the recent LogiMAT 2022 event.
This innovative system, which was developed in response to shifting market trends and customer demands, expands BEUMER Group's offering for the warehouse and distribution industry. Making great use of available space, the BG Pouch System can be installed in unused overhead areas where single items can be buffered, sorted and sequenced to automate the order handling and returns processes, reducing floor space requirements by up to 30%. The modularity of the system means that it can easily be scaled up with minimal installation time.
The system features a capacity of 10,000 items per hour per sortation module, allowing logistics centres to flatten their handling peaks and reduce the amount of manual handling to dramatically improve overall logistics efficiency. The system has an item capacity of 7kg, making it ideally suited to handling fashion goods such as shoes and garments on hangers, as well as print and media, pharmaceutical and beauty products, and electronics.
Pouch sorting increases efficiency by reducing the number of touch points, which is particularly critical for handling returns. The BG Pouch System facilitates the e-commerce driven demand for fast cycle times. Reverse logistics efficiency can also be improved by effective handling of returns using built-in interim storage for returned products.
Different types of products, held for different clients and destined for different types of shipping, can be held in a single intelligent storage system. As the BG Pouch System is a single item handling system (one item per pouch) the warehouse management system can move the relevant item from this buffer for packing swiftly without any human touch. This means that returned goods can be sent for shipment direct from the dynamic buffer without ever being sent back to the main storage area for re-picking. For logistics operators handling a diverse array of goods, this flexibility can prove invaluable for both outbound items and returns.
The system has already seen successful use in Italy, where international fashion brand Calzedonia Group implemented BEUMER Group's pouch technology to optimise e-commerce operations for its Tezenis brand. The company had seen a steady rise in its direct-to-consumer business, and needed to optimise its despatch operations to handle this growth while raising the level of efficiency and customer service. Following the installation, Calzedonia Group has transformed its warehouse, optimising it for omnichannel operations while continuing to achieve high efficiency in handling and fulfilment. Calzedonia Group has joined some of the world's leading warehouse and distribution operators in embracing BEUMER Group's solutions, along with companies including Nike, Foot Locker and ASOS.
BEUMER Group can facilitate the entire process of installing the pouch sortation solution through every stage, from the selection of the solution, through design, build, test, implementation, training, maintenance and growth. As well as operating independently with its own technology, BEUMER will also act as a full-service integrator throughout the process, working with third-party suppliers to provide a complete system.