Automation strengthens competitiveness of automotive supplier
14th October 2022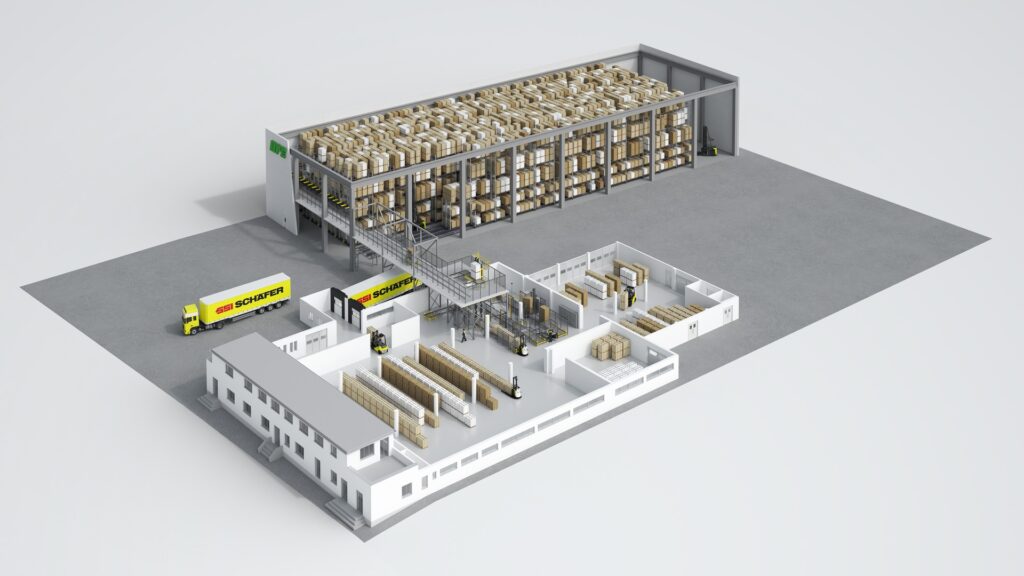 In the wake of global growth and increasingly restrictive customer requirements, MPE Plastics in Turin, Italy, has decided to start its automation journey by implementing a state-of-the-art, holistic semi-automated intralogistics solution by SSI Schaefer. The solution combines a mobile racking system with 5,100 pallet storage locations and automated guided vehicles (AGVs), which were integrated into the existing process. The Italian automotive supplier gains significant space and time, which can be used to accommodate further business growth.
Increased industry-specific requirements
As a supplier of thermoplastic precision parts for the automotive industry, MPE Srl has operated in a demanding market for more than 40 years and has established the company as a top provider on a national and international level. High quality standards for its own products and services, as well as a customer-focused mindset, were crucial for its success and continuous expansion. These values also encompass having to meet increasingly strict just-in-time, just-in-sequence and Kanban specifications, which demand a high level of responsiveness and reliable availability of goods.
"Fast processing times and reliability have always been the focal point of our business and are important for continuous improvement," says Riccardo Battagliotti, Managing Director at MPE Plastics. "Considering the growing order volume and market requirements, it was a logical decision to assess our internal dynamics and logistical processes in the warehouse and shipping area, and to change from a manual warehouse to a semi-automated warehouse."
The new solution had to be integrated into two existing halls with limited space and will help MPE reduce operating and personnel costs.
High system availability required
After extensive market research, MPE opted for a combined system solution by SSI Schaefer, consisting of mobile racks and automated guided vehicles. The expected total capacity of 5,100 storage locations and a technical performance of 20 pallets per hour in a single-shift operation can be progressively increased further over time.
"We have evaluated offers with similar ambitious automation projects of different companies in Europe," reports Battagliotti. "The possible storage density of the SSI Schaefer solution concept was significantly higher than of other companies. This allowed us to generate a maximum number of storage locations for the available storage volume and benefit from faster order processing at the same time."
The space gained, thanks to the installation of mobile racks, can be used to increase production capacities while also expanding the product range. Moreover, the process quality is improved with the help of AGVs, as the vehicles reliably carry out their work without interruption, even in a 16-hour operation. The AGVs also prevent excessive manual transport of individual parts between the warehouse and production.
"In this way, we work more efficiently and are able to better meet our delivery deadlines," continues Battagliotti. In addition to the consulting and solution competence, the fact that all performance modules are delivered from a single source and that there is one contact person from integration to after-sales service was convincing when choosing SSI Schaefer. There are no interfaces between sub-systems that need to be maintained and communication problems are eliminated.
Semi-automation for work flow optimisation
In the automotive industry, cost pressure is particularly high and demands suppliers to offer continuously high quality standards at compelling prices. In order to remain competitive in the long run, new participants in this segment have to find ways to reduce operating costs, especially in terms of energy, and to offset ever-increasing labour costs. Furthermore, on-time delivery (OTD) is key. This factor measures the provided services and requires stock management as well as constant work and material flow.
Therefore, investing in semi-automation was for MPE Plastics an appropriate response to low picking performance that was increasingly jeopardising delivery quality and deadlines. Employing more staff was the only way to compensate for this poor picking performance, which in turn contradicted the strategy of cost reduction. Productivity was also impaired by numerous material buffers that took up space and caused long product-picking times and hence hindered order processing. Against this background, a system solution was called for that was able to comprehensively face these challenges. A short payback period was also important for MPE.
Process quality improved
The installation of the mobile racking system with 5,100 pallet storage locations within the existing building structures, and the commissioning of the AGVs, only took seven months. Both buildings are connected by a bridge at a height of six meters. Pallets with goods from production are transferred to a conveyor belt, lifted vertically to the second level and fed into the mobile racking system. AGVs carry out the storage of pallets as well as the retrieval of required load carriers, their transport and provision to the shipping area.
Thanks to this interlinked whole-site system, MPE Plastics gained space, stabilised material flow on a constantly high level and reduced costs in the long run. "The performance rate per hour guaranteed by SSI Schaefer was achieved immediately after commissioning," states Battagliotti. "We were also able to gradually achieve the target of 32 pallets per hour, a significant increase in performance compared to the initial situation, which was characterised by manual processes that put high physical strain on our employees."
Thanks to the automation of the storage and retrieval processes, the error rate also tends to be zero.
Perfect OTD performance
Today, all inbound and outbound operations meet internal and external requirements and are performed with the help of mobile racking systems and AGVs in a two-shift operation. "We are very satisfied with what we have achieved together with SSI Schaefer, especially since they have also reliably offered support during the initial operation of the semi-automated intralogistics solution," sums up Battagliotti. "For us, it was very helpful to trust in a full-service provider and to have one contact person for all kinds of questions."
The extensive training of the employees on the new system also contributed to securing the competitiveness of the automotive supplier in a very dynamic market. All requirements were fully met, which enables MPE Plastics to provide their demanding customers from the OEM sector with fast and reliable service thanks to further improved OTD performance.