Witron Embarks on Biggest-Ever Single Integration Project
20th January 2020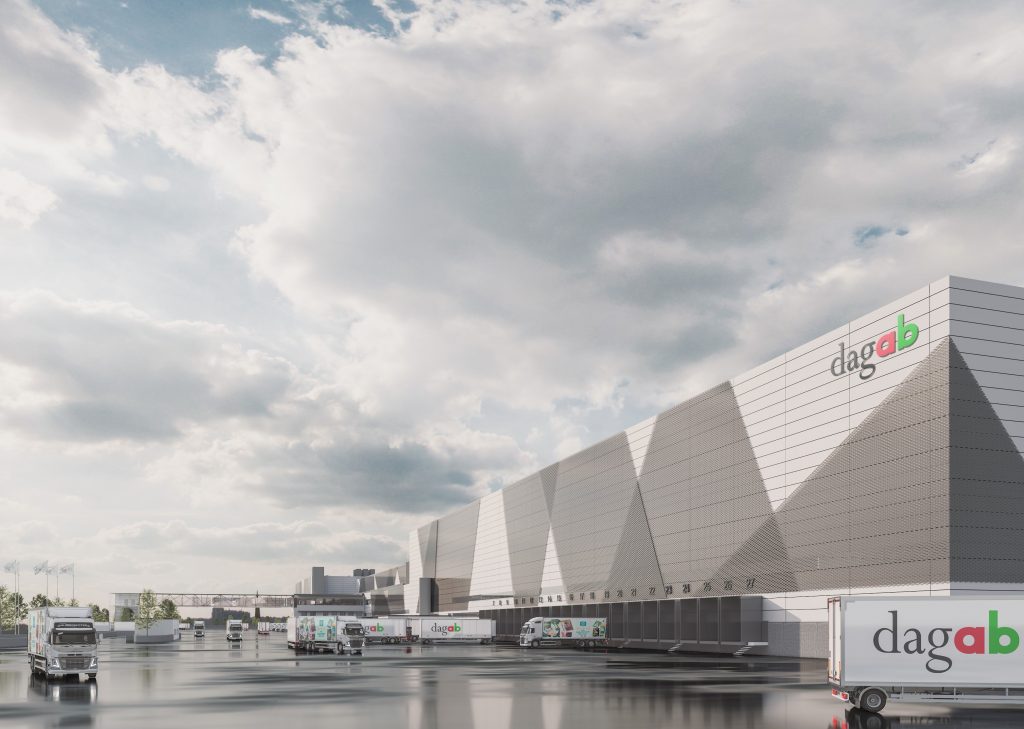 Systems integrator Witron is carrying out the largest single project in its company history to date.
By the end of 2023, the Parkstein-based firm will have implemented a highly automated logistics centre of more than 100,000 square metres / 328,000 square feet for food retailer Axfood near Stockholm. The warehouse will handle picking and deliveries to Axfood's stores as well as to online customers and will coordinate large parts of the logistics operations for the Stockholm area as well as areas to the north, which today account for approximately 60% of Axfood's volumes. The temperature zones range from +25 degrees Celsius to minus 26 degrees Celsius. The system is designed for a daily pick capacity of approx. 1.6 million pick units. The order value amounts to €240 million.
"The Omni-Channel solution designed by the family-owned company Witron allows us to have a flexible, efficient, and sustainable supply chain – both for the store-friendly supply of our stores and the fast-growing online food business. With this investment, we are taking a big step towards the future together with Witron and are strengthening the competitiveness of the entire Axfood family", says Klas Balkow, President and CEO of Axfood.
1.6 million pick units per day
On a peak day, the Case Picking Systems OPM (Order Picking Machinery) and CPS (Car Picking System) as well as the Piece Picking Systems AIO (All-In-One Order Fulfilment), DPS (Dynamic Picking System), and OPS (Order Picking System) pick almost 1.6 million units.
Depending on the respective distribution channel, the goods are delivered using a wide variety of different load carriers: store-friendly packed pallets and roll containers, deep-freeze containers, totes, delivery boxes, environmentally friendly paper bags. Innovative algorithms for every store or online order ensure an efficient consolidation from different product and temperature zones as well as a space-saving stacking onto or into the optimal shipping container.
Buffer ensures highly-efficient outbound and dispatch
The fully automated shipping buffer plays a decisive role in the closely linked and highly integrated Axfood DC. On the one hand, it significantly reduces the amount of required space and the number of staff in the dispatch area. On the other hand, the shipping buffer intelligently connects and decouples order picking with the shipping area in terms of "excellence operation". Thus, all shipping units are made available for loading in the dispatch area by means of stacker cranes and heavy-duty lanes – "just in time" sorted by routes and stores, in the optimal trailer loading sequence, and taking into account storage space utilization. Thanks to the dynamic storage of the picked customer orders in the shipping buffer, picking can continue even in highly dynamic phases, where no loading takes place, without the dispatch zone being overfilled and vice versa: loading is possible even if there is no order picking.
The provision of E-Commerce orders for shipping was also elegantly solved. Here, the totes are sorted and stacked fully automatically by a route sequence buffer immediately after picking so that the employee in the dispatch area can load them into the respective trailer according to the tour and sequence.
Lifecycle partner
As a lifecycle partner and general contractor, Witron develops all IT, control, and mechanical components. The impressive facility with a length of 570 m / 765 yards, a width of 180 m / 196 yards, and a height of 34 m / 37 yards will provide more than 700,000 storage locations and integrate 200+ stacker cranes, connected by a 30 km / 18 mile long conveyor network system. A Witron OnSite team responsible for the system operation, maintenance, and service ensures a permanently high availability of all components and processes around the clock – 365 days a year.
The logistics centre will be controlled by a multi-functional Warehouse Management System including open interfaces from the WMS to the customer's supplier systems, route scheduling systems, and sales systems. "Smart data, a "digital twin", as well as an "intelligent control station" support the logistics staff in making decisions and optimally operating the system.
End-to-end supply chain intelligence
Today, it is no longer sufficient for only the logistics centre to be economical, efficient, and flexible. The project must be successful in an "end-to-end" way. Due to the complexity of the tasks – supply of all distribution channels from one logistics centre, extremely dynamic business processes, very high throughput both in the store and digital business – an integrated supply chain intelligence is required that optimally integrates the DC into Axfood's entire logistics network – internally and externally – as well as vertically and horizontally. From the supplier, over the logistics centre and the transportation to the stores or home delivery", explains Jack Kuypers, Witron's Vice President for the North West Europe sales region. "This requires an exact understanding of the customer's processes – both the store and online business. Based on this foundation, Axfood's project goals – high cost-efficiency, high delivery reliability, best delivery quality, and assortment expansion – can actually be implemented as "end-to-end".
Hybrid model cost-efficiency 
"But the end-to-end integration is only one of the goals – it is as least as important to operate the two business channels, store and online, cost-efficiently. And that's exactly what this hybrid model will do", emphasizes Kuypers. "The result is a multi-functional logistics node that can be used with the same technology, the same workforce, and the same fleet of vehicles to handle both store and online business".
The result for the customer is a increase of cost-efficiency and sustainability. "Efficient logistics through high transparency, order consolidation, efficient transport routes through network and route effects. The same goes for flexibility in case of sales fluctuations in the various distribution channels, real-time reaction to changes of the internal and external frame conditions, resources in terms of staff and machines", adds Jack Kuypers to the numerous benefits.
"It feels right to be working with Witron on this project", says Nicholas Pettersson, President of Dagab, Axfood's procurement and logistics company. "Because Witron is an established and strong partner who not only has the necessary know-how to successfully implement such a project in this dimension. Witron also lives a corporate culture that fits very well with our culture – and I believe that this is a decisive success factor in the implementation of such a demanding logistics initiative. Technology and culture must fit together".