Witron Automates Omnichannel for Netherlands Supermarket Giant
12th October 2018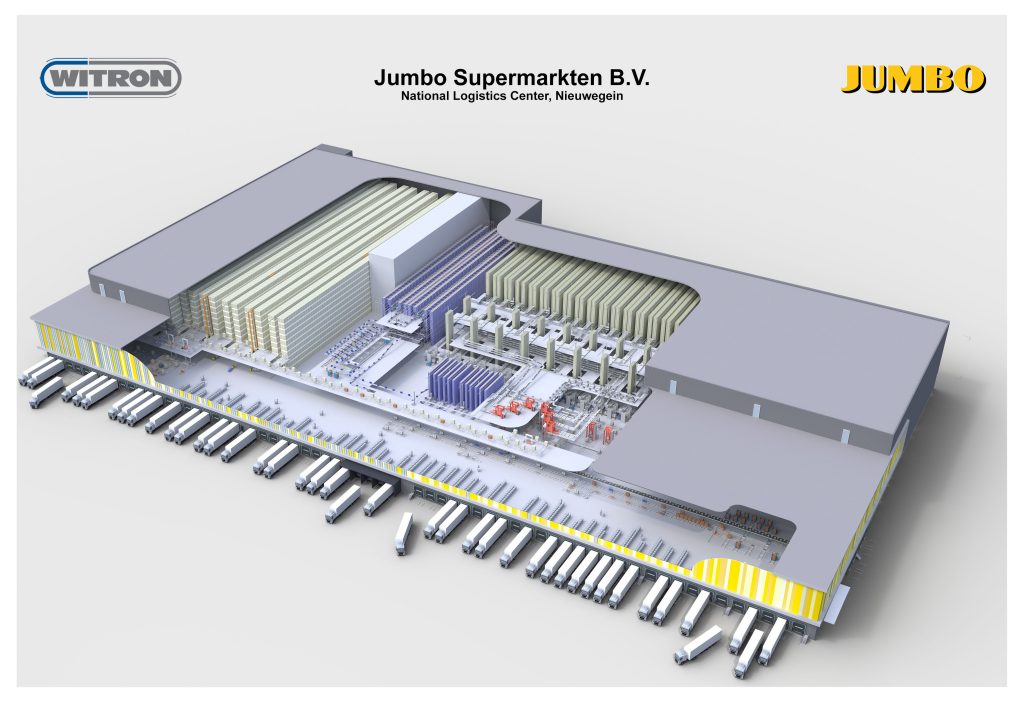 German logistics contractor Witron is to  design and implement the new National Logistics Centre for Jumbo Supermarkten B.V. – the second largest food retailer in the Netherlands. The distribution centre will be located in Nieuwegein, the Netherlands.
In the first phase, the 45,000 sq m facility located near Utrecht will supply all Jumbo stores with 12,000 different dry goods. In this stage, the DC is designed for peak pick performance of 2,000,000 cases per week. To achieve this goal, Jumbo relies on Witron's Order Picking Machinery (OPM) solution – with a total of 20 Case Order Machines (COMs), expandable to 32 COMs – providing a fully automated case picking operation onto roll containers. In addition, Witron will be installing its semi-automated Dynamic Picking System (DPS), which is used to pick small-volume items highly dynamically into totes at 30 multi-functional picking workstations. Both systems are successfully implemented in food and general merchandise retail projects across the globe. Replenishment and pick front profiling are done fully automatically by means of stacker cranes. A high bay warehouse with 22,000 pallet locations is located in front of the picking areas and is used for the Car Picking System (CPS), which is used to pick bulky goods from flow channels in a route-optimized manner. Replenishment has also been automated for this product range.
Once all customer orders are picked and consolidated in the various sub-systems, they are manually prepared for dispatch in the shipping area.
Innovative conveyor system elements and high-speed stacker cranes developed and manufactured by Witron subsidiary FAS ensure an optimally linked and highly dynamic material flow. The National Logistics Centre will be controlled by Witron's logistics software, which is integrated into Jumbo's entire IT eco-system through Witron's software portal 4.0.
As a general contractor, Witron is responsible for the entire design and realization of all IT, control engineering, and mechanical components. The order scope also includes the operational system support, as well as servicing, and maintenance of the system. The Witron OnSite team will be located directly at the Jumbo site and will ensure continuous high availability of all components and logistics areas.