Twenty-five years on, PRM remains loyal to Mercedes-Benz
30th December 2014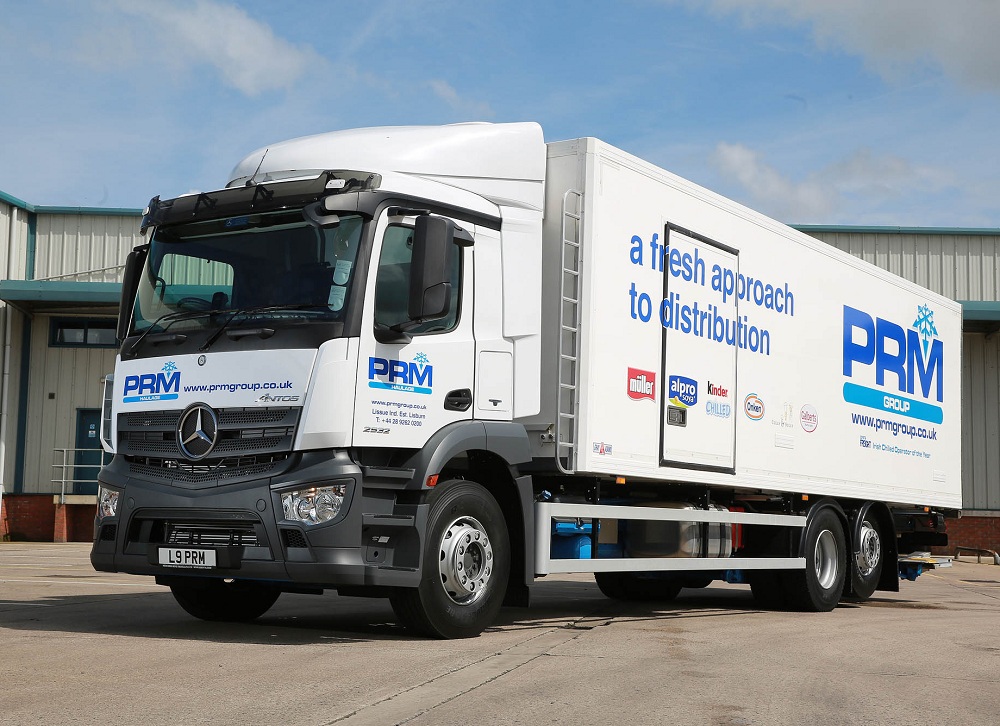 Independent chilled and frozen food sales and distribution specialist PRM Group has marked its silver anniversary by commissioning its first Euro VI trucks bearing the silver star of Mercedes-Benz.
The Lisburn-based company purchased the 15-tonne Atego 1518 and a 26-tonne Antos 2532 from Newtownabbey Dealer Mercedes-Benz Truck & Van (NI). Both are fitted with insulated, temperature-controlled bodywork by Gray & Adams – the Atego is also the first truck in Ireland to be fitted with the manufacturer's latest-generation, aerodynamically efficient cappings.
The Antos has joined PRM's general distribution fleet while the Atego is dedicated to the distribution throughout Northern Ireland of market-leading ice cream brands from the Unilever portfolio, including Cornetto, Magnum and Twister.
A Mercedes-Benz customer since its foundation in 1989 by husband-and-wife team Philip and Lynne Morrow, PRM Group runs a fleet of 15 rigids of varying sizes, as well as 17 tractor units and 22 semi-trailers – every one of its trucks wears a three-pointed star.
The company's latest Atego has an S ClassicSpace cab and a state-of-the-art, 130 kW (177 hp) four-cylinder engine mated to a standard-fit, eight-speed Mercedes PowerShift 3 automated transmission. The six-wheeled Antos, meanwhile, has a lifting tag axle and M ClassicSpace cab, while its 235 kW (320 hp) straight-six drives through a 12-speed version of the same smooth shifting auto 'box as its smaller sibling.
Managing Director Mr Morrow said: "We started the business with Mercedes-Benz vehicles and must have bought upwards of 150 over the years. We have never deviated in our loyalty to the brand and, as a result, have benefited from the outstanding reliability for which Mercedes-Benz trucks and vans are rightly renowned, as well as first class back-up from our local dealer, with which we enjoy an excellent relationship."
PRM Group, whose customer portfolio includes some of the biggest names in food retailing, provides daily deliveries to depots and retail stores across the island of Ireland, from its hub in Lisburn. Its tractor and trailer combinations undertake UK as well as Irish haulage, while the larger rigids are on general distribution duties and the smaller vehicles are used for more local deliveries and van sales.
Mr Morrow continued: "With their comfortable, well designed and comprehensively equipped cabs, advanced high torque engines and outstanding driving dynamics, our latest Mercedes-Benz Atego and Antos trucks are a big hit with their drivers.

"Meanwhile, we're benefiting from the fact that these vehicles consume less fuel and significantly less AdBlue than their Euro 5 equivalents, while also dramatically reducing particulate and nitrogen oxide (NOx) emissions."

Built at Gray & Adams' production facility in Newtownabbey, the 15-tonner's 6.1m body also has upgraded insulation for enhanced thermal efficiency, and a high-performance Thermo King T-1000 Spectrum refrigeration unit, which allows it to operate at a constant temperature of minus 25°C. PRM has thus ensured that ice cream can be delivered in perfect condition every time, regardless of the ambient temperature.
While the smaller vehicle's body is brand new, the 26-tonner's 8.9m box is just embarking on its 'second life'. This body had already provided eight years' reliable service when it was removed from a previous six-wheeled chassis by Gray & Adams, which then carried out a comprehensive refurbishment programme before re-fitting it to the new Antos.
In addition to its transport and logistics operations, PRM Group owns two food manufacturing businesses, garlic bread producer Galberts, and the long-established Fresh Food Kitchen, which manufactures salads, sandwich fillers, desserts and pasta meals.