Trelleborg tyre-saving technology pays off for Yale customers
3rd September 2015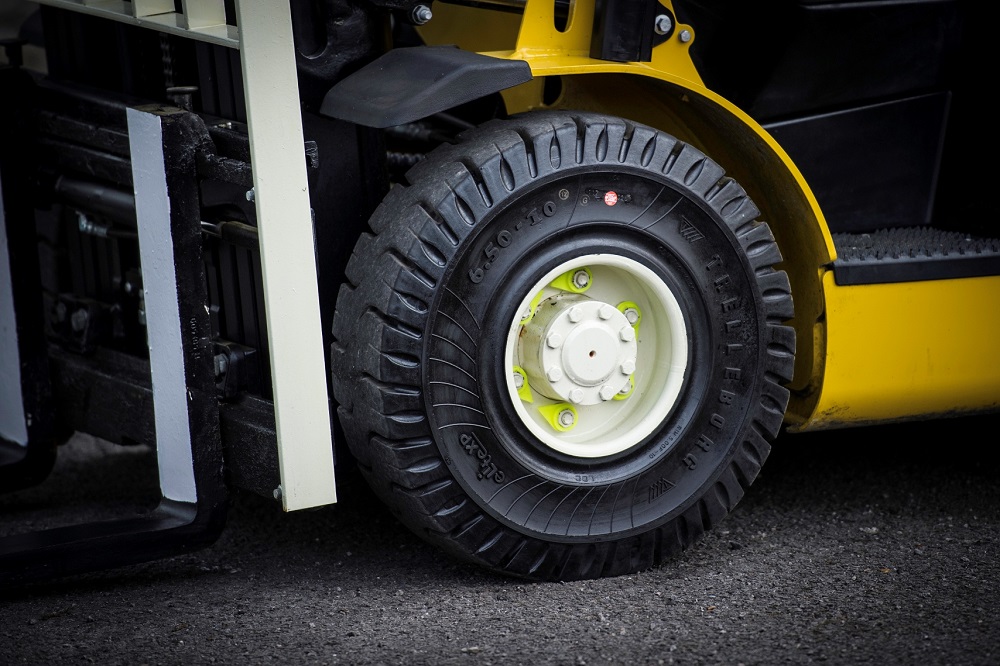 Yale reports that customers are already noticing savings on forklift operating costs since its decision to fit Trelleborg Pit Stop Line tyres as standard on counterbalance trucks*.
The innovative principle behind Pit Stop Line products is that a highly visible orange band appears on the surface of the tyre when it needs to be replaced. After this point the tyre has about 100 hours of life remaining, which gives time for replacements to be ordered and fitting to be arranged at a convenient date.
It is estimated that forklift users without the benefit of this feature discard tyres while 25%, on average, of their safe usable life remains**. Thanks to the Trelleborg innovation, extra mileage is gained without compromising on the effectiveness of the tyre.
As well as enjoying fewer bills for new tyres, customers save on downtime and servicing as replacement of tyres can be planned to fit in with other service activities while ensuring truck availability at critical times.
Yale is now fitting Pit Stop Line superelastic and non-marking tyres to all new counterbalance trucks with capacities from 1.25 to 5.5 tonnes as standard, and 6 to 16 tonnes as options. The same tyres can also be supplied to owners of existing trucks as part of Yale's aftersales support.
Robbert Wijnandts, Product Manager at Yale says: "It's early days yet, but we anticipate a typical reduction of around 20% in tyre spend over five years – assuming replacement of two tyres each year. These tyres make great sense in terms of economy, work flow and more. They also give extra confidence in safe tyre condition and, as an environmental sustainability bonus, they cut down on the amount of rubber currently being wasted by replacing tyres too early."
Superelastic tyres with the Pit Stop Line feature fitted as standard are also available through the aftermarket.
For further information on the Yale counterbalance forklift truck range or to find your nearest dealer, log on to www.yale.com.