TGW Completes Expansion Project for German Auto Repair Supplier
18th September 2017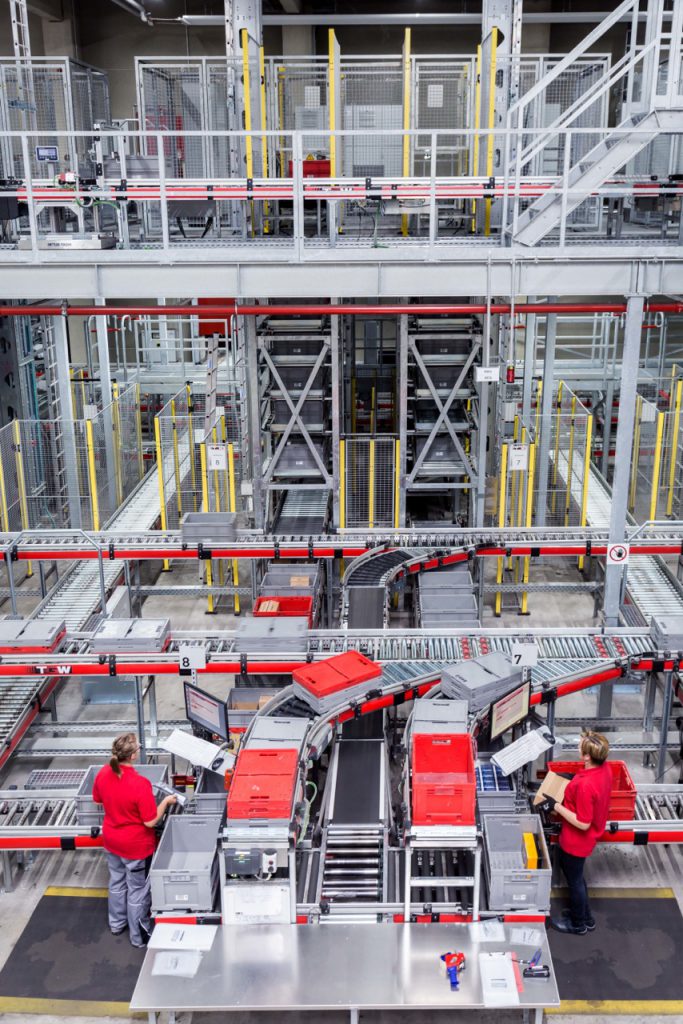 Stahlgruber – a German distributor of spare parts, garage equipment, tools and accessories to the European auto repair industry – has expanded its European logistics centre in Sulzbach-Rosenberg with the help of automated materials handling solutions specialist TGW Logistics.
Completed within twelve months, the expansion includes a 23,000-square-metre warehouse, connected to the existing facility by a 60-metre bridge including a pallet conveyor. TGW was responsible for the design and installation of the pallet conveyor and storage and retrieval equipment in the receiving area, as well as for the new automatic mini-load warehouse and the entire conveyor system for totes, roll containers and pallets, plus the storage and retrieval machines. TGW also contributed to the design of the ergonomic workstations for receiving, repacking, picking and shipping areas in order to provide optimal conditions for the employees.
The logistics centre now holds over 155,000 SKUs, with up to 100,000 orders leaving each day in a two-shift operation that provides customers with fast, accurate deliveries.
As part of the new facility, TGW built a new receiving terminal that optimises the received goods' travel through the logistics centre. Modifications to Stahlgruber's existing pallet handling system means suppliers now deliver all pallets pre-labelled with a barcode indicating the shipping unit. In-bound pallet barcodes are automatically scanned and captured data sent to Stahlgruber's proprietary warehouse management system.
Upon receipt in pallets or grid-boxes, items are routed either directly to the existing pallet warehouse over the bridge via conveyor; to eight picking stations for direct picking from pallet; or to 44 decanting workstations connected to the tote conveyor system for depalletising and distribution into reusable plastic storage totes. A display at each decanting station informs the employees about the required number of items to put into a provided empty tote, which is then transported to the automatic mini-load storage warehouse.
The new 26-metre-high automatic mini-load warehouse consists of two storage levels with nine aisles each, and two separate storage and retrieval levels serviced by TGW Mustang storage and retrieval machines. Twister load handling devices transport the goods to and from 165,800 storage locations at rates of up to 118 movements per hour.
TGW's tote conveying system is four kilometres long and stretches over several levels, connecting various warehouse areas in the new building. It is supported by TGW KingDrive® and storage and retrieval machine technology to increase the efficiency and performance of small parts picking and delivery.
Stahlgruber associates at the eight ergonomic, goods-to-person picking stations handle up to 210 totes per hour. The same picking stations also pick from full pallet loads delivered directly from the receiving area via TGW pallet lifts and a double transfer car.
TGW also added a new shipping line to the shipping area and expanded the dispatch sorters. The changes to the twenty-year-old conveyor system in the shipping area increased performance significantly and dramatically reduced the noise emissions.
"Work in this area was carried out at weekends, to avoid affecting the facility's performance during the reconstruction phase," says TGW project manager Josef Eibel. "The coordination was challenging at times, but the team worked together perfectly and the shipping area's performance was doubled. The new system provides Stahlgruber with a supply chain that provides operational efficiencies as well as enhancing its high levels of customer service."