Swisslog to show Robotic Automation at LogiMAT
3rd April 2023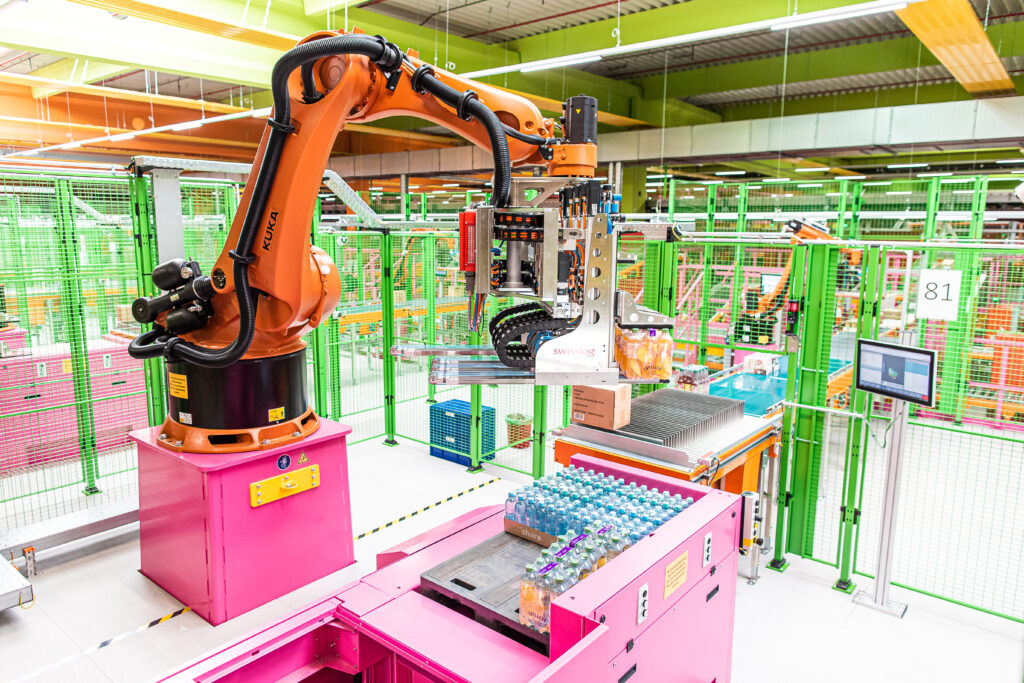 Swisslog is set to make a big impression at LogiMAT 2023 in Stuttgart from April 25 to 27, with its latest innovations in robotic automation taking centre stage. Intralogistics specialist Swisslog will be showcasing flexible robotics and intelligent automation in action and demonstrating the power of its SynQ software platform and SAP EWM solutions.
Discover ACPaQ fully automated mixed case palletizing solution
LogiMAT visitors will have the opportunity to discover the fully automated robotic mixed case palletizing solution, ACPaQ, which is at the heart of drugstore chain dm-drogerie markt's award winning distribution center in Wustermark, near Berlin. The solution uses high-end robotics to relieve people from heavy workload, make material flows more ergonomic and more economical and optimize shop replenishment. It can be scaled for small, mid-size and large distribution centers with a throughput of up to 500,000 packages per day.
See ItemPiQ robotized small item picking at work
Visitors to the Swisslog booth also will have the chance to experience the latest evolution of Swisslog's ItemPiQ fully automated robot order picking system. Using Artificial Intelligence, ItemPiQ robots are capable of picking a wide variety of small unspecified items, they then use machine learning to adapt their gripping techniques for increased efficiency. ItemPiQ robots are easily integrated with other systems and feature a new gripper which has significantly increased the range of products they can handle.
e-grocery leader shares logistics automation knowhow
Swisslog's flexible, data-driven and robotic solutions enable businesses to meet rapidly changing customer demands while allowing them to leverage new technologies as they emerge. As online ordering continues to grow across retail, Swisslog will share its latest automated warehouse solutions for e-grocery fulfillment. These solutions help enterprises to move beyond manual picking, whether by using Micro Fulfilment Centres, a hub-and-spoke arrangement, a bolt-on store automation approach or regional-fulfilment centres.
Rebranding at LogiMAT
In addition to its latest innovations, Swisslog's stand will also present the company's rebranding, launched in March of this year to reflect its leading position in the digital and dynamic world of intralogistics automation. Visitors will be the first to see the new branding and are invited to join the Swisslog team for a celebratory party on April 26 from 5pm.
"We are very much looking forward to participating in the most important trade show in Europe for the intralogistics industry, where we can introduce visitors to our latest innovations, especially in robotized automation," says Swisslog CEO EMEA Jens Schmale. "It's also the perfect opportunity to showcase our revised digital branding that truly reflects us as a provider of innovative, highly digitalized and data-driven robotic solutions.
Swisslog at LogiMAT 2023: hall 1, stand B41