SSI Schaefer publishes first Sustainability Report
18th August 2022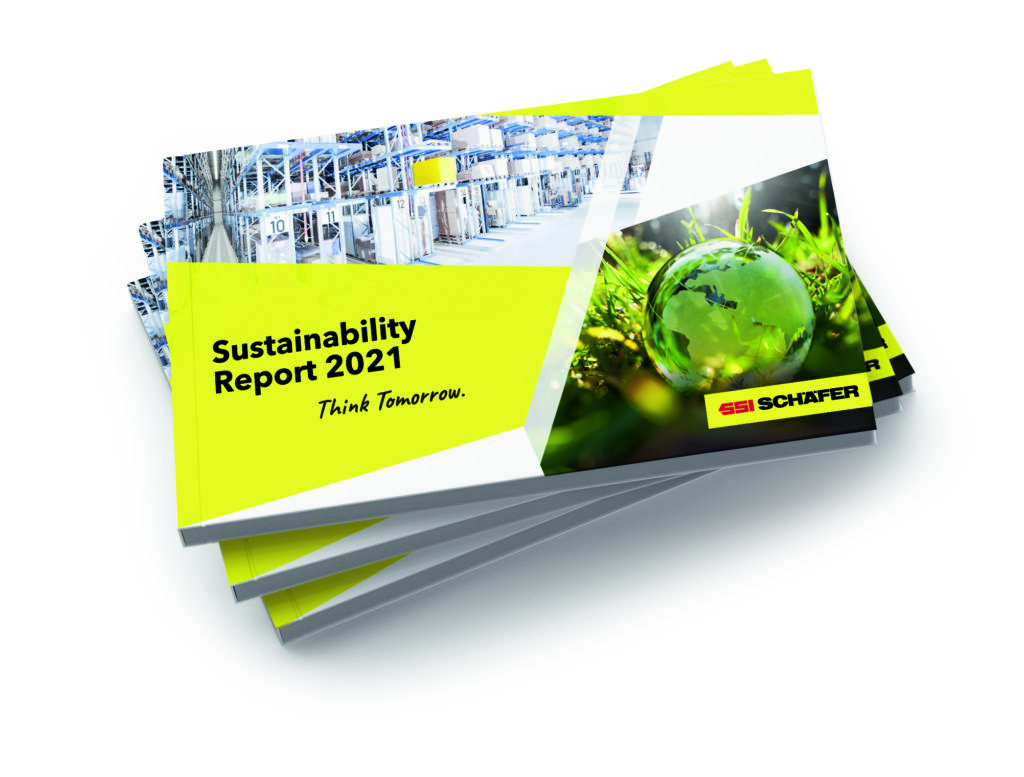 The SSI Schaefer Group, a Germany-based family-owned company established more than 85 years ago and a leading international solution provider of modular storage and logistics systems, today published its first Sustainability Report. The report was prepared on the basis of the internationally recognized standards of the Global Reporting Initiative (GRI). The company thus implements its 2023 SSI Strategy Roadmap, which defines sustainability as one of six focus topics.
Sustainability has two dimensions for SSI Schaefer, i.e. responsible operation along its own value chain and promoting the sustainability of its customers by offering them innovative and future-proof technologies.
"Our first Sustainability Report is intended to give our stakeholders an insight into the sustainable initiatives, projects and solutions we are pursuing already today, our major challenges in the relevant action areas in the coming years, and how we plan to master them," says Steffen Bersch, CEO of the SSI Schaefer Group. "As the backbone of the globally growing e-commerce industry, we can help our customers make their material flow even more efficient and sustainable by offering them intelligent intralogistics solutions."
Based on a comprehensive analysis of its business environment, which also involved the main stakeholders of the group of companies, SSI Schaefer has defined four action areas in accordance with its corporate strategy:
1. Value-oriented corporate culture as a foundation for the dealings with stakeholders and resources
2. Using intelligent processes to create innovative and sustainable solutions for customers
3. Responsible management by reducing impacts along the own value chain
4. Sustainability management as a strategic factor (process-oriented action area)
In each action area, SSI Schaefer has set itself specific goals based on measurable performance indicators or initiatives with clearly defined deadlines. This is to make the process as transparent as possible to all stakeholders. The report covers the entire basis of consolidation and, as a first step, records the performance indicators of the 18 largest entities, which represent more than 80% of revenues.
Specific goals defined with regard to a value-oriented corporate culture include, for instance, the development of a strategic EHS (environment, health and safety) management system or the definition of global KPIs for the Group's safety performance. A strategic goal in the field of product development is to reduce the share of pneumatic products of selected product ranges, which are not very energy-efficient, to 5%. With regard to the value chain, SSI Schaefer wants to base its supplier management much more strongly on sustainability criteria; by 2023, at least 50% of the top 100 suppliers are to be subjected to sustainability audits.
As far as the Group's carbon footprint is concerned, the calculation for the 18 largest entities is underway (Scope 1 & 2), with the aim of publishing a carbon/climate strategy for the SSI Schaefer Group by the end of 2022.
To implement the topics in the Group, SSI Schaefer has installed a Global Sustainability Council (GSC) led by Heiko Stötzel, Head of Group Social Responsibility & HSE, which coordinates control and target tracking across business units, regions and Group functions.
"Unlike large capital market-oriented corporations, our Group is not yet obliged to publish sustainability reports but does so voluntarily," Steffen Bersch adds. "But to us, this is more than just complying with legal requirements. As a globally active group of companies, we want to show the way forward, live up to our social responsibility and continuously increase our contribution to achieving the climate targets as well as the Sustainable Development Goals of the United Nations. This is why we joined the '50 Sustainability & Climate Leaders' initiative back in 2020 as the first member of the intralogistics industry."