SSI Schaefer Material Flow System for Automotive Supplier Brose
28th March 2019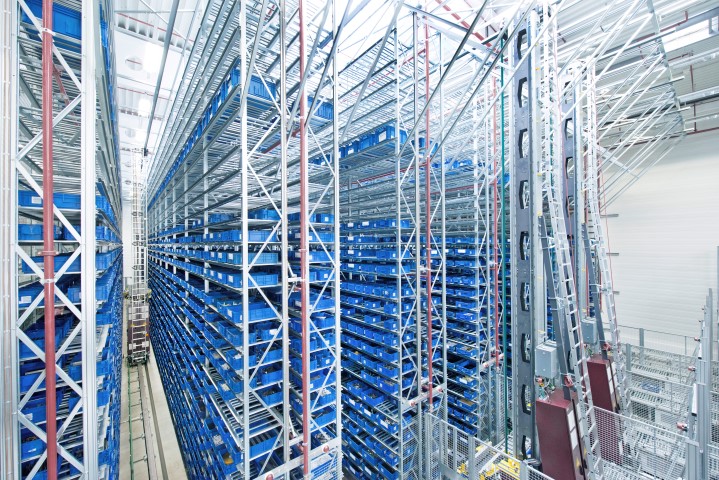 SSI Schaefer has delivered a tugger train solution for a high bay warehouse, including miniload system, pallet and bin conveyor technology as well as software.
When designing its new logistics centre at the Czech Republic location in Ostrava, the Brose Group, the world's fourth largest family-owned automotive supplier, turned to the experts at SSI Schaefer, who prepared an innovative material flow concept for a highly dynamic production supply, which is supported by a highly customised SAP Extended Warehouse Management (EWM) system.
The Brose Group produces mechatronic components and systems for vehicle doors, seats, and electric motors. With new vehicle models increasing customer requirements and proprietary developments, the range of items for production supply continues to expand.
All processes within the logistics centre are designed for ultimate reliability. Controlled by SAP EWM, the fully automated high bay warehouse is efficient with conveyor technology and a state-of-the-art robotics application as well as an automated miniload system, which ensure reliable delivery capability for Brose.
For logistics involving heavy load carriers, SSI Schaefer developed a new, 5-aisle high bay warehouse with 9,750 pallet spaces for single-depth storage. Five Exyz single mast storage and retrieval machines with telescopic load handling attachments guarantee energy efficient storage and picking at a total handling capacity of 200 double cycles per hour.
The warehouse consists of the incoming goods area, the conveyor technology, and processing workspaces as well as a seven-aisle automated miniload system. The latter features a capacity of 23,520 bins for one-deep and two-deep storage. Also located upstream are four train stations where the bins for production supply are pre-sequenced. In a next step, the bins are transferred fully sequentially and automatically to the tugger trains.
"The new solution allows for minimal manual handling, direct, optimized material provision, reduced effort by staff, and improved ergonomics. We have simplified and streamlined workflows, made processes more transparent, and increased throughput with system automation, material flow conversion, and a consistent SAP solution. We are extremely satisfied with this intelligent solution for a fully automated production supply" commented Claudia Vogel-Daniel, Project Coordinator, Brose Fahrzeugteile GmbH & Co. KG, Coburg.