Small-Items Sweet Spot
15th December 2022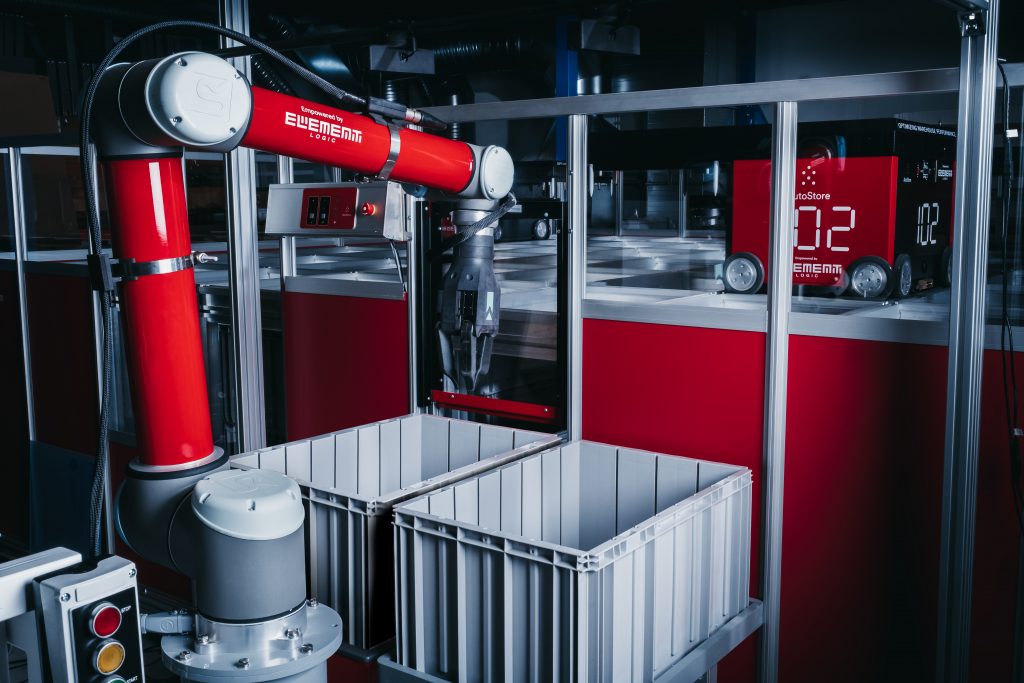 Storage of small items in ecommerce distribution centres often makes usage of cube ASRS. AutoStore integrator Element Logic launched to the UK at IMHX 2019. At this year's show, we found out how it is helping businesses of all sizes optimise their ecommerce picking operations.
Starting at Element Logic as UK sales manager in September 2019, Gavin Harrison came to IMHX 2019 with the clear aim of building the Norwegian AutoStore system integrator's UK market. Now boasting a staff of 20, the company has come a long way. Three years ago it had no UK AutoStore reference sites; today Harrison says it has more than any other AutoStore distributor in the UK.
Initially dominant in AutoStore's homeland of Norway, a 2021 buy-out by a private equity firm has seen Element Logic's ambition lead to it picking up household-name customers. For example, its Manchester project for the THG's online cosmetics business was the biggest single AutoStore grid in the UK, featuring 300,000 bins, 380 robots and 69 ports.
THG sits in the sweet spot where AutoStore's strength lies – single-unit picking of small items. The pandemic helped to feed Element Logic's growth opportunities thanks to the boom in online shopping. Furthermore, pickers using AutoStore are physically unable to be closer than two metres apart, meaning staffing levels were unaffected by social distancing constraints.
"It's been a whirlwind journey, because prior to 2019 there were only a couple of AutoStores in the UK," says Harrison. "Today in the UK, there are maybe 15 to 20, so it's still considered a new technology even though it's been around for 15+ years. Ten of those are ours, with customers varying from businesses such as the husband and wife family-owned football kit business Direct Soccer. They're an SME up in Dundee, and invested in a system back in 2020, and have now grown and extended it."
The difference in size between Direct Soccer and THG is considerable, yet AutoStore makes a positive difference to both businesses. Harrison says Element Logic can make a case for automating a warehouse with as few as 10 to 15 pickers: "We can condense that down to two or three, and therefore show good ROI. We design the system based on where you are at the moment, not where you'll be in the future. Businesses can then just expand the system. As it can be leased, businesses don't take a CapEx hit."
A USP of AutoStore is that it can be installed in brownfield sites as well as new-build, as it fits around irregularities such as columns and low roof heights. This allow a business to stay in its existing facility, rather than move to a new one. It only requires a flat floor, has a low point load, and runs off standard household single-phase power.
Small items density
Element Logic can condense AutoStore it into a small area, making it suitable for urban micro-fulfilment centres. "For us, there's actually no difference between a big site and a small site apart from the amount of aluminium and robots that are there. Because we already work with SMEs, a micro-fulfilment centre for a big company is going to be exactly the same as small grid for a small business. This has been a really easy shift for us to make, whilst still using all the experience and knowledge we have previously acquired."
AutoStore's strengths play right into the hands of eCommerce businesses selling in sectors characterised by rapidly-changing trends, as it intelligently reconfigures stock positions to deliver fast-movers to pickers at high speeds. It also deals very capably with returns , previously a huge challenge in fashion where rates of up to 40% are common. "We have some very ambitious growth targets," Harrison concludes. "I would hope that by the time the next IMHX rolls around [in 2025], we should be double where we are now and maybe more. Let's see how the market responds."