Singapore production site automated
22nd January 2016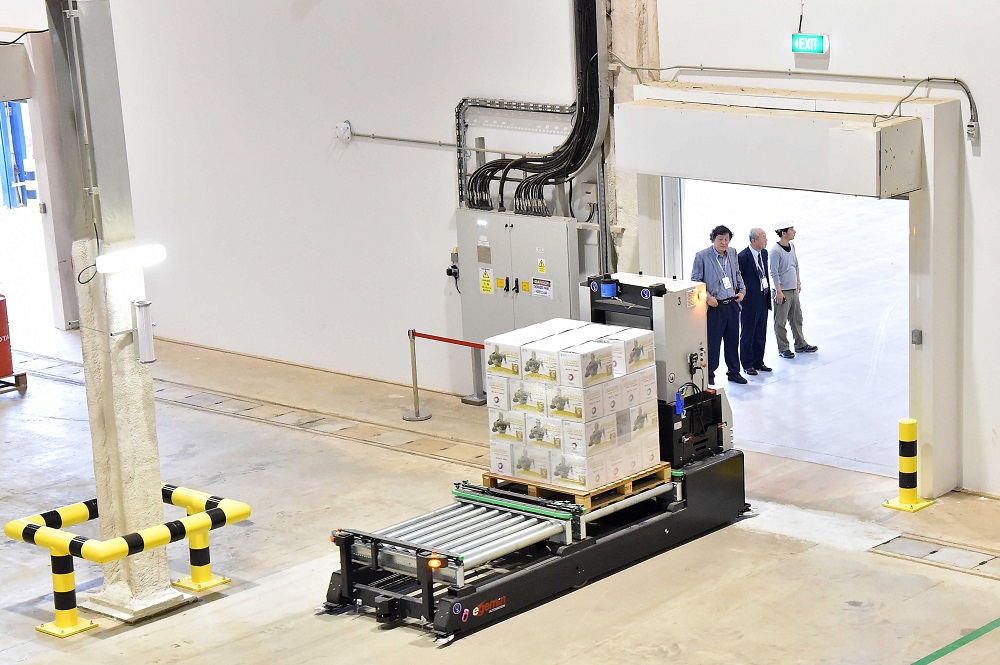 Belgium-based Egemin Automation has partially automated the internal transport of finished products in the new lubricant oil-blending plant of Total Oil Asia Pacific in Singapore. The newly built facility is the largest production site of the Total group in the world. The oil giant now uses E'gv®s (Egemin Guided Vehicles) or automated guided vehicles to transfer pallets from the four filling lines in the production area to the distribution zone. This allows the plant in Singapore to work faster, safer and more efficiently. With the automation project Total aims to increase safety and processing capacity in the plant.
The AGV system at the Total plant consists of three E'gv®s from Egemin's LTV series, equipped with conveyors to transport up to two pallets simultaneously. The E'gv®s are controlled by Egemin's own E'nsor® navigation software. The vehicles transport heavy loads with extreme accuracy. The position of each AGV is continuously tracked by the embedded laser navigation sensor. Depending on the position, the system maps a transport route. These AGVs are therefore also very safe and reliable, a very important criterion for the petrochemical company.
Total makes use of Egemin's E'tricc® management software to dispatch the transport orders to the AGVs. Optimization algorithms calculate which AGV can transport the load the fastest between source and destination location. In doing that, it also takes into account many factors, such as the priority of orders, blocked aisles, or other AGVs in order to avoid collisions. Egemin supplied a combined concept with opportunity charging and a battery exchange system to recharge the batteries of the AGVs. The AGVs can thus be deployed 24/7 in the plant and the operators will spend a minimum of time on replacing batteries.

ACCOMMODATING GROWTH

Total aims to double its production in Asia with the new plant, to meet growing demand in the region. Egemin's automation should increase the plant's processing capacity and thus help to cope with this growth spurt. Moreover, the E'gv® fleet can be expanded to meet future demand for greater transport capacity. Singapore as a whole also expects strong economic growth. This could lead to possible labour shortages and a marked increase in labour costs. The automation project will help Total to cope with these challenges.