"Simplest AGV on Market" Ready For Intralogistics Role
22nd September 2017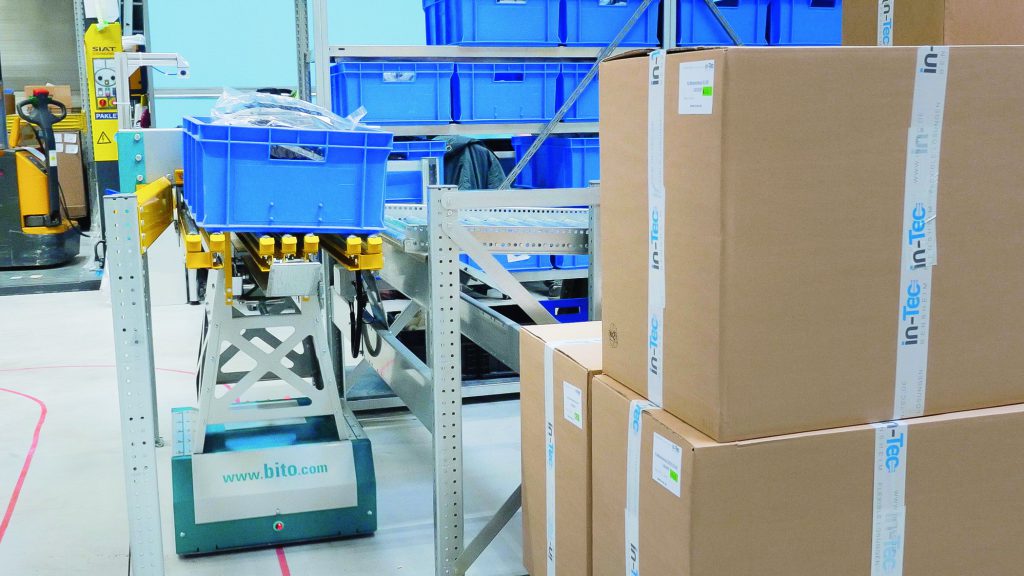 BITO's LEO Locative driverless internal transport system is now in production. The company claims it is the simplest available AGV (Automated Guided Vehicle) on the market, because unlike other AGVs, LEO does not require an infrastructure or complex installation. This opens up the possibilities and advantages of robots to a broader range operations, according to BITO.
Edward Hutchison, Managing Director of BITO Storage Systems said: "LEO is an affordable, simple, yet productive robotic intralogistics solution, which is now ready to help ecommerce retailers, manufacturers and other logistics operations gain competitive edge. You can see how at BITO's Experience centre in Nuneaton, which is now operating a demonstration system."
Able to carry containers and boxes weighing up to 20 kg, with LEO users need only lay out a visible track on the floor for the AGV to follow. Additional special markings ensure the system always knows where it is and thus guides it reliably to all targets. The visual tracks and markings are easy to change or even completely remove so that new tasks can be set up in no time. LEO's patented transfer concept means it can simply follow the track through a hand-over station, deposit its container and collect the next – all without any electronic aids or complex pneumatics.
BITO says that the innovative system is well suited to a range of applications across logistics, manufacturing and retail operations. Simple A to B tasks might include connecting two machines, a storage area with a production line or perhaps finished goods back to storage. In a logistics operation it can take bins between order picking stations. Other tasks might include transporting items that need to go to testing or the quality control desk, collecting empty bins and containers and transporting returns. In retail it can transport items from Goods In straight to the shelves of a supermarket or, in ecommerce fulfilment, it can transport items or orders from an automated mini-load system to a packaging station.
LEO Locative is available with three track options: Leo Flex is a low-cost option suited to temporary situations and is a good place to start or test the system. A mid-range option is Leo Robust, which allows permanent use in a standard, forklift-free environment, where floors will be cleaned occasionally. This might include small fulfilment centres and warehouses or high-tech manufacturing operations. For permanent use in tougher environments there is a third option: LEO Ultra. This sustains regular cleanings and works well in areas where forklift trucks also operate.
Businesses can also take a stepped approach to growing their LEO system. Using just the LEO unit itself as a first, affordable step for easy 'A to B' tasks such as transporting a bin from one machine, picking station or workplace to another, or collecting bins from a number of workplaces and bringing them to a central location. The next step up is to add transfer stations. This makes the jobs already described easier because staff need not wait for LEO to arrive to pick up a container. Applications with a higher turnover will want to add roller conveyors. This creates a buffer and can connect a transfer station to the work location, which may often be several metres away. A final step is to create dynamic targets for LEO by adding a tablet to a handover station. This is ideal for distributing bins from a central point, such as a vertical lift or storage, to work locations. LEO's abilities will be broadened further as BITO develops further 'smart' features.
Edward Hutchison concluded: "By offering a flexible intralogistics solution through a stepped approach that can be scaled to meet business requirements LEO gives companies a great opportunity to get ahead in the robot race."