Scalable solution for optimised pallet handling
1st December 2022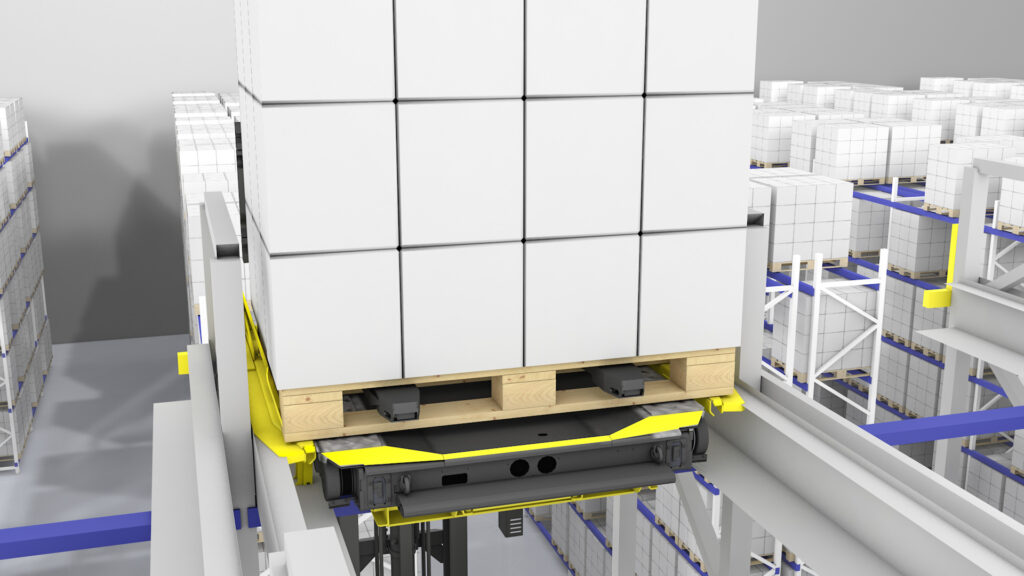 Fluctuating demand and a shortage of skilled workers pose mounting challenges for many companies. In order to translate multi-layered requirements into efficient, optimised logistics structures, companies need flexible logistics systems that work together perfectly. SSI Schaefer offers a solution in the form of an intelligent combination of space-saving pallet channel storage with an SSI Orbiter channel shuttle and automated guided vehicles (AGV) – a solution that also provides a gradual entry into automation.
In parallel, the system guarantees 24/7 availability of goods, helping compensate for the ongoing labour shortage. Operators can start with a manually operated SSI Orbiter environment and then introduce a control system with manually operated ground conveyors, gradually integrating AGVs as needed.
Volume-optimised storage solution
Increasing time and cost pressures are another reason companies are considering process automation for their warehouse logistics and production supply. This is where volume-optimised channel storage systems for pallets come in. Thanks to high storage density, they require less logistics space than static racks or conventional floor block storage.
Johan Kagerö, Global Product Line Manager at SSI Schaefer, is familiar with other benefits of this combination: "The solution doesn't require a large initial investment – it can grow as the company develops, making it especially attractive for small and medium-sized enterprises. Thanks to the high volume utilisation rate, customers get more storage capacity in the warehouse, can systematically adjust their resources to the daily order volume and can significantly increase their throughput."
Keeping costs and processes under control
The turnkey combination of SSI Orbiters and AGVs is especially practical where SKU variance is low, particularly in the food and beverage industry. In addition to a space-saving design, which allows easy integration with the stock system, the channel shuttles can potentially save significant energy. Manually operated bin stackers can be integrated flexibly to cover temporary peaks.
The combination with AGVs offers additional advantages providing basic transport capacity, reducing the error rate and ensuring material flow consistency thanks to continuous availability, even in a three-shift operation.
"This is especially important in countries experiencing critical shortages of skilled workers and high labour costs," emphasises Kagerö. "Staff can instead be deployed more efficiently in regular operations and assigned to plan further process optimisation."
Software-supported interplay
SSI Schaefer offers the system solution together with a warehouse control system (WCS), which handles the coordination of transport orders. In addition to the channel shuttles, a fleet controller is coupled to this system to control the AGV network, with optional fleet management for manually operated ground conveyors. For example, in the storage process, transport orders are first generated via the host, which sends the orders to the WCS.
When the transport order is transferred to the fleet control system, resources are automatically aligned with priorities. The transport order is then assigned to a vehicle according to the retrieval strategy, prioritisation, sequencing or bundling rules and the AGV availability. The AGV picks up the loading unit and transports it to the storage cube. The specially tailored WCS ensures that the assigned destination rack is already equipped with a channel shuttle to eliminate waiting time. Once the transport order is completed, feedback is simultaneously sent to the host, and the vehicle is now available for its next deployment.
Greater flexibility and performance
"Using the WCS we offer gives operators even greater flexibility," adds Kagerö. "The software offers options such as applying FIFO/FILO (first in, first out/first in, last out) handling principles, performing sequencing and using KPIs for further performance optimisation."
Interface compatibility with all common customer systems and their interface technologies also guarantees flexibility. With this foundation, integrating a WCS-supported combination of SSI Orbiters and AGVs is possible not only in greenfield environments with a high degree of design freedom – integration even into existing (brownfield) structures poses no difficulty. This allows companies to gradually switch from manual processes to partially automated processes at reasonable cost. Other warehouse areas, such as static racks, mobile rack systems, vertical lift modules or conveying systems, can also be integrated flexibly to create a tailored logistics solution.
One partner
SSI Schaefer supplies the entire system as a turnkey solution from a single source. This eliminates the need for complex coordination of different systems and risks. "The intelligence the software includes is what makes our solution so special," adds Kagerö.
"The solution lets our customers adapt their intralogistics to up-to-date requirements at any time. That makes it ideal for a kanban approach to production supply, for equipping and supplying production lines and for use at the interface between outgoing goods and truck loading, for example."
SSI Schaefer says it offers operators a comprehensive portfolio of services from a single source, through implementation and beyond, and its Customer Service & Support (CSS) helps ensure continuous system availability. This allows companies to upgrade their intralogistics step by step with transparent costs. This can be achieved with additional channel shuttles and automated guided vehicles. A WCS takes most control tasks off their plate and handles them automatically. Thanks to the Schaefer Maintenance Philosophy (SMC), customers can fully rely on SSI Schaefer's skilled experts for maintenance, too.