Savoye targets growth with new partnership strategy
26th October 2016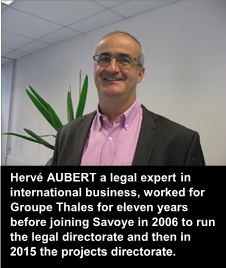 Warehouse automation specialist Savoye intends to further strengthen its position in the international market by launching a new partnership strategy to increase sales of its equipment and software. Between now and the end of 2016, Savoye will have recruited approximately 10 new integrator partners and aims to double this figure in 2017. With exports accounting for 62% of its turnover, the business sees significant potential in the UK market for its range of automated handling and software solutions.
Savoye, which currently has specialist teams based in the UK, Germany, Benelux, France, Italy, Morocco, and Russia, has launched its indirect sales policy under the strategic guidance of Hervé Aubert, Savoye's director of projects and contracts. The French automation expert believes there are significant growth opportunities for its INTELIS and A-SIS products, which can be delivered through an approved network of integrators and supply chain consultants. INTELIS is the equipment manufacturer brand for intra-logistics mechanised solutions. A-SIS is the software developer brand for the supply chain (WMS, WCS, TMS and OMS).
Hervé Aubert, Savoye's director of projects and contracts, said: "At Savoye, we are very close to our customers, in terms of culture. The idea is thus not to create a substitute for our traditional sales channel to final customers, but rather to develop a complementary network of local stakeholders by getting them to integrate all, or part, of our technological building blocks into their offer."

While France is still Savoye's key domestic market, the company has managed to expand internationally and has supported several of its major account customers in about 40 countries, including Poland, Israel, South Africa, Mexico and China.
To carry out this development strategy, Savoye has set up a multi-disciplinary team of about 20 people; it has also defined the type of partner integrator it is looking for and a programme for supporting them. It has also developed a clear pricing policy that has been tailored to each individual market.

"We target local stakeholders who have the necessary technical expertise in our field as well as their own marketing network", explains Hervé Aubert.
The goal for 2017 is to accelerate the integrator recruitment process with up to 10 partnerships in each of the key target markets: the UK, North and South America, Southeast Asia, China and various other European countries.
Hervé Aubert concludes: "It is a reciprocal recruiting process for which it is essential to get to know each other and to define the investments expected on both sides before signing contracts. Above all, we are looking for long-term profitable relationships."