Sacchi extends operations with shuttle technology
18th November 2021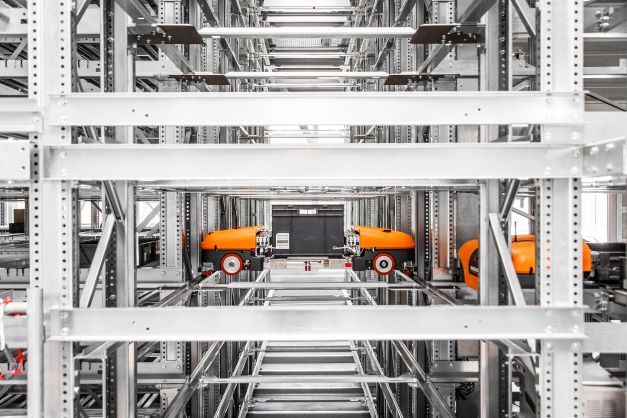 The Sacchi Group (part of Sonepar Group), one of Italy's leading electrical product wholesalers, has selected Vanderlande as a partner for a new ADAPTO goods-to-person (GtP) solution inside its existing warehousing facility in Desio, north of Milan.
With nearly 100 points of sale and about 1,400 employees, the Sacchi Group offers an assortment of approximately 1.5 million products. Previously, Vanderlande supplied the company with a miniload system, which is now being expanded with Vanderlande's ADAPTO shuttle technology. Vanderlande's ability to link the two systems together, combined with the excellent relationship between the two companies, were ultimately the decisive factors in securing this latest GtP project.
The solution will initially include manual receiving stations, picking stations served by dedicated picking lifts and clearing stations. In addition to erection and closing systems, the shipping sorter will be expanded. The ADAPTO system will have 58 ADAPTO shuttles spread over 29 levels.
With installation work commencing next April and operations due to begin in Q4 2023, the flexible and scalable ADAPTO system has the capacity for further expansion over the coming decade in order to accommodate Sacchi's predicted year-on-year volume growth.
"Our business is growing quickly as a result of internal development and acquisitions, and our supply chain is our main strength in this market, as it allows us to balance high service levels with competitive costs," says Marco Brunetti, President and CEO of Sacchi Group.
"With the full support of Sonepar HQ, and in particular of the GVP Supply Chain, Jo Verbeek, we decided to invest in our distribution centre in Desio, strategically located close to Milan," adds Luca Maggioni, Sacchi Group's VP Supply Chain. "To this end, we'll be extending our building with a new 20,000 m2 construction – the main element of which will be the new ADAPTO system. Our goal is to improve our omnichannel business in order to reach our 40,000 customers faster and more efficiently."
"We are very proud to further establish our relationship with Sacchi and the Sonepar Group," says Terry Verkuijlen, Vice President Warehouse Solutions at Vanderlande. "We believe that extending their current operation with Vanderlande's ADAPTO GtP solution will enable Sacchi to further grow and optimise their operations for many years to come."