Robotics Solutions Unveiled at LogiMAT
26th April 2023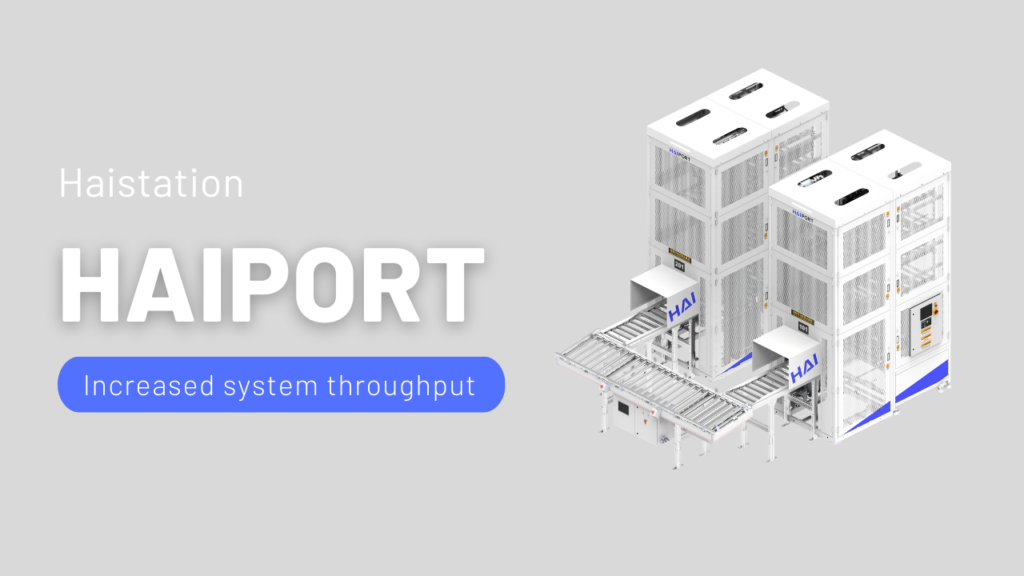 Hai Robotics, a leader in Autonomous Case-handling Robot (ACR) systems, will introduce its new cutting-edge automation and robotics solutions at LogiMAT 2023 from April 25 to 27 in Stuttgart, Germany.
Hai Robotics is set to showcase its latest range of innovative automated solutions at Europe's largest annual intralogistics exhibition. The exhibition will feature the highly anticipated HaiFlex and HaiPick A3 solutions. These new solutions are key additions to the company's existing portfolio, both of which are set to bolster the company's existing portfolio. In addition, attendees can witness two star products – the towering 10m tall HaiPick A42TD and HaiPort. This event offers a prime opportunity to experience first-hand how Hai Robotics is at the forefront of revolutionizing the intralogistics industry.
The HaiFlex is an innovative automation solution that allows warehouses to merge different zones, such as pallet areas, floor stacking areas, and racking areas, into a single automated picking warehouse area. The solution combines ACRs and AMR-type robots that work together to provide a more efficient way of order picking. The HaiFlex is designed to eliminate the inefficiencies of manually handling bulky goods and order consolidation, which can help reduce warehousing costs, including rental, labour, and management. It suits multiple industries, including apparel, retail, e-commerce, 3PL, and more. With HaiFlex, warehouses can handle bulky goods in one area while using ACR robots to take advantage of the available vertical space to pick, place, and store totes and cartons, thus increasing storage density and saving warehouse space. The solution also supports garment handling storage and oversized SKUs, making it versatile and efficient.
The Haiflex system is currently only available in the following countries and regions: EMEA, ANZ, SEA, South Korea, and China.
The HaiPick A3 is a forklift-type ACR that resolves stringent warehousing and compliance regulations challenges in the automotive and manufacturing industries. It enables the picking of various shapes of commercial materials, such as tyres, trays, and PCB materials, without needing totes or cartons. Furthermore, the HaiPick A3 can work with different types of shelves, conveyors, and other equipment. The software platform can integrate easily with almost any upstream software platform to orchestrate and automate processes within warehousing and manufacturing.
HaiPick A42TD enables the picking and storing of cases from shelves up to 10 m high (32.8 feet). The A42TD is equipped with a new double-deep picking fork, increasing storage density even further. Moreover, thanks to its 3D visual recognition, it can also handle plastic totes and cardboard cartons with a maximum weight of 30 kg (66.1 lbs). In addition, the adjustable fork enables automatic width adjustment to pick cases of different dimensions in mixed fields.
The HaiPort is an automatic loading and unloading machine that boosts throughput. It works with ACR robots to automate the loading, unloading, and transport of cases from the robot. Six cases (customisable up to eight cases) can be loaded in three seconds and unloaded in five seconds. A single workstation can handle up to 900 cases per hour. Order-fulfilment speed is 16 times faster than robot-to-conveyor belt transport enabling higher in/out efficiency in mixed fields.
With these new solutions, customers can further improve operational efficiency and storage density, meeting the needs of warehouses, DCs, and factories in the apparel, retail, e-commerce, and 3PL industries. In addition, Hai Robotics is investing heavily in creating a local network of system integrators, installation, and service partners so that any user of our solutions can expect rapid and high-quality service wherever they are in the EMEA region.
Experience the live demonstrations of our new solutions at LogiMAT, Stand 6A51, Hall 6. April 25 to 27, 2023. Stuttgart, Trade Fair Centre.