Radnor Hills gains efficiency with robotic palletisers
23rd April 2021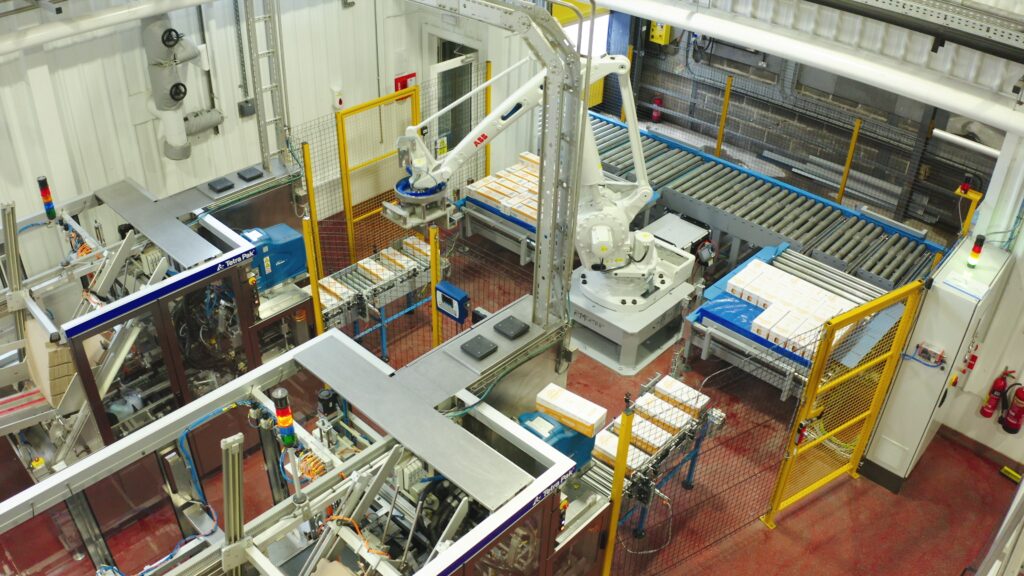 Robotics and automation specialist RMGroup has installed three of its end-of-line robotic palletisers for award-winning soft drinks business Radnor Hills. The move has enabled the manufacturer to benefit from process efficiencies throughout its production.
Manufacturing a wide range of spring waters, flavoured waters, functional waters, school compliant drinks, premium sparkling pressés, fruit juices and own-label brands, Radnor Hills first approached RMGroup in 2018 to investigate automating an end-of-line palletising operation with a robot arm.
On the line, packs of bottles needed to be palletised at a rate of 14 packs per minute. Given the throughput and pallet stack formats, RMGroup needed to ensure that the robotic solution could multi pick packs up to four at any one time, and then place them onto a pallet in ones, twos, threes or fours, to keep up with the production line throughput.
By using ABB robot studio, RMGroup's mechanical design and technical department recommended the use of a bespoke gripper, thereby enabling the robot to stack the packs onto pallets at the desired rate. Robot studio also helped RMGroup to decide which ABB robot would be best suited for the project, thereby optimising the ROI.
Following the success of the initial installation, RMGroup has since supplied another two ABB end-of line palletisers at the site. A second was installed on Radnor's tetra pack line, the requirement being to palletise cardboard cartons from dual production lines at a rate of six cases per minute; a third line was installed on Radnor's canning line, involving a much higher output of 24 packs, 12 of which needed to be palletised on euro pallets, at 20 cases per minute.
"The benefits of working with RMGroup and what we feel they particularly do well, is first and foremost they listen to us," said David Pope, Radnor Hills' general manager. "They take on board our requirements – they don't tell us what we should be doing, they listen and come back with us with solutions to make it happen. The whole team has been a pleasure to work with, especially the engineers, who have been extremely knowledgeable and helpful throughout the whole process."
William Watkins, Radnor Hills' managing director, added: "I think RMGroup's experience, their backup and the fact that they have a very conscientious team, means that they really make sure that they don't leave you until you are absolutely 100% happy that the machinery they've installed is working absolutely as you expect it to."