Pharmacy Boasts 1st Piece-picking Solution
16th February 2023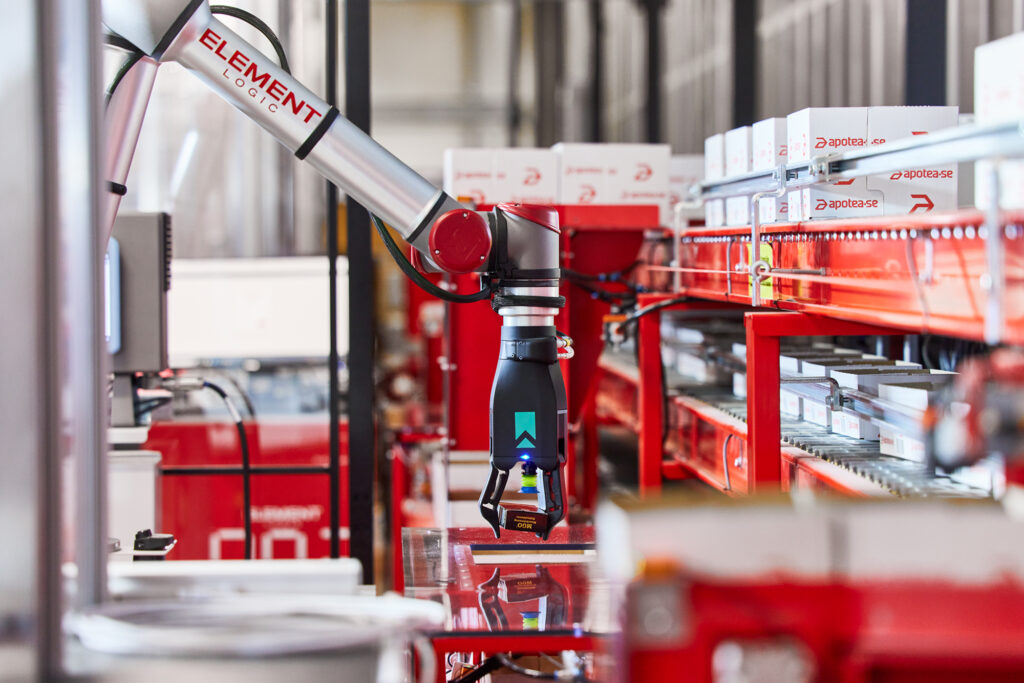 Swedish online pharmacy Apotea automated its logistics centre last Autumn with a piece-picking solution to quickly, easily, and smoothly deliver approximately 50,000 orders a day to its customers. Following international cooperation between Element Logic, AutoStore, RightHand Robotics and Apotea, the centre fully integrated eOperator piece-picking robots with an AutoStore solution, a world first.
Pharmacy products are one of the fastest-growing segments of both Swedish and European e-commerce. Apotea.se is Sweden's largest online pharmacy, with the country's most comprehensive range of over-the-counter products and prescription drugs.
"During the pandemic, we looked at expanding the capacity to go from delivering 50,000 orders to 100,000 orders. That's when we started looking at Element Logic and AutoStore. When we thought of installing AutoStore, it was precisely the ability to be able to robotise the picking that was one of the driving forces," says Pär Svärdson, CEO at Apotea.
Apotea strives to deliver the best customer experience in the industry through fast and accurate deliveries. In Apotea's logistics centre in Morgongåva, Sweden, the company has invested in automation from Element Logic, which takes care of the entire warehouse process. The goal is to optimise delivery and efficiency and cope with large variations in incoming orders.
The installation consists of 20,000 bins (with space for a total of 25,000), 30 AutoStore robots (R5) and four carousel ports, three of which are served by eOperator piece-picking robots. Initially, the new capacity at Apotea is estimated to be 800 order lines per hour. The installation is a collaboration between Element Logic, AutoStore, RightHand Robotics and Apotea. At the end of 2022, all CEOs and founders from the respective companies met at Apotea to inaugurate the solution.
"For us, it was essential to have a solution that can handle variations in product size and order intake, and that can expand as we grow. This investment helps us become more efficient, which makes it easier for us to exceed our customers' expectations," says Svärdson.
"To Apotea, the automation solution of AutoStore, eOperator and other features from Element Logic goes splendidly with their combined targets of optimal warehouse efficiency and environmental care. We look forward to following Apotea's journey towards highly accurate deliveries along with saved energy, reduced noise levels and ergonomically friendly working hours," says Dag-Adler Blakseth, CEO at Element Logic Group.
Apotea's investment in eOperator, the world's most advanced piece-picking robot solution, makes them pioneers internationally by using it to pick from an AutoStore installation. eOperator picks automatically 24/7, requiring no light at night. Through machine learning, eOperator automatically selects the best way to handle an item to be picked, increasing order capacity, goods handling, and delivery time.
"eOperator makes it possible to deliver quickly to customers, even at nights, weekends and bank holidays. You get a 24-hour operation, which is completely exceptional. We get better efficiency and faster deliveries, making everything cheaper and more efficient. It became natural to say, yes, let's go," continues Svärdson.
Apotea is not only Sweden's market-leading online pharmacy, but also the country's most sustainable e-commerce company, according to Sustainable Brand Index 2020 and 2021. Apotea's goal is to reduce the climate footprint throughout the entire chain, from production to the end consumer. On the roof of their logistics centre, you will find one of Sweden's most extensive solar cell facilities that supply the entire AutoStore system.
"Our goal is to become Sweden's most sustainable company, which is both brave and ambitious. It is vital for humanity and our environment, but also to be competitive. I believe that future customers will demand a different approach to sustainability from companies than today," explains Svärdson.
AutoStore is a modular and scalable robotic solution for storing products efficiently. Compared to a manual warehouse, picking performance is ten times higher with AutoStore. The system consists of a grid where robots pick and deliver goods on the smartest available routes. The robots work around the clock and recharge when needed. At Apotea's ports, the picked goods are delivered to both human operators and three eOperator piece-picking robots.
"Apotea has had a fantastic growth journey in Swedish e-commerce. By connecting an AutoStore system with Element Logic's smart piece-picking solution, eOperator, and other automation, we can help them continue to offer their customers fast and accurate deliveries and improved order capacity and goods handling," explains Anders Bohlin, Sales Director at Element Logic Sweden.
Facts about Element Logic's installation:
• 20,000 bins (with space for a total of 25,000)
• 30 AutoStore robots (R5)
• 4 carousel ports
• 3 piece-picking robots (eOperator)
• 800 order lines per hour (calculated capacity)
• 24/7 operations