Online event: Warehousing & Logistics Solutions
16th June 2021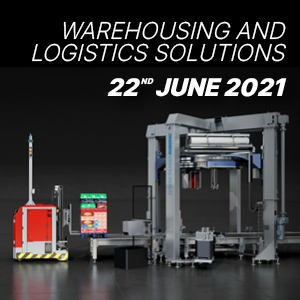 On 22nd June, Robopac and OCME will host a new Digital Event on the TECH HUB+ platform, where visitors will learn in detail the Group's automatic solutions dedicated to logistics through the voice of managers and presentations of success stories and related technologies.
Register at https://www.tech-hub.aetnagroup.com/user/signup to view the latest technological innovations of Aetna Group, with the aim of promoting an exclusive dialogue with customers and suppliers, even remotely.
Various interesting contents will be on the programme, which will be narrated by experts, starting with handling and internal logistics solutions such as OCME laser-guided vehicles (LGV) and integrated control and management logistics systems. The event will also analyse plants with a high level of automation to understand how goods, pallets and raw materials can be handled with automatic systems managed by software that constantly monitor the operating parameters and define the tasks of each unit, maintaining a very high level of management and traceability.
In addition, products that are particularly difficult to manage, both in terms of handling and stretch wrapping applications, will be examined. The participants will talk about the Empty Containers sector and Robopac System response to the criticalities faced by both producers of empty plastic containers and producers of empty aluminium cans and containers. That will be followed by a presentation of the characteristics of all the arm and ring wrappers that allow to contain very light products without damaging them and without dropping. This is the case of Cube Technology and Genesis Thunder.
To certify the value of the products, important customers in the sector who have chosen Robopac and OCME brands as their ideal technological partners will testify their experience with the consulting service offered by the TechLab. The research and development laboratory created to optimise load stabilisation, customising it to the customer's particular product through advanced testing machines and tailor-made instrumentation.
These and many other topics will be discussed during this exciting online event that combines concrete cases of success and the skills of the most qualified personnel, through a dynamic and engaging narrative. An initiative strongly supported by Robopac and Ocme, always ready to seize new opportunities to be close to their customers and stakeholders, ensuring all the quality and reliability of a One Global Company that strongly believes in the future as the best guarantee of the innovative evolution of the packaging world.
The online event will have simultaneous translation in Italian, English, German, Spanish, Portuguese and French.