Nord Drivesystems Latest Generation Products Heading for LogiMAT
7th January 2020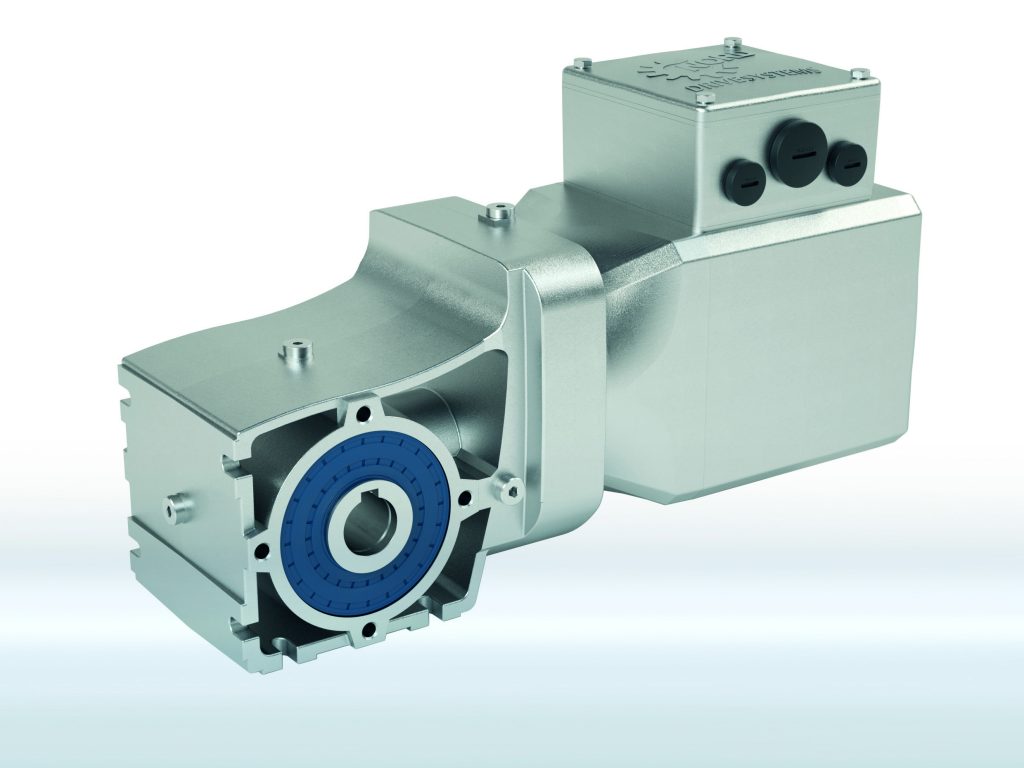 NORD DRIVESYSTEMS will be presenting intelligent drive systems and innovative solutions for intralogistics at LogiMAT in March. The latest energy efficient IE5+ synchronous motors, condition monitoring concepts and a mobile service tool for NORD drive systems are the most important topics, according to the company spokesperson.
The standardised geared motor variants of the LogiDrive systems from NORD are specially designed for intralogistics, parcel logistics and airport technology and are particularly suitable for reducing the number of versions. The compact design saves space and the lightweight aluminium housing enables weight savings of up to 25%. LogiDrive drive units comprise an IE4 synchronous motor with rated powers of up to 5.5 kW, a 2-stage helical bevel gear unit and a NORDAC LINK frequency inverter to be installed close to the motor. With class IE4 motor efficiency and system efficiency to class IES2, the drive units achieve excellent overall efficiencies – especially in the partial load and speed range. At the LogiMAT, NORD will be presenting the LogiDrive concept, also in combination with an energy-efficient latest generation IE5+ permanent magnet synchronous motor (above) that has considerably lower losses than the current IE4 series. The compact and unventilated smooth surfaced motor achieves its high efficiency, which at times is significantly above efficiency class IE5 over a wide torque range, making it optimally suitable for intralogistics applications and operation in the partial load range.
Condition monitoring for predictive maintenance
The frequency inverters from NORD DRIVESYSTEMS regularly or permanently record drive and status data in order to optimise the operational safety and efficiency of machines and plants. Based on this information, concepts for predictive maintenance can also be developed. Fast, efficient and comprehensive evaluation of analogue and digital data (measurements, signals and operating parameters) by the intelligent PLC in the drive electronics forms the basis. The objective of predictive maintenance is to maintain machines and plants proactively and to detect changes at an early stage, to reduce downtimes and to increase the efficiency of the entire plant. NORD DRIVESYSTEMS uses a drive-based approach where intelligent algorithms and virtual sensors transfer information from condition monitoring to predictive maintenance. An example is the sensorless determination of the optimum oil change time based on the oil temperature.
A solution for mobile use
With the NORDCON APP and the mobile Bluetooth connection device NORDAC ACCESS BT, NORD has created a mobile commissioning and service solution for all NORD electronic components. It is used for analysing, monitoring and parameterisation of NORD drive systems. The dashboard-based visualisation can be used for drive monitoring and fault diagnosis. With a help function and rapid access to parameters, parameterisation of drive units is simple and easy.
You can find NORD in Hall 3 on Stand C17 at LogiMAT (Stuttgart, 10-12 March).