New Collaborative Robot Project Launched by Ocado
11th January 2018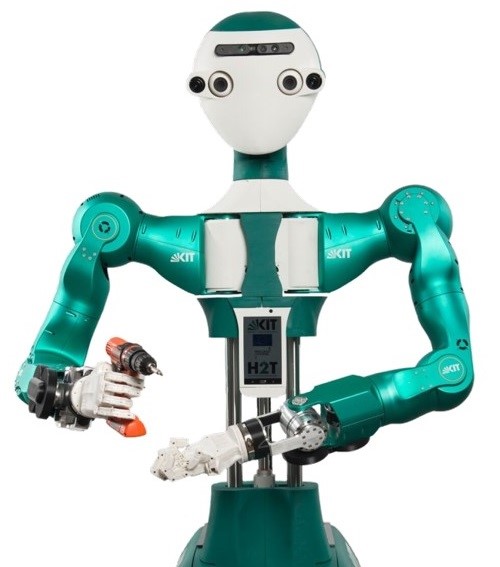 Online supermarket disruptor Ocado has launched a new robot initiative. The SecondHands project is today presenting the first prototype of its collaborative robot, which is intended to act as the main platform for testing and developing new technologies related to the maintenance and repair of automation equipment in Ocado's highly automated warehouses using a robot assistant.
The SecondHands robot prototype ARMAR-6 has been developed at the Karlsruhe Institute of Technology (KIT) by Tamim Asfour and his team at the High Performance Humanoid Technologies Lab (H²T) of the Institute for Anthropomatics and Robotics.
SecondHands is an EU-funded Horizon 2020 project aiming to design a collaborative robot (cobot) that can proactively offer support to maintenance technicians working in Ocado's highly automated warehouses, also known as Customer Fulfilment Centres (CFCs). This robot will be a second pair of hands that will assist engineering technicians when they are in need of help. The robot will learn through observation and will augment the human engineers' capabilities by completing tasks that require a level of precision or physical strength that are not available to human workers.
Collaborative robots represent a fast-growing segment of the industrial robots market. According to the World Robotics Report released earlier this year by the International Federation of Robotics (IFR), industrial robot installations are forecast to grow by 15% in 2018. This increased adoption of robots for a wide range of applications comes off the back of stronger-than-expected growth in the global economy, faster business cycles, greater variety in customer demand, and the scaling up of Industry 4.0 concepts.
As robots evolve from industrial machines performing repetitive tasks in isolated areas of large-scale factories to highly complex systems powered by deep neural networks, SecondHands has the ambitious goal to solve one of the greatest challenges facing the robotics field: developing collaborative robots that can safely and intelligently interact with their human counterparts in a real-world factory environment.