Movu Robotics Opens HQ and Experience Centre
22nd September 2023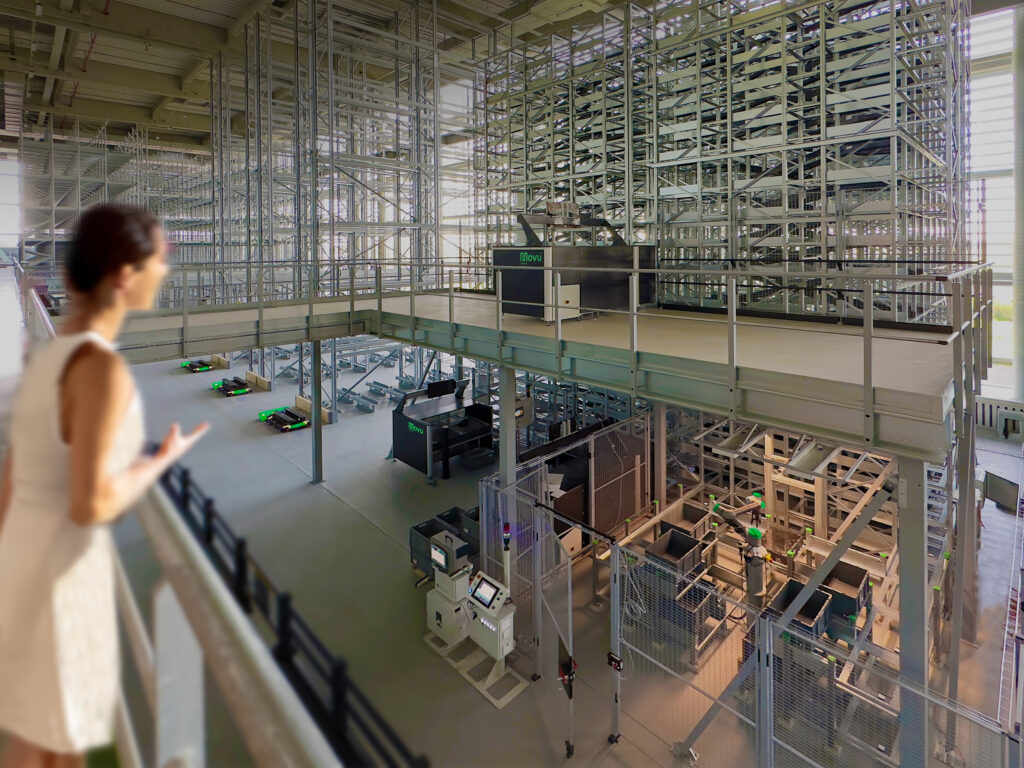 Movu Robotics, supplier for designing, developing, and implementing innovative and easier warehouse automation solutions, announces the opening of its new headquarters located in Lokeren, in the East Flanders province of Belgium.
Under a single roof, the facility houses engineering, R&D and production departments. It also features a state of the art of Experience Centre – one of the biggest in Europe where Movu Robotics' latest technologies can be demonstrated live in operation to customers and partners. Logistics Business was given a tour on Monday.
As an independent business unit within the stow Group with different requirements to the stow Racking brand, Movu Robotics requires its own premises to produce its growing range of increasingly popular shuttles and robots. Movu's new headquarters provides the room to support the continued and future significant growth in the robotics and automation business unit.
Lokeren is an ideal location: not too far from stow Group's headquarters and conveniently situated between Ghent and Antwerp, which gives good access to a pool of skills required by the business, which is important given the number of people Movu will continue to hire going forward. The building itself combines a rare set of characteristics: it has large office area, covering approximately 5000 square metres, combined with a 10,000 square metre surface for logistics and manufacturing operations.
In addition, the building has an area of approximately 2500 square metres where it has a high ceiling, which provides the ideal space for the Experience Centre. which provides the ideal space for the Experience Centre. At 100m long, 25 metres wide and 20m high the Experience Centre is bigger than many actual warehouses, providing the ideal venue for Movu Robotics to present its product portfolio technologies: Movu atlas pallet shuttles, Movu escala bin shuttles, Movu ifollow AMRs and the new picking arm robot Movu eligo are all showcased in action, in a real life warehouse setting.
Visitors to the Experience Centre can see a 20m high Movu atlas pallet shuttle rack with lifts, has shuttles transporting pallets operating inside. There are Movu ifollow AMRs picking up pallets from
the racks and transporting them to different locations. AMRs can also be seen supporting picking from racking. There is a huge Movu escala bin shuttle warehouse containing 1000 bins with shuttles
operating inside. The Movu escala also demonstrates the Movu eligo picking robot application as well as conventional pick stations. A special attention is also devoted to the Movu software. Visitors can get deep insights into the self developed Movu Warehouse Execution System that is formed by three pillars: Movu ops for managing all operations, Movu tower for checking the available resources and selecting the most suitable shuttle or AMR and Movu pilot that ensures the execution of the order at the level of the individual shuttle or AMRs.
The Experience Centre has integrated everything possible into the demonstration rack, including a tunnel under the rack, a stairway around the vertical lift, a mezzanine with a picking area. There are also many software screens around the centre demonstrating the controlling software and how visibility of what is going on in a warehouse can be provided from a distance.
The expansive footprint of the Experience Centre provides room for three versions of every Movu Robotics system in its product portfolio o ne providing a permanent demonstration set up to be
available anytime ; a second set up for R&D purposes, which allows Movu to test new generations of products, or to test customer products for specific set ups; a third installation is for testing all products after assembly, before shipping to the end customer site.
In addition to customer visits there will be industry groups visits and workshops in the Experience Centre, which will act as a live and dynamic demonstration of what is possible now and, through
examining trends and market direction, how the needs of tomorrow can be answered.
Stefan Pieters, CEO of Movu Robotics, commented: "The new Movu Robotics headquarters in Lokeren is a centre of excellence, bringing together sales, R&D, manufacturing and one of Europe's largest materials handling Experience Centres to provide a concentration of knowledge and expertise around robotics and automation. Creating a close connection between research, production and customer visits to the Experience Centre enhances Movu's interaction with customers and provides the company with rapid market feedback to fuel our continued innovation and growth path."