Modular, Scalable Shuttle Warehouse: Upstream
10th May 2023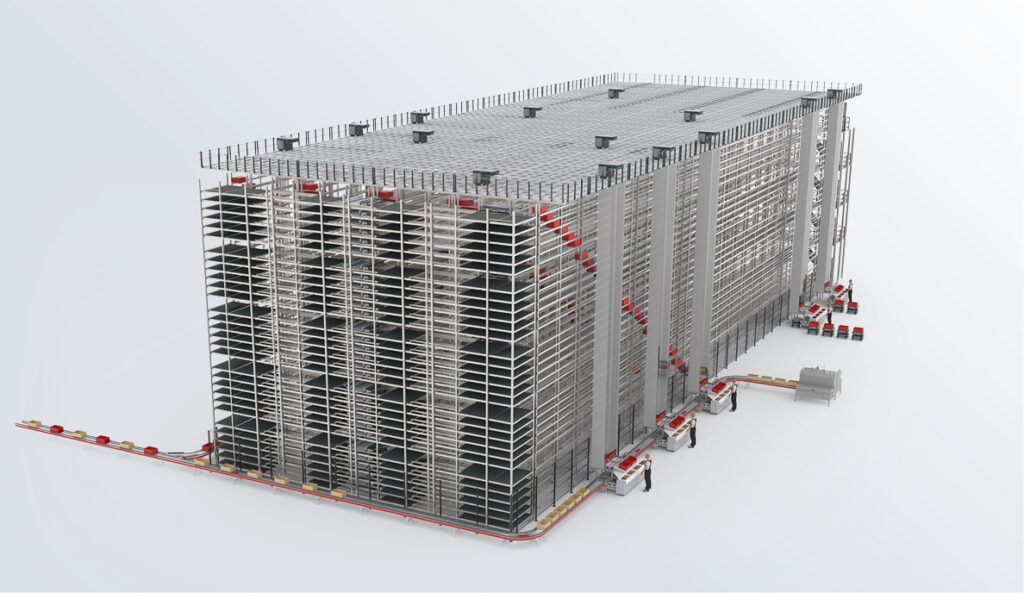 The GEBHARDT Intralogistics Group presents its latest product in storage systems: the 'Upstream' shuttle warehouse. The system convinces by virtue of its modularity, flexible scalability and high maintainability. The product novelty was to be seen for the first time at the LogiMAT in Stuttgart and inspired many interested people at the GEBHARDT booth.
Supply chains and sales markets have experienced strong dynamics in recent years and require flexible and scalable solutions. GEBHARDT has responded to these needs and introduced the new GEBHARDT Upstream warehouse concept. With its novel concept, GEBHARDT Upstream revolutionises shuttle warehouses and focuses on modularity at all levels. The system can take up dimensions of up to 100 m in length, 18 m in height, and any number of aisles, and can carry container weights of up to 50 kg. Thanks to its modular design, GEBHARDT Upstream can be expanded at any time. The commissioning time is only six months, depending on the project size and geometry.
The storage system consists of three actively moving components: the shuttle GEBHARDT StoreBiter® OLS X, the bot GEBHARDT StoreDiver and the workstation GEBHARDT SimplePick Flexible. Established GEBHARDT storage technology is used, but lifters and conventional conveyor technology are not.
The basis of the system is the GEBHARDT OLS X shuttle warehouse with horizontal roaming and a grid stored above it. The GEBHARDT StoreBiter® OLS X takes over the storage and retrieval within the warehouse and transfers the containers via transfer stations between the rack rows to the GEBHARDT StoreDiver robots. Through direct access to the containers, the transfer system enables sequence-accurate delivery to the workstations and thus creates highly efficient access zones without container waiting times. Thanks to the GEBHARDT SimplePick Flexible workstation, several orders can be processed simultaneously, and short container change times make dynamic order processing possible.
The greatest possible ease of maintenance for maintenance personnel and the elimination of complex pre-zone conveyor technology make GEBHARDT Upstream particularly user-friendly.
GEBHARDT Upstream uses proven fire protection concepts for automatic small parts storage, eliminating the need for cost-intensive CO2 systems. In addition, ultracaps with 48 V power supply ensure the highest possible system safety. GEBHARDT Upstream also builds on forward-looking technologies in terms of sustainability: By eliminating classic conveyor technology and vertical conveyors, only required containers are moved. The OLS X shuttles and robots are equipped with durable ultracap technology that enables 24/7 operation. This removes the need for lithium or lead batteries. With these measures, GEBHARDT Upstream consciously and future-oriented focuses on sustainable and efficient warehousing in intralogistics.
Already in its third generation, the name GEBHARDT is closely associated with innovative intralogistics solutions. The portfolio offers flexible, modular products, end-to-end concepts, and complete solutions for warehouse automation and software applications. GEBHARDT develops, manufactures, and installs customised solutions for in-plant logistics in the retail & e-commerce, food & beverage, automotive, healthcare, contract logistics, fashion & consumer goods and industrial sectors.