Mobile technological expo tours Europe
28th September 2021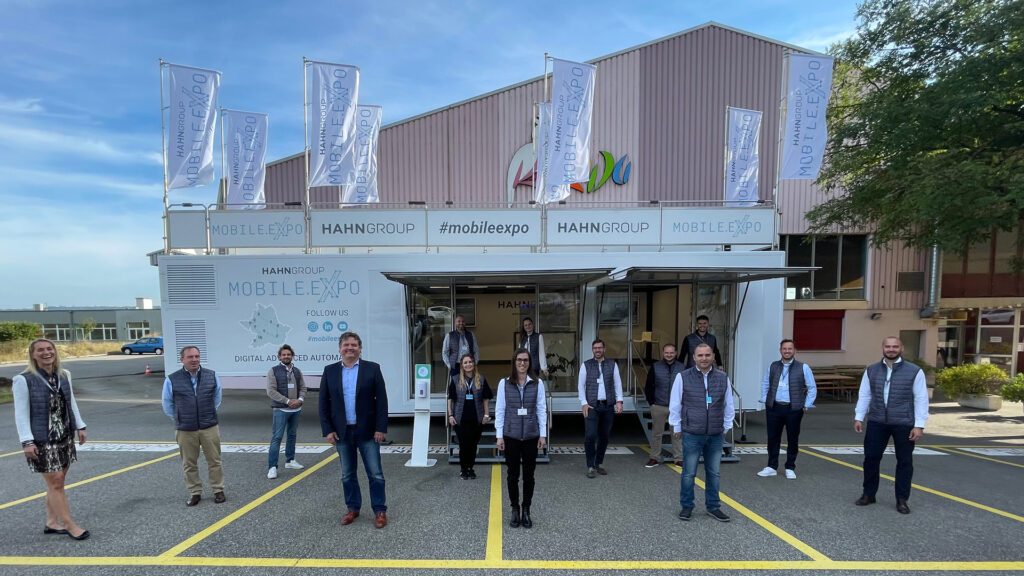 The HAHN Group MOBILE.EXPO is picking up speed and presenting its technologies and products with its innovative exhibition and trade fair concept at 13 locations in Europe
The HAHN Group started its MOBILE.EXPO in Europe on 20th September. At 13 locations in five countries, including a stop at the FAKUMA trade fair, the new exhibition and trade fair concept brings the technologies, products and contacts of the company network to regional customers and partners.
The HAHN Group shows digital and service-oriented concepts on 60 sq m of exhibition space in the specially converted exhibition truck. With the help of a wide range of information, a place for exchange, networking and brainstorming is created. At the accompanying exhibition, the current state-of-the-art in the field of automation and robot technologies can be experienced up close on a further 80 sq m. The agenda is designed for each truck stop location-specifically and thus sets sustainable impulses for transformation and knowledge transfer within the respective region.
On 20th September, the HAHN Group MOBILE.EXPO exhibition truck made its first stop at the site of the HAHN Robotics Network in Bettlach, Switzerland.
Managing director Björn Culmone and his deputy Andrea Hert are happy about the successful start of the event series at their location. After all, it is a great opportunity to draw additional attention to their site and to invite regional customers and partners to meet again. The organisation of events of this scale is a result of the successful cooperation within the HAHN Group. This company network demonstrates its strengths particularly in projects or larger orders through the exchange of technologies and competencies as well as development, construction and service from a single source.
The highlights of the MOBILE.EXPO in Bettlach include the numerous exhibits from the various subsidiaries of the HAHN Group, which are touring as a permanent exhibition with the trade fair truck. The individual locations also exhibit their own products and technologies. In Bettlach, for example, one was able to admire a training cell from DAHL Automation and the Flexibowl, for which HAHN Robotics is the exclusive distributor in Switzerland.
A special thanks goes to the sponsors OnRobot and Kistler, who also accompanied the event in Bettlach. Overall the HAHN Group MOBILE.EXPO offered an opportunity to enjoy an extraordinary event in Switzerland with customers and partners as well as the employees' families and friends.
Interested participants can register for MOBILE.EXPO on the HAHN Group website.
In addition to the information materials that can be experienced on site at MOBILE.EXPO, the HAHN Group offers featured content on the subject of digital advanced automation on its website. Through a video case study for the Healthcare industry, you will learn how today's production will be further optimised through the application of intelligent and digital automation technologies. With its network, the HAHN Group is able to offer complex large-scale projects from a single source and to distribute capacities in times of high incoming orders.
CLICK HERE to watch a presentation of the digital product portfolio.