Mercedes-Benz Actros adds up for Ashley
7th September 2015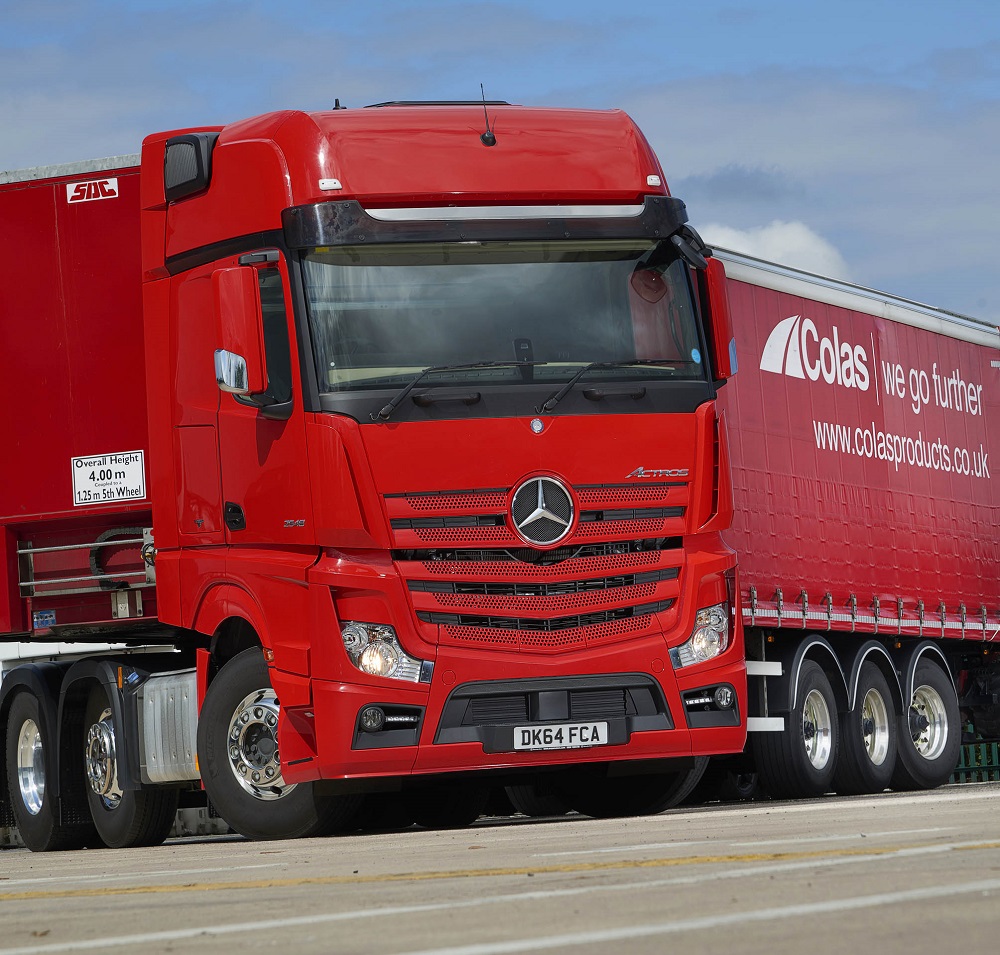 For owner-driver Jonathan Ashley, only one vehicle could top the comfort, performance and fuel efficiency his previous Mercedes-Benz Actros – a brand new Actros with even more space, more power and better mpg to boot!
Jonathan stood down his 62-plate Actros 2546 MegaSpace at the end of its contract hire term and replaced it with a 2548 GigaSpace model from the latest Actros range.
The truck arrived via Warrington Dealer Roanza six months ago, so its proud owner has had plenty of time to build up a true picture of its impressive abilities. His verdict: "Fantastic!"
Enthused Jonathan: "My last Actros was great – Mercedes-Benz don't make a bad truck. But this one is even better.


"The top-of-the-range GigaSpace cab is brilliant. It's very big, so there's no shortage of space, and the build quality is excellent too. Lots of thought has obviously gone into the design of what is a very comfortable working and living space."

His latest truck is powered by a 350 kW (476 hp) straight-six engine which drives through a Mercedes PowerShift 3 automated transmission, and has also impressed with its performance.

"The Euro VI engine pulls like a train, yet the new Actros is more economical than my last truck," said Jonathan. "I'm running fully loaded at 44 tonnes 90% of the time and averaging 9-9.5 mpg, which represents a good three-tenths of a mile improvement. Even more striking, though, is the reduction in AdBlue consumption – I'm only using about half as much."

And he added: "Roanza's service is first class too – the dealer's Warrington workshop is open 24 hours a day so I can always get the vehicle inspected and maintained at times that suit me best."

Trading as JC Ashley & Sons from his base in Burscough, Lancashire, Jonathan earns his living as a contractor to road maintenance products manufacturer Colas. His vehicle is equipped to ADR specification with full hydraulic kit and hauls either a curtainside trailer with Moffett Mounty loader, or a stainless steel road tank.
The truck is the subject of an Agility funding package from Mercedes-Benz Financial Services. Agility offers all the benefits of conventional hire purchase with a Guaranteed Future Value (GFV) – including low monthly repayments – but gives operators extra options at the end of the term.
Jonathan added: "As well as allowing me to keep my options open for the future, the monthly rates for the Agility contract were highly competitive – hardly any different, in fact, than the payments on the truck I handed back. Taken together with the savings I'm making on both diesel and AdBlue, it adds up to an unbeatable deal."