Logistics Specialist Hands Over Fully Automated Car Parking System
8th May 2018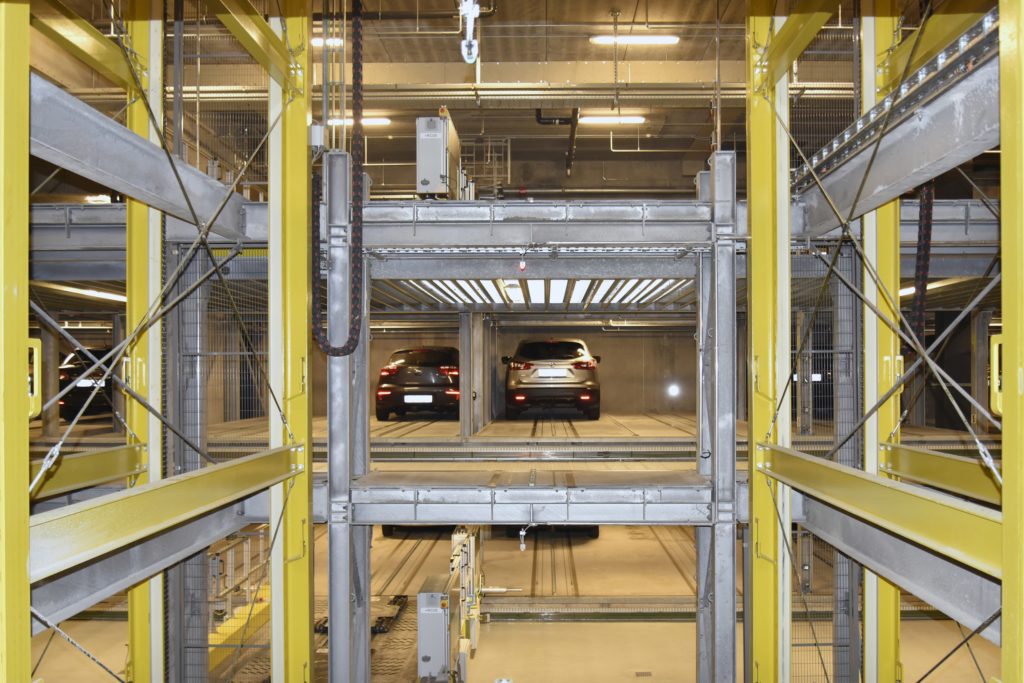 Lödige Industries has handed over the 350-space fully automated parking system at the BLOX building in Copenhagen. The mixed-use building, inaugurated today in Copenhagen's Slotsholmen district with much fanfare, houses the Danish Architecture Centre. The parking system, neatly tucked out of sight, is accessible via an underground entrance area featuring modern parking cabins in line with the overall architectural style of the building.
Visitors drive their cars into the parking cabins without having to endure the usual queues when looking for a car park in the city – or the associated emissions. The system works according to the "park and hide" principle: inside the parking cabin, there is a hoist platform, on which the customer parks their car. After leaving the parking cabin, which has also been designed to be suitable for disabled parking, the roller door shuts and the automatic parking process begins. Before the lifting mechanism lowers the platform, a combination of scanners measures the car and ensures that there are no people or animals on the platform. The car is then lowered to one of the three parking levels. The Lödige 'Shifter', an extra-flat robot, moves beneath the vehicle and gently lifts it by the wheels to transport it from the lift to a transfer vehicle and, finally, to its parking space. The combined speed of the Shifter and the transfer vehicle system allows the parking cabin to be available again immediately, resulting in the highest possible throughput. The system only takes an average of two minutes to retrieve the car – making it extremely convenient and efficient for the user.
The BLOX building's complex architecture and site restrictions meant that it was not possible to design parking spaces of uniform length. The vehicle measurement system introduced by Lödige Industries for this building ensures that space within the system is optimized to park the maximum number of cars. This allowed the additional creation of one-third more parking spaces at BLOX, a significant advantage, given the building's central urban position. The public use of fully automated parking systems is a growing trend in urban centres. Lödige parking systems are extremely user-friendly and easy to operate. Access restriction to parked cars also ensures high security levels. Precise parking carried out by state-of-the-art machines excludes the possibility of vehicles being damaged. In the event of potential disruptions, Lödige's 24/7 service also guarantees immediate assistance and rectification.
Lödige provided the mechanical engineering and manufactured and installed the technical equipment and IT systems for the system at BLOX. Transfer cabins and concrete structures, as well as the payment system were supplied in collaboration with competent partners. Lödige Industries' in-house manufacturing pools all of the necessary competencies, making it possible to plan and launch the system on time and on budget. Philippe De Backer, CEO of Lödige Industries commented the opening of the new car parking system in BLOX: "Our Cubile-S car park technology has already parked over 750,000 cars at DOKK1 in Aarhus in under 3 years, demonstrating both its reliability and user friendliness. By adding the dynamic vehicle measurement feature we are able to boost the management of the parking space in BLOX, leading to greater return on investment for our clients."