Lödige further develops goods lifts
20th April 2021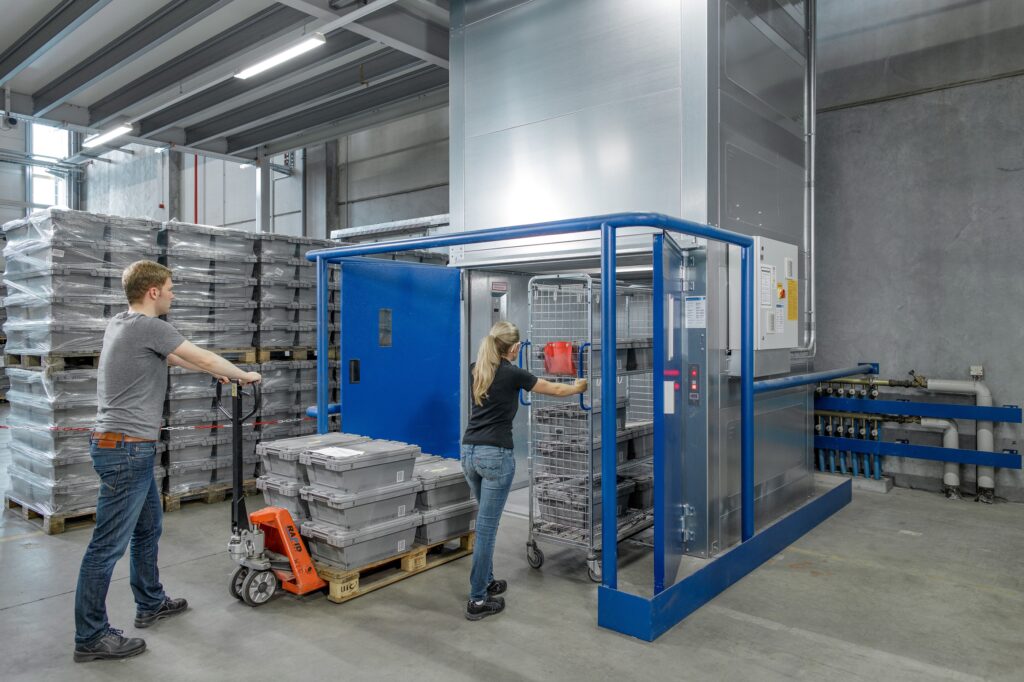 Lödige Industries has further developed its proven Sherpa and Escorta chain lifts. With a 50% higher load capacity of now up to 4.5 tonnes as well as a larger cabin, both are able to even better meet customer requirements for the transport of heavy and bulky loads.
Customers can now increase their productivity and speed up throughput by moving more every single time. The advantages of the compact machine room-less solution with self-supporting steel frame shaft remain unchanged. The latter is also available powder-coated in RAL Classic colours. With nominal loads from 3t, these lifts can now also be installed or retrofitted in existing concrete or masonry shafts.
In industrial and commercial environments, the compact and easy-to-install lifts with a lifting height of up to 18m have proven their worth for many years. The models Sherpa, a goods-only lift, and Escorta, a goods lift with attendant, are used by logistics companies, in production facilities and supermarkets but also in hospitals, hotels and office buildings.
Especially in the warehouses and distribution centres of large e-commerce companies, a space-saving solution with the highest possible performance is in demand. Thanks to the customised cabin, they can be flexibly installed in existing buildings or racking systems without having to make structural changes. By means of a low access ramp, installation without a pit is also possible.
Until now, the load capacity of both models was limited to a maximum of 3t and the cabin depth to 3m. The further development enables the transport of up to 4.5t and a maximum cabin depth of 4.5m in the versions both with and without an accompanying person. With regard to the cabin dimensions, special solutions for individual requirements are also possible.
Both models are type-tested according to the Machinery Directive 2006/42/EC.
"With the further development of our Sherpa and Escorta goods lifts, we are responding to frequently expressed customer requests for higher load capacities and larger cabs with a suitable solution. The decisive factor was to retain the proven advantages of the compact and easy-to-install systems. As a result, our new solutions combine performance and flexibility in a way that is unique on the market," says Sascha Haase, Product Manager Lift Technology at Lödige Industries.
For even larger loads, conversion to hydraulic solutions is required. For transporting up to 15t, Lödige Industries offers a suitable solution with the Olympus goods lift.