Industry View: Which Palletising Solution Is Right For Your Operation?
4th June 2020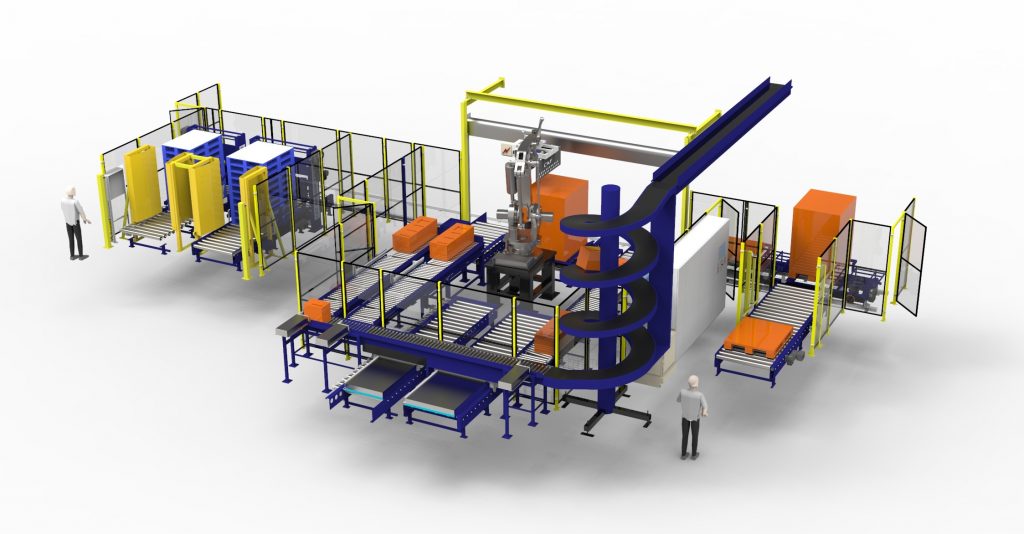 Robotic palletisers, layer palletisers, gantry palletisers – there are so many different options for streamlining and speeding up your production line. How do you decide which is the right one for your unique requirements? Experts from UK automation provider CKF offer their insight.
There's no "one size fits all" solution when it comes to palletising. Robotic palletisers are the latest hot topic and they have successfully been utilised to transform the operations of many thriving businesses as they are exceptionally flexible and capable – but are they really the right solution for your plant?
CKF Systems have extensive experience successfully installing various types of palletising technology. Robbie Dawson, Sales & Marketing Manager at CKF Systems says: "It's important to do a full utilisation analysis before deciding the route you want to go down when automating this part of your factory. CKF Systems routinely examine every palletising project thoroughly and carry out a robot utilisation or throughput calculation as part of the proposals process using the results to make an evidence based decision to select the perfect solution for your operation. Many suppliers have a bias towards one type of technology but at CKF Systems we only focus on the right solution for your operation using an unbiased, fully engineered proposals approach which has been developed over more than 30 years of supplying leading solutions. Our sole aim is to help you maximise throughput, space and safety while minimising damage and errors in production and a focus on future proofing your process.
As we manufacture all of the solutions in our premises in Gloucester we have the flexibility to alter and tweak the systems to ensure they meet your unique needs so you can be sure you will really get the best results possible from a tailored solution."
Here are some of the things you need to consider when selecting a palletising solution…
Throughput & pallet patterns
For all palletising systems the critical starting point for designing the project is to understand what you need from the system, for example, what is the maximum throughput and SKU mix that you need the palletiser to handle – this might be from multiple production lines. You also need to identify what pallet patterns need to be achieved, it isn't just a case of how many cases per minute you need the system to handle. The layer patterns will have a big impact on speed, for example a pallet containing 16 cases will mean more lost time in pallet transfers than a pallet containing 120 cases if the case feed remains the same.
Robot palletiser utilisation is calculated by using the case throughput and pallet pattern – you can select the tool and number of robot movements per layer. A robot can achieve a finite number of moves per minute, the more cases you can pick in a single move, the higher the case throughput you can achieve.
In a similar way to the robotic palletisers, the pallet pattern has a big impact on the throughput capability when utilising layer palletisers, if the pattern is complex and requires multiple case turns and row pushes this can impact throughput. Similarly, pallets with very limited numbers of cases can also impact throughput as pallet changes are time consuming.
CKF can also offer a 'best of both worlds' approach by utilising the layer formation system from our partners Qimarox and the flexibility of an ABB robot with a full layer gripper tool.
Space and building utilisation
Space is at a premium in many of the buildings we integrate systems into; you may have plenty of headroom but extremely limited footprint, or a reasonable space on the shop floor but limited headroom – this is where Layer Palletisers and Robotic Palletisers have their own strengths.
High level layer palletisers can offer a very efficient use of space as you can collate your layers and fit the palletiser directly above your pallet conveyors. Our layer palletiser Partner Qimarox's Cross Runner palletising solution, pictured, enables you to achieve a huge amount with an extremely efficient use of floorspace as much of the complex handling happens at height on a mezzanine floor.
The Qimarox solution offers the ability to palletise three pallets at very high speed in the footprint of a single pallet conveyor width. This does require ample headroom so wouldn't be the best solution where the roof height is low.
Robotic palletisers can offer a very capable compact solution especially if you are limited by headroom, they also offer the benefit of being able to palletise multiple SKUs to multiple pallets simultaneously. Take for example the CKF solution shown below which receives three infeed conveyors and three palletising positions feeding out onto a common pallet car and automated shrink wrapping system.
Generally, layer palletisers can handle cases at very high speeds (up to 200 cases per minute) but are limited to palletising a single SKU onto a pallet at any one time and can only work within a fixed range of case sizes. Robotic palletisers tend to be slightly more limited on throughput capability but have the added flexibility of being able to handle multiple cases onto multiple pallets at any one time and are only limited by the payload of the robot and ingenuity of end of arm tooling.
Product and packaging type
Layer palletisers and robotic palletisers both have their strengths when considering your product type. For example, robot arms fitted with sack grippers can be extremely effective at handling bags while layer palletisers can square the layer of bags prior to dropping them onto the pallet. Robotic arms allow a larger range of cases to be handled as they are only limited to the imagination of the tooling designer and payload of the robot selected, but are limited by the pallet patterns they can build. Layer palletisers, while working to a limited range of cases can easily handle a huge range of layer patterns due to the layer formation technique.
The biggest differences in palletisation systems comes with special packaging – shelf ready packaging is fragile and can easily be damaged or torn if lifted using a robot tool, whereas the layer palletiser does not lift the case and can handle this far more gently, ensuring no damage is caused. Bale arm trays and buckets regularly interlock on pallets and as such are not suited to palletising easily using layer palletisers, but a robot pick and place is ideally suited as the robot can pick and place products extremely accurately and repeatedly.
What is the right choice for your solution?
There is no one right answer for a generic product type, the decision is heavily dependent on a huge range of variables which must be analysed before the decision can be made. There is always a big overlap in capabilities between Layer Palletisers and Robotic Palletising, so the decision must be based on what is the best for the individual site and operation – also considering future production needs is vital.
CKF offer a completely unbiased approach to the engineering consultancy work we put into each and every one of our proposals, our customer interest is paramount and we ensure that we evaluate every one of the variables relating to your operation. Using this we will then provide evidence to justify and demonstrate why we recommend a type of solution – In some cases we would provide a solution which incorporates both types of palletiser!
Direct Wines, one of CKF's customers, had a complete turnaround in expectations after doing a full analysis with CKF Systems. "When we approached CKF for an automation solution we were convinced we needed a Robotic arm palletising solution. When CKF visited our site they did a full assessment and worked with us to get a proper understanding of what we were trying to achieve.
With this evidence they proposed two solutions, the first, a Robotic arm solution, which would work but took up a vast amount of floor space. The second option involved a much simpler and easily maintained layer palletiser solution which opened-up the majority of our floor space and much better utilised the area available. CKF discussed all the pros and cons of both systems equally and it helped us understand that the layer palletiser solution not only provided better utilisation of our space, it also allowed for future development of our process at very little cost. It also meant that during our low periods we would not have as much capital equipment under-utilised.
The level of engineering CKF put into the proposals stage of the process helped us to make educated decisions and select the correct solution. CKF ensured that any concerns we had were physically tested to reassure us – they even sent engineers to the Netherlands to trial and demonstrate the capability of their suggested equipment using our products.
It was the unbiased engineering support and advice given throughout the process, along with their proven track record in palletising that meant CKF stood head and shoulders above the competition and we had no hesitation in awarding the job to CKF."
There is a lot to consider here so you may still be confused about the best solution for your production line. The CKF team will do a full analysis of your operations, site and unique objectives to put together a full and comprehensive proposal with the right palletising solution for your plant.