Industry View: Quick Automation Solutions Can Solve Labour Shortage
3rd October 2018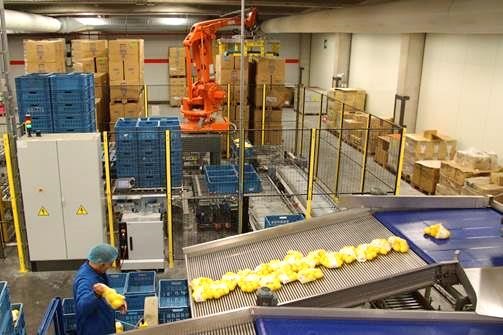 As the previously seemingly unending pool of low cost European labour continues to dry up, UK companies in the food supply chain are having to live with the reality that you can no longer lift the phone and flood your production lines with low cost labour to maintain or increase your production output. Automator ALVEY offers a solution.
Recent reports show that new migration from the EU recently fell sharply to 90,000, the lowest in many years for a number of reasons, including – the fall in the pound meaning less wages can be sent back home, more jobs are available in Europe and the perception of what Brexit will mean from next year. One of the resulting problems for many manufacturers and pack house operations is how to deploy and efficiently use the labour that they currently have and are able to hire so that they can maintain and grow output.
Historically, Capex rules have operated on the assumption that End of Line Automation projects had to challenge the status quo of relatively low cost labour linked to demanding pay back periods which then often blocked the case for Automation. However, those rules are now rapidly becoming outdated as the reality of the current situation kicks in. Management can now view End of Line Automation as an essential medium to long term strategy and not a 'nice to have' option with an unrealistically short payback.
By releasing increasingly precious labour resources to areas where 'thinking' pairs of hands are most efficiently used, End of Line Automation solutions can play a major part in solving labour problems and bring increased efficiency, productivity, reliability and safety along as a bonus.
Case forming, packing, palletising and wrapping are important but easily automated parts of the production process that can be swiftly implemented using proven, reliable and cost effective technology.
By employing proven expertise such as is available within ALVEY nv, solutions can be designed, installed and up and running in just a few months, helping to solve some of the new challenges coming from a changing marketplace.
ALVEY are part of the international Scott Technology Group offering automation solutions from simple conveying to highly automated traditional or Robotic End of Line systems which can now include AGVs to complement the package.