Hyster reveals 5 reliability checks for ICE forklift users
25th June 2015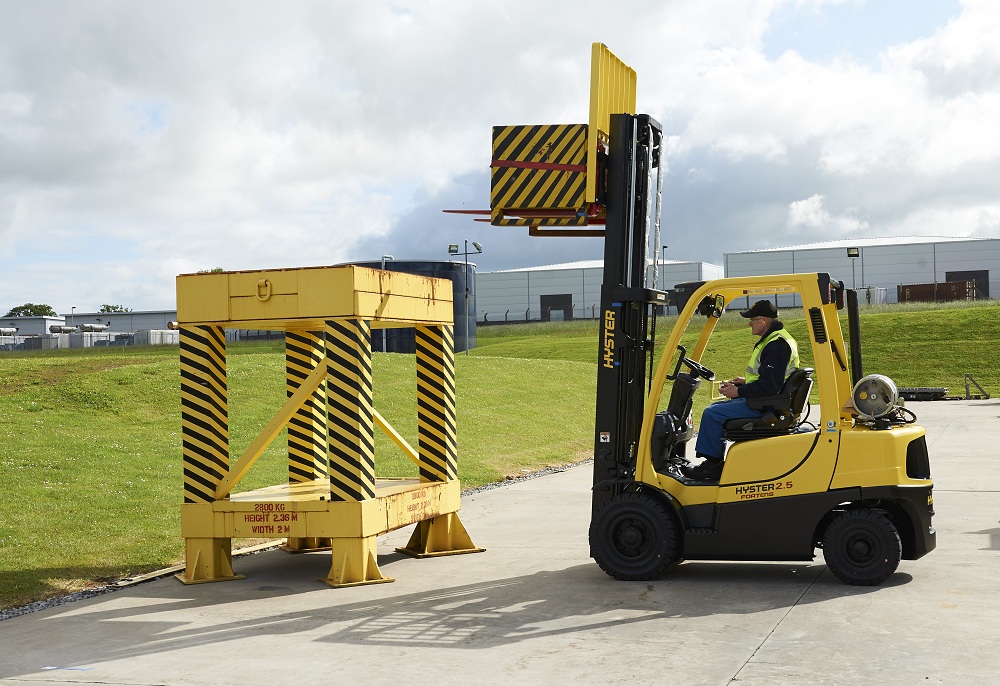 Reliability is one of the most important factors when choosing a forklift truck, but reliability can only be measured in relation to the intended use. So before "popping the hood", be clear about how you want to use the truck.
Here are five checks to help determine if an ICE powered truck is reliable enough for your application, whether handling timber, metal, paper or a simple pallet of fruit.

1) Engine and transmission

A truck's engine and transmission will determine whether it starts on a cold winter's morning or won't overheat on the hottest summer days.
For single shift, standard duty applications with lifts that are not at capacity, most industrial engines will usually provide a reliable performance, but always check if the engine is a known brand and designed for industrial applications. Where the transmission is concerned, Hyster has proven that its single speed "powershift" transmission, which doesn't "shock" on direction change, is a highly reliable feature on its standard H2.5CT.
However, when the application involves continual lifts at capacity, steep gradients, extreme hours or other challenges, you might need a more advanced truck.
Few forklift models have the proven ability to lift continuously for 2-3 shifts a day, 7 days a week in dusty environments with ramps. In these high intensity operations, the engine and transmission should be electronically controlled and protected to prevent any major damage.
For these reasons, the Hyster® Fortens FT range is chosen by many high intensity 24/7 pallet networks for its electronically controlled DuraMatch™ transmission, which automatically reduces speed when the accelerator pedal is released. This helps protect the powertrain and significantly reduces brake and tyre wear through smooth direction changes.

2) Hydraulics

A common reliability problem in the forklift industry is leaking hydraulic fluid, so it's important to understand the quality of the hoses, fittings, valves and pumps used. Are they fit for purpose on a site like yours? If there is any doubt, investigate further.
For more intense operations, check that the truck has leak free protection. For example, hassle-free hydraulic systems featuring leak-free O-ring face seal fittings are fitted as standard on the Hyster Fortens trucks for exactly this reason, helping to enhance reliability. Variable displacement pumps which give hydraulic power on demand will also help to increase reliability.

3) Testing, quality and warranty

Check that the product has gone through thorough testing and life-cycle simulation, verifying the reliability of the entire truck design. Has there been credible testing, analysis and refinements on how all the elements work together, such as engine efficiency, noise and vibration, all weather performance, stability, safety, hydraulic and transmission performance, axles, cooling, software and more? Does it meet the safety standards?
Warranty terms can also be a good indicator of reliability, but check whether coverage applies to the number of hours used or a defined time period.
If you're buying in volume, you may also want to visit the factory yourself. Hyster regularly welcomes visitors to its counterbalance factory in Craigavon, Northern Ireland, to inspect the stringent quality processes that are followed from conception to build.

4) Check reference sites

Is the truck brand you're considering reliable in real life applications? A little bit of research could save you years of contractual difficulties, downtime and out of contract costs. Trusted suppliers will be able to give you references and proof.

5) Maintaining reliability

The good news is that most reputable brands build forklifts to be reliable in the application they were designed for, but they do need to be maintained properly. Check that the supplier can support the equipment adequately and at the right price. Availability of parts which adhere to the manufacturer's guidelines is also an important factor when carrying out a reliability check.
Over the last few years, Hyster has increasingly focused on providing application specific solutions, claiming that companies can achieve the best value and reliability by choosing the right truck for the application.
For more guidance on reliability from a highly experienced, application focused team, visit www.hyster.eu.