HIGH FIVE FOR HASTINGS FREIGHT PLOUGHING ?100K INTO FORK LIFT FLEET
30th July 2015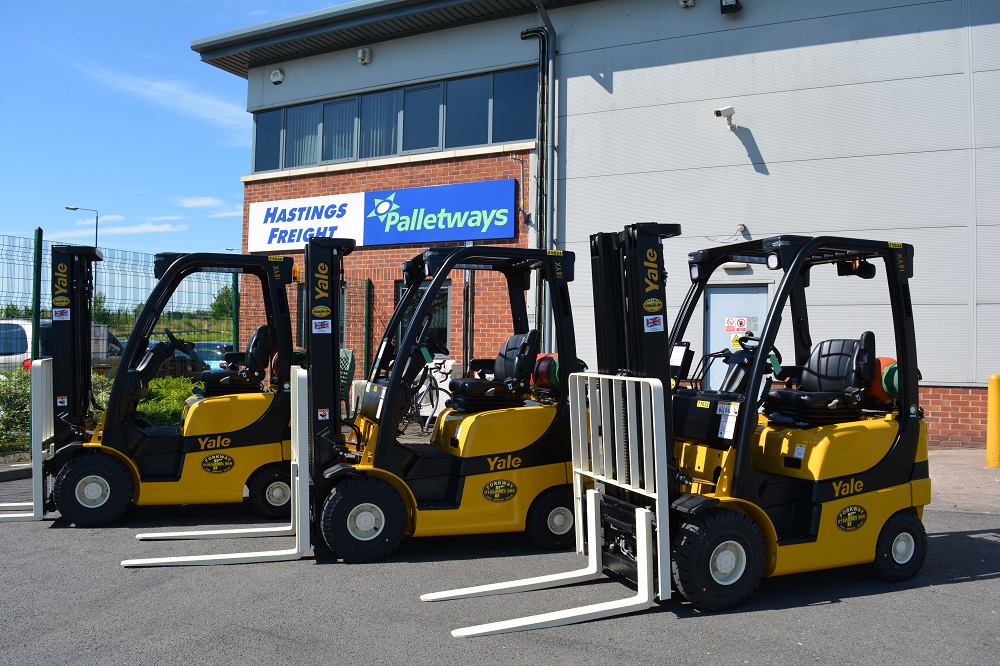 Hastings Freight, part of Palletways, Europe's largest and fastest growing express palletised freight network, has ploughed over ?100,000 of investment into its fork lift truck fleet.
The firm, based in Barlborough, South Yorkshire, has taken delivery of five Yale VX LPG Counterbalance trucks, supplied by Dewsbury-based dealer, Forkway. All feature techtronics transmission and an auto deceleration system (ADS) which automatically slows the truck when the throttle pedal is released. This action minimises brake usage, operator fatigue and reduces associated brake costs. The VX model also boasts improved tyre and fuel costs through controlled direction changes and most importantly, and anti-rollback feature, which was crucial for Hastings as the trucks will be used incline between two marshalling areas.
Alan Hastings, managing director at Hastings Freight, said the company is growing at a rate of around 22 per cent per year and the new fork lifts will help the firm cope with increasing demand from their domestic and European freight customers. He comments: "We process some 1,400 pallets every day on behalf of our customers and have ambitious plans to increase this figure over the next few years.
"The fork lift investment is one of a number we have made over the past 12 months. We have built a new truck park, extended our warehouse to 40,000 sq ft, we are increasing the size of our offices and also need to recruit 11new members of staff. This new fleet will help us improve on what is an already efficient operation and we will continue to invest in our premises, plant and machinery for the benefit of our customers."

Damian Hardy, Area Sales Manager at Forkway, added: "We've worked with Hastings Freight for more than a decade. Our long-standing relationship with the operational team at Hastings Freight means we have been able to get under the skin of the pallet business to fully understand the nature of the work and match them with a truck that's going to meet their high intensity, demanding operation."