Global Automator Piab Claims "First Vacuum Lifter of Industry 4.0"
18th November 2019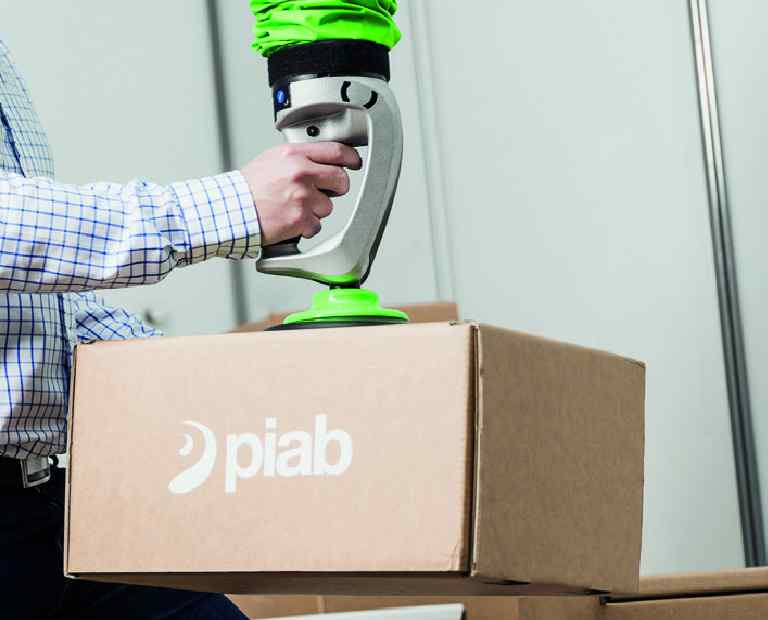 Global automator Piab says its just-launched piLIFT® SMART vacuum lifter "really does bring the future of Industry 4.0 integration a step closer". The Sweden-based firm says it enables users to introduce smarter handling solutions where data is collected in real-time, making their production processes deliver on the promises of the fourth industrial revolution, Industry 4.0.
"The piLIFT® SMART vacuum lifter is the first manually operated vacuum lifter to meet the demands of Industry 4.0. Not only a market breakthrough, it also heralds a genuine paradigm shift for ergonomic vacuum lifters," says David Collins, Vice President and Head of Piab's Ergonomic Handling Division.
The vacuum lifter's integrated, smart data features are based on internet connectivity. These enable the vacuum lifter to sense and record movements and to respond quickly to user intentions, making it a particularly user-friendly lifting tool. In addition, it will lift and weigh loads simultaneously, as well as collect and log data, making process statistics and analyses immediately accessible to the user on either the lifter's built-in display or through web platform log-in. These data management features also enable the lifter to let the operator know when it is time for maintenance or cleaning.
The piLIFT® SMART is ergonomic by design. The shape of its handle, allowing a side-on grip, and the placement of the variable speed controls, enabling left or right-handed use, are the results of an insightful design guided by ergonomic principles. The protective hand guard and the minimal operating sound level are testaments to a multi-pronged focus on the health and wellbeing of users.
The new launch also utilises the latest and best performing vacuum lifting technology, according to the company. The system controls the pump and valves, feeding power only when needed, which results in an energy consumption 76% lower than other comparable vacuum lifters.
The vacuum lifter's low-energy system controls the vacuum pump and the valves. This means that power is fed to these parts only when it is needed. Vacuum is generated only when the operator is ready to grip or lift an object. In between such activity, the air flow is kept at a minimal level, enabling the piLIFT® SMART to operate at a mere whisper.
The piLIFT also utilises the same single vacuum source to both grip and lift in one single movement. This provides the added bonus of an inherent safety feature that no other lifting solution benefits from. If the object cannot be gripped, neither will it lift. Hence there is no risk of it being dropped unintentionally mid-procedure. So, less risk of industrial injuries.
The piLIFT® SMART can handle objects weighing up to 40 kg, offering the perfect vacuum lifting solution for materials handling procedures in a broad range of industries. The loading and off-loading of parcels and boxes from transportation pallets is one example. Or it may be used to lift, move and empty containers of bulk material, enabling its safe transferral to a feeding station connected to, for instance Piab's piFLOW® vacuum conveyor for further processing.