Chiller in Manila
7th December 2020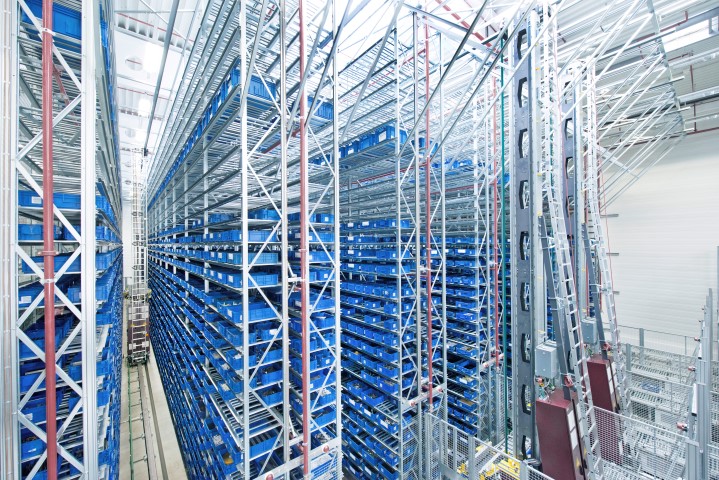 Efficient and sustainable frozen food logistics is complicated in the Philippines by extreme weather conditions and challenging local infrastructure. A case study reveals how latest technology can
address these problems.
The topic of sustainability is becoming increasingly important worldwide, as resources are finite and need to be used sensibly. Measures must be taken and solutions developed to achieve global climate goals. The '50 Sustainability and Climate Leaders' initiative aims to leverage innovation and sustainable business models and gives a platform for making the contribution to achieving the United Nations 17 Sustainable Development Goals (UNSDG) global visibility. Fifty world-leading companies from various industries are gathering to showcase how they are developing activities and evolving business models towards a more sustainable future.
One of the 50 Sustainability and Climate Leaders is SSI Schaefer. "As one of the leading global providers of materials handling solutions, we are an ideal partner for companies that pursue
economically viable and future oriented sustainable goals," says Steffen Bersch, CEO SSI Schaefer Group. This logistics expert brings extensive experience from many industries and a broad portfolio of innovative products and solutions. A technological, sustainable, and efficient materials handling initiative is essential to reduce energy consumption, CO emissions and costs, while promoting short supply chains and healthy working conditions. SSI Schaefer understands the unique needs of its customers and combines, among others, energy recovering hardware, energy efficiency software, predictive maintenance, recycled and recyclable materials, green building and ergonomic solutions, to balance performance requirements, flexibility, and durability.
Sustainable deep-freeze logistics
SSI Schaefer has delivered an outstanding sustainability project in partnership with ORCA Cold Chain Solutions in the Philippines. This archipelago with 7,641 islands in the western Pacific Ocean is already struggling with the consequences of global warming. Worldwide rises in temperature, along with rising sea levels in the region, lead to greater weather extremes, including dangerous tropical storms, which in turn could trigger storm surges. In addition, the Southeast Asian island state lies on the Pacific 'ring of fire', the most geologically active zone on Earth. Around 90% of all earthquakes worldwide occur along this line.
Of the over 100 million inhabitants of the Philippines, 1.8 million live in the capital, Manila, with a further 11 million in the urban area of Metro Manila. Supplying this urban population with fresh food is difficult due to the tropical temperatures and the overloaded transport infrastructure with its frequent traffic gridlocks. In addition, ORCA faces the other challenges of the food industry. Up to 37% of food produced worldwide spoils due to poor packaging, storage and handling.
ORCA Cold Chain Solutions (ORCA) was founded in 2017 as a subsidiary of ISOC Holdings. Faced with the Philippines challenges, ORCA set itself the task of establishing services and infrastructure for temperature-controlled food logistics. The company's sustainable business objective encompasses the difficult task of maintaining the quality and safety of food in this tropical climate zone, thus helping to prevent food spoilage. Within a very short time, the company has become the leading provider of temperature-controlled logistics, warehousing and complementary services for the food and agricultural industry. Customers include large fast food chains in the Philippines, exporters and importers, as well as small food retailers.
At the heart of this successful corporate development is the establishment and expansion of an efficient and sustainable deep-freeze infrastructure. ORCA currently has two storage locations in the Manila metro region: Alabang and Taguig, with a third, Caloocan, currently under construction. ORCA chose SSI Schaefer as a partner because of their extensive experience in technology, engineering and customer service. In Taguig, ORCA and SSI Schaefer built the first fully automated deep-freeze warehouse with temperatures from -18 °C to -25 °C on a floor space of one hectare. The facility opened in February 2020.
Designed with a focus on energy efficiency and process safety, the facility is strategically located in the heart of Manila and is close to ports and industrial areas to enable quick supply to the country's various regions. The scope of services provided by SSI Schaefer includes the fully automated high-bay warehouse in silo design with four SSI Exyz storage-retrieval machines and a storage capacity for 20,000 pallets, a conveying system, Advanced Pick Stations (ergonomic goods-to-person picking stations) and the logistics software WAMAS®.
The imposing 45-metre-high deep-freeze automatic warehouse is technically and architecturally designed to meet the special seismic and climatic challenges of the region. To this end, the rack structure is designed to withstand the strong horizontal movements and vertical forces that could be caused by earthquakes or typhoons. The optimised design of the building without additional columns and structures makes very efficient use of the limited space in Manila. "SSI Schaefer made sure that our carbon footprint is smaller than a typical conventional facility would make. A
20,000-pallet facility would normally take three to four hectares of land. But with the technology and innovation that SSI Schaefer provided, we were able to do this type of facility on one hectare
of land," explains Yerik Cosiquien (pictured), President & CEO of ORCA Cold Chain Solutions.
The ORCA Taguig plant was awarded 'Pioneer Status' by the Philippine Board of Investments, a department of the Philippine Department of Trade and Industry, as the first fully automated cold chain facility in the Philippines. Thanks to the automated solution, ORCA can move up to 4,800 pallets per day in two-shift operation. A team of technicians from SSI Schaefer ensures
maximum availability of the system.
In the goods receiving area, food is unloaded from the trucks using forklifts, then palletised, shrink wrapped and labelled with QR codes and barcodes for traceability and real-time monitoring. Via a 282-metre conveying system, the pallets are automatically transported to the appropriate assigned zone in the high-bay warehouse, where a constant temperature of -25°C is maintained. In order to guarantee freshness, products are handled with the FEFO principle (First Expired, First Out). With WAMAS logistics software, ORCA has a close eye on stock and ensures that all goods within the warehouse are booked and tracked in real time. This also reduces the risk of theft, which is an issue in the region.
Thanks to the energy-efficient technology and innovative solutions of SSI Schaefer, ORCA could offer its customers end-to-end cold chain solutions with first-class customer service, higher efficiency standards and transparent inventory tracking. Electricity costs have been reduced by almost 35% and human involvement has been kept to a minimum. This ensures the integrity of all goods. "From the very beginning, the vision for ORCA was to be a world-class game changer. That is why we chose to work with SSI Schaefer in order to bring to the Philippines for the first time this type of innovation and automation," explains Yerik Cosiquien.