Flexi celebrates 25 years of Quality
11th June 2015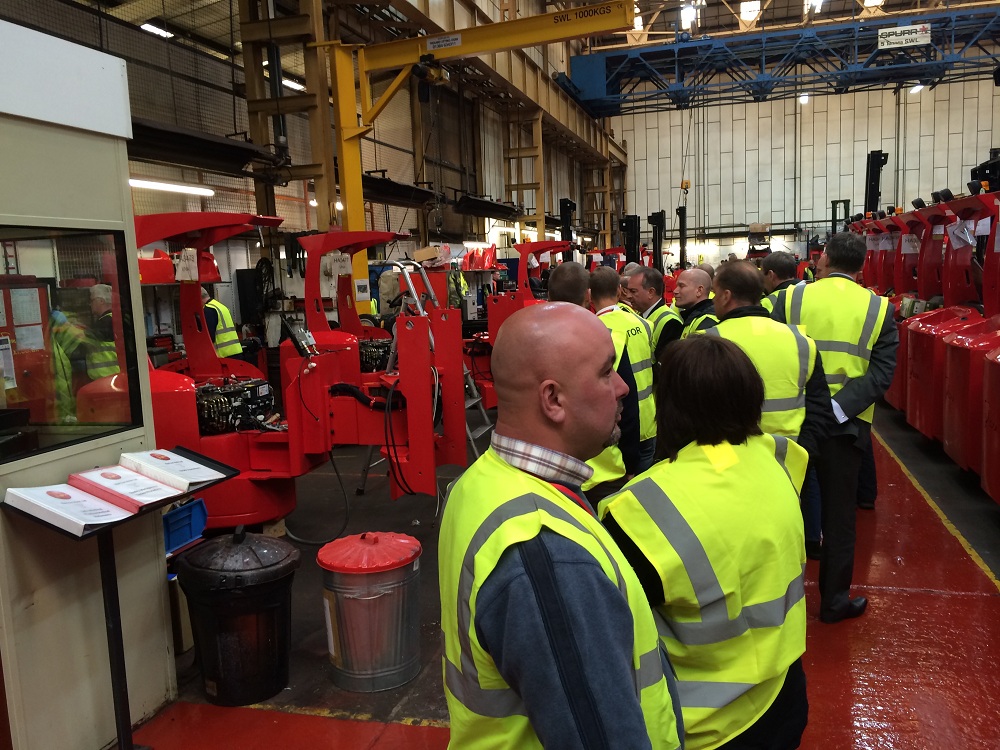 As a celebration to mark the 25th anniversary of the development of the original Flexi Articulated truck concept, Narrow Aisle Limited – the VNA materials handling solutions specialists who design, build and distribute a range of intralogistics solutions– recently hosted a series of distributor open days at their UK manufacturing plant.
Attended by 150 visitors from all corners of the UK, the open days gave guests the opportunity to see a live presentation and demonstration of the latest Flexi AC truck range including the unique Flexi VNA and the brand new Flexi CuBEMAX, which takes pallet rack storage density to another level of space utilisation and efficiency.
The success of the articulated forklift concept has been built around the fact that its clever design allows it to work at the same speed as a counterbalance forklift truck and then work comfortably and safely within very narrow aisles (VNA) increasing productivity by up to 30% compared to conventional reach type trucks.


"Until the Flexi Front Wheel Drive articulated forklift truck was developed by Narrow Aisle, companies had little alternative but to operate a two truck system with a counterbalanced forklift working outside and feeding a reach truck inside the store or warehouse," says Peter Wooldridge, founder and managing director of Narrow Aisle Ltd.
He continues: "With our pioneering development of the Flexi, users realised that they could eliminate often costly and generally inefficient doubling handling arrangements. The Flexi loads and unloads lorries and delivers pallets directly to the racking in a single operation. By doing so, it increases efficiency and productivity while abolishing double handling and the costs associated with running a bigger truck fleet than is necessary. And with their ability to operate in aisleways as narrow as 1.6 metres and lift pallet loads to heights of over 13 metres, Flexis could save warehouse operators at least 30 per cent of their storage costs."

Over the past two and a half decades the Flexi AC has become the most popular articulated forklift truck in Europe. Over 5000 units – not only in Europe but throughout the world – have been sold and the Flexi AC range has been developed to cover the material handling and storage requirements of customers operating in hugely diverse industries.
Since its introduction in 1990, the Flexi brand has become synonymous with high quality, ultra-reliable products. "We have a long standing reputation for exceptional product reliability and customer service across the world which has been built over 25 years of articulated forklift truck design and development," says Peter Wooldridge.


"Although our clients are involved in the storage and handling of many different palletised products – from foodstuffs to engine parts – they all share at least one common aim: the need to save costs by maximizing efficiency within their storage operation. The Flexi range can help them by eliminating double handling and increasing throughput making the most of the warehouse space that is available."

A number of new innovations – designed to provide cost effective "palletless" storage solutions – were presented at the open days. These Flexi variants are especially suited to the e-fulfilment industry allowing products like white and brown appliances to be handled in bulk packs and in much less space using specially designed clamp units.
Using the same concept, individual appliances can be stored and then "picked to order" for each online customer. Many benefits include the elimination of handling damage, the ability to stack up to nine levels high in decked pallet racks rather than two or three high when block stacking, storage aisles of only 1.8 metres and 100% selectivity of any stock item on a FIFO basis, allows instant availability of appliances sourced specially for a customer order.
The company also demonstrated its grocery retail order picking capability with the FlexiPiCK layer picking system. Customers in the USA have adopted the layer picking concept to reduce costly manual handling issues in high volume case picking facilities, with beverage and FMCG customers benefiting most, due to product weight and manual handling fatigue problems. Layer case pick rates of over 1500 per hour are re-reported with the FlexiPiCK. The unit requires no additional infrastructure investments to implement, normally small changes to warehouse management system and of course customer order profiles are required. Once implemented the reported payback for the system is less than 9 months.