Flexi's cask task
10th November 2015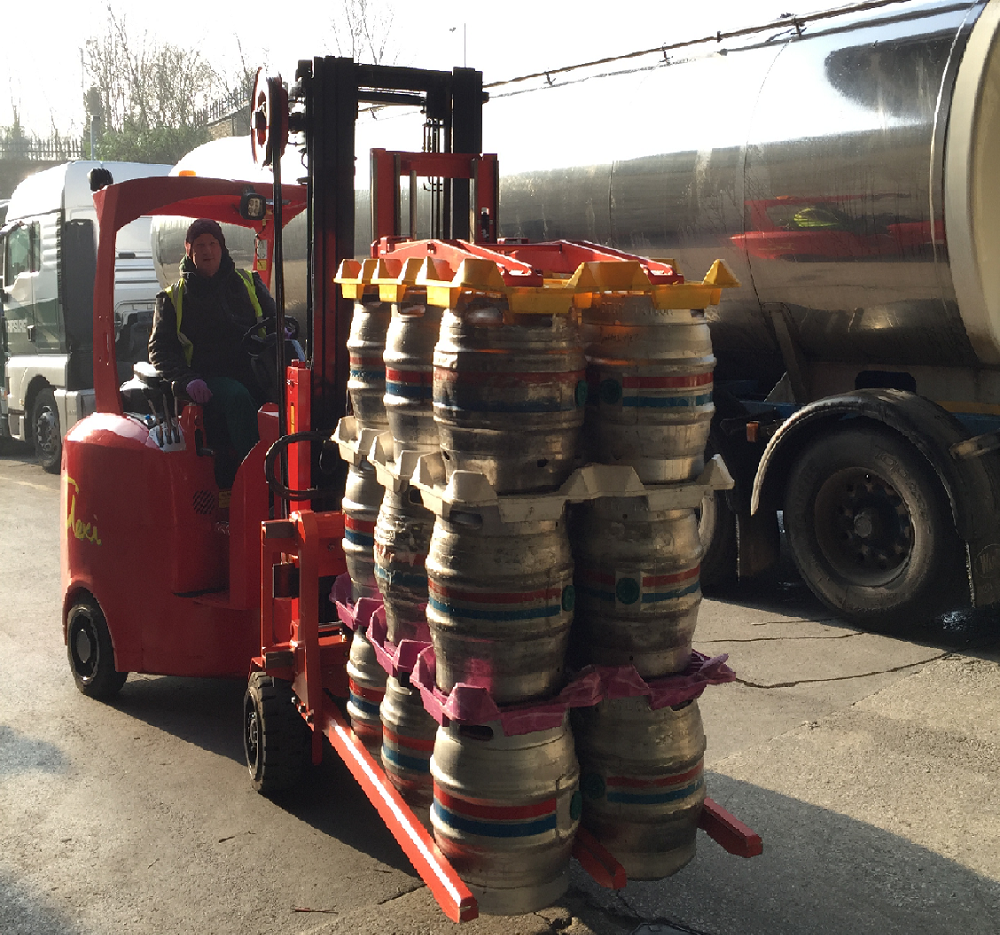 For real ale enthusiasts the iconic Timothy Taylor brand needs no introduction. The company has been brewing a range of award-winning cask and bottled beers from its present site in Keighley, Yorkshire, since 1863.
Over 100,000 pints are brewed each week at the Knowle Spring Brewery, using only the finest natural ingredients – hops, malt and yeast blended with pure Pennine Spring water – that give Timothy Taylor's range of ales the distinctive taste that has proved so popular with beer drinkers for the last 150 years.
The brewing process has not altered a great deal since Timothy Taylor produced its first pint: in simple terms, barley is converted to malt, which is milled and mashed and turned in to sugars. Hops are added to this mixture, which is then boiled and cooled again, before yeast is introduced and the fermentation process begins. All crafted under the watchful eye of an experienced brewer.
Fermenting takes about week, at which time the beer is matured and ready to be either poured in to casks or transferred to tankers for onward delivery to Timothy Taylor's bottling partners.
The majority of Timothy Taylor's output reaches the consumer in casks.
Before they leave the brewery, all Timothy Taylor casks are weighed to make sure they are full. They are then placed 8 at a time on pallets or up to 18 at a time onto special plastic locator boards and transferred directly by counterbalanced forklift truck from the brewery building to curtain sided trailers for delivery to Timothy Taylor's "long distance" bar, pub or wholesaler customers.
However, for local own account customer deliveries (deemed to be customers within a 50 mile radius of Keighley) casks are transferred from the brewery building to Timothy Taylor's own onsite warehouse facility by an electric-powered articulated forklift from the Flexi range manufactured in the UK by Narrow Aisle Ltd.
There is no racking within the warehouse – casks are block stacked, using specially designed locator boards, up to 4 metres high.
In aiselways through the middle of the store measuring 60 metres long the Flexi AC articulated truck travels to put away and retrieve loads of casks on locator boards as required.

"We initially opted for Flexi articulated forklift truck technology in our cask storage warehouse as long ago as 2003 and have recently replaced our original Flexi truck with a new more advanced model from the Flexi AC range," says Nick Berkovits, Second Brewer at Timothy Taylors.
For Timothy Taylor the Flexi AC represents the optimum materials handling solution thanks to the truck's space saving attributes and its ability to work both inside and outside the warehouse.

"Because the floor area is limited within our warehouse we need equipment that requires minimal space in which to operate," says Nick. "We also require a truck that is robust enough to cope with shuttling between our brewery's outfeed point and the store."

Timothy Taylor's new Flexi is from Narrow Aisle's latest Flexi AC range which feature the third generation Zapi AC motor controller technology as well as high quality Schabmuller motors, to provide faster work cycles and an extended service life.
In addition, the truck's low turbulence hydraulic pumps significantly reduce operational noise levels to provide a safer and more comfortable working environment, while premium 'Finger Treaded' Continental cushion rubber tyres – considered the optimal tyre for stability and long service life – are fitted.
With truck uptime and energy efficiency both important considerations too, Timothy Taylor also welcomed the fact that with the Flexi AC no chains or slings are required during battery change over operations. The Flexi battery is removed simply and efficiently at low level from the rear with the driver using a hand pallet truck or another forklift. This process is very fast and eliminates the risk of the battery being dropped from height.
The battery system supplied uses 'state of the art' charging technology to reduce mains electricity usage by up to 50 per cent compared to traditional systems. In addition, the normal eight hour charge cycle is reduced by up to two hours allowing 24 hour truck availability without the need for three spare batteries per truck.
To further improve handling efficiency at the Timothy Taylor site the Flexi truck is fitted with an innovative Kaup keg clamp attachment supplied by B&B Attachments.
The KegMaster keg clamp enables a secure grip of casks on locator boards while retaining excellent operator visibility when approaching the load. This can increase the cask throughput by 125% compared to pallet board handling of only 8 kegs at a time.

"Timothy Taylor is one of the most revered brands in the brewing industry and we are delighted to have been so closely associated with the company for so many years," says John Maguire, sales director of Narrow Aisle Ltd.
He adds: "The company has been enjoying the benefits of Flexi articulated forklift truck technology for a long time and it is testimony to the build quality and performance of the Flexi product that when the time came to replace their articulated truck with a new technology they looked no further than Flexi AC, the original and best."