First Shuttle Delivered
24th January 2018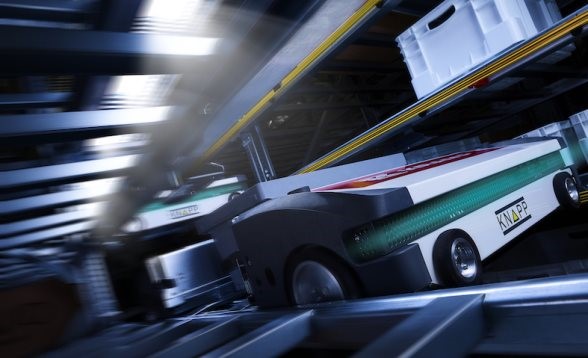 Kramp – supplier of spare parts and services to dealers across Europe in the agriculture, forestry, landscaping and earth-moving sectors – has awarded Knapp with a contract for the first of its new OSR ShuttleTM Evo systems. The latest evolution of Knapp's shuttle technology is being installed in two of Kramp's distribution centres, in Germany and the Netherlands.
Beginning as a one-man operation, the Kramp group has grown to become the largest technical wholesaler in Europe. With positive business developments and promising growth targets, Kramp decided to reorganise its logistics. The company wanted its distribution to be in keeping with its slogan, 'It's that easy', to ensure simple and efficient handling of more than 500,000 products for overnight delivery to customers. To turn this vision into reality, Kramp – which had already worked with Knapp to realise an automated solution for its facility in Denmark – selected the company's innovative OSR ShuttleTM Evo.
Regardless of the sales channel, all stock in the new solution is picked according to the goods-to-person principle. Knapp's ergonomically designed 'Pick-it-Easy' workstations allow intuitive operation with fewer errors. Designed with large glass areas, the distribution hall is flooded with daylight and, after 'one-touch' order picking, customer orders are immediately made ready for shipping.