European premiere for the new Crown RT 4000 Series rider pallet trucks
20th November 2015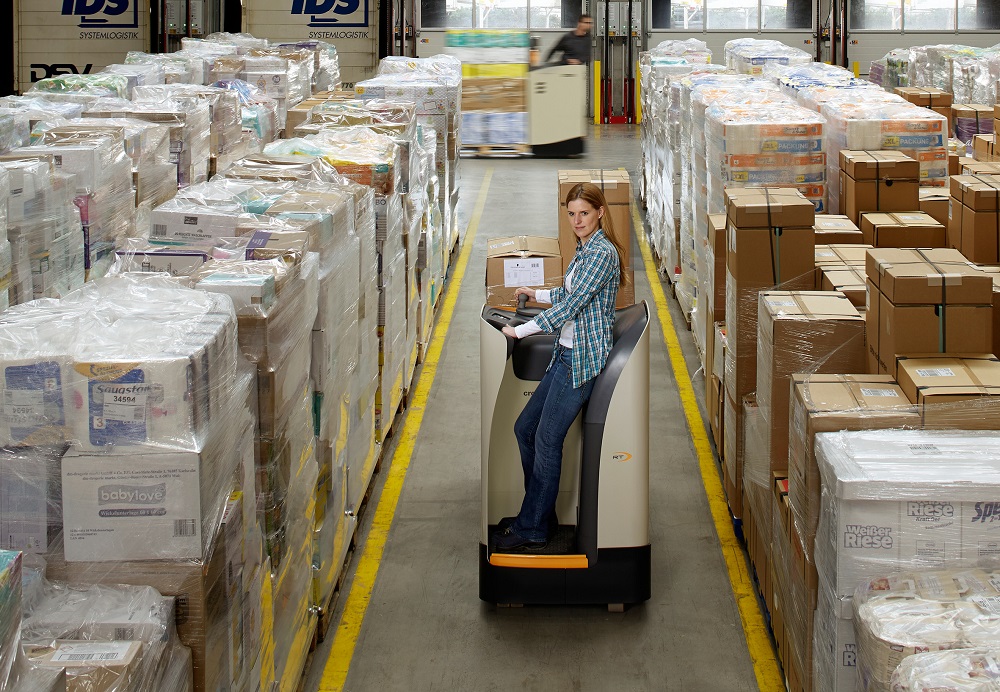 Crown, one of the world's largest material handling companies, further expands its European warehouse product range by launching its new RT 4000 Series at LOGISTICA 2015 in Utrecht, Netherlands. The new rider pallet trucks are available as stand-up or sit-down models, both designed to help optimise operator performance and safety. Capable of travelling at up to 12.5 km/h, they have a load capacity of up to 2,000 kilograms.

Delivering pace and power – safely.

Crown's design concept focuses on delivering fast, safe and efficient performance from loading dock to warehouse aisle. As in all Crown lift trucks, ergonomics that optimise operator productivity are a key feature of the new RT 4000 Series. It combines agile and robust truck technology with innovative safety features, such as the patented and proven Entry Bar Safety Switch that deactivates travel when the operator places a foot outside the truck perimeter.
The new rider pallet trucks were engineered to meet the high demands of tough and busy logistics applications in terms of agility, responsiveness, reliability and safety. Both stand-up and sit-down models are ideal for fast-paced dock work, offering outstanding transporter performance and exceptional manoeuvrability even in confined spaces. At the same time, both models offer the level of ride comfort that operators need to stay fresh throughout a hardworking day.

"The RT 4000 Series combines Crown's experience in developing and manufacturing reliable warehouse solutions with a design concept that puts operators at the heart of the development process," explains Jim Kraimer, Director Industrial Design, Crown. "The result is a high-performance product that retains its value and helps improve productivity and safety in the warehouse while simultaneously cutting costs."

Developed and manufactured by Crown, the AC motors fitted to the RT Series are capable of powerful acceleration at speeds of up to 12.5 km/h. The motors run longer, stay cooler and continue to operate reliably and efficiently in the toughest conditions. Pallet entry and exit rollers are fitted to the new models as standard, so the load arms can easily traverse pallet bottom boards regardless of whether the pallets are empty or full. The electronic steering system further boosts the truck's impressive manoeuvrability and responsiveness.

Designed to optimise operator productivity

In the stand-up model, ride comfort is enhanced by a suspended floorboard that reduces shocks from dock boards and rough floors, plus a wraparound, soft-foam lean pad. The stand-up model can also be configured with right-hand or left-hand steering, as preferred. For intuitive ease of use, the truck's traction and lift/lower controls are arranged so they align with the direction of operation. And with a chassis only 780 mm wide, this model is particularly suitable for moving product into and out of lorries, as well as working in confined storage areas where block stacking is the norm.
The sit-down version is fitted with a low entry step for convenient entry and exit. Two other key features help optimise the driving experience in sit-down models: a height-adjustable floorboard with 60 mm of travel, so operators can choose the sitting position that is most comfortable for them, plus a durable, ergonomic seat that can easily be adjusted to accommodate each operator's weight and leg length. Complete with spinner knob, the steering wheel is sized and positioned to minimise shoulder and arm stress even in the most demanding conditions. In short, the sit-down model is specifically designed to excel in long-distance, high-throughput applications.

Rugged, reliable design

Rider pallet trucks in the RT 4000 Series are so sturdily built that they are capable of withstanding extreme stresses encountered in fast-paced, high-traffic work areas. Every model is fitted with a reinforced, wraparound steel skirt eight millimetres thick and steel covers six millimetres thick; there are no exposed plastic parts in impact areas. The use of proven, best-in-class components also helps maintain the reliability that characterises all Crown lift trucks: reinforced one-piece forks made out of high-tensile steel, controls that are tested to the limit in the toughest working conditions, plus an extensive range of Work AssistTM accessories such as beverage holders, clipboards, storage pockets and more.