Egemin to Build High-Bay Warehouse for Belgium Snack Food Producer
29th September 2016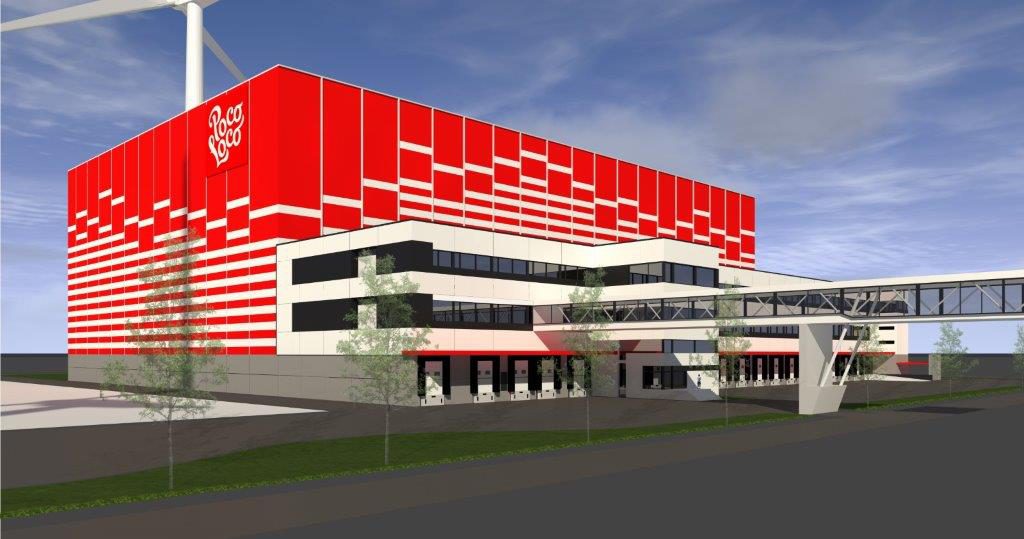 Egemin Automation will soon start with the construction of a new automated high-bay warehouse for Belgian snack food producer Poco Loco. The company has been experiencing steady growth and needs more capacity. To achieve this, the company recently bought seven hectares of industrial area across the street from the company's existing production facility. The new warehouse is part of a 50 million Euro project that will allow Poco Loco to centralize its storage in one location, giving it even more control over its logistics process. For Egemin the project represents a confirmation of its competencies in automated warehouses for the food industry. The new warehouse is to go operational by early 2018.
MORE EFFICIENT STORAGE AND CONTROL OVER LOGISTICS
Poco Loco produces tortilla wraps, crisps, dinner kits, Tex Mex spices and sauces. Approximately 96% of everything made in the Roeselare facility is destined for foreign markets. Until now, the products have been stored at different sites and with external suppliers. "By centralizing a major part of our warehouse, we will cut 25,000 truck trips," says Peter Denolf, Managing Director at Poco Loco. "We will, therefore, not only save money but will also acquire more control over our own logistics. This will help us respond more flexibly to the demand of our customers."

The new fully automated high-bay warehouse will be able to store 42,000 pallets. A 100-metre-long conveyor bridge over the public road between the production facility and automated warehouse will connect both locations. Conveyors on the bridge will transport finished pallets to the warehouse and supply raw materials from the warehouse to the production site. Finished products for customers will be picked in the warehouse and then automatically transferred to the loading zone.
COMPLEX LOGISTICS PROCESSES MADE SIMPLE
Egemin Automation will deliver the complete design and delivery of the system, including all warehouse equipment and the automation of all logistics processes within this project. "We have succeeded in separating all the logistics processes and properly aligning them," says Joris Van Hoye, System and Concept Engineer at Egemin Automation. "The cooperation with logistics consultant Logflow, who was responsible for mapping the logistics flows of goods and the feasibility study, went very well. The warehouse, at 43 metres high and with a surface area of 8,000 sqm, makes it an impressive project. The warehouse is equipped with 11 stacker cranes and 910 metres of pallet conveyor, which ensure that 304 pallets can be moved in and out per hour. We managed to come up with a fairly simple solution to the myriad of complex logistics processes. That's one reason why Poco Loco chose Egemin."

CONFIRMATION OF EXPERTISE FOR FOOD INDUSTRY
The construction of the project will start soon and run for 18 months. The new warehouse is to go operational by early 2018. For Egemin, this project is an additional confirmation of its growth in warehousing and distribution solutions and its expertise in automated high-bay warehouses for the food industry.