DHL accelerates use of autonomous forklifts
14th December 2021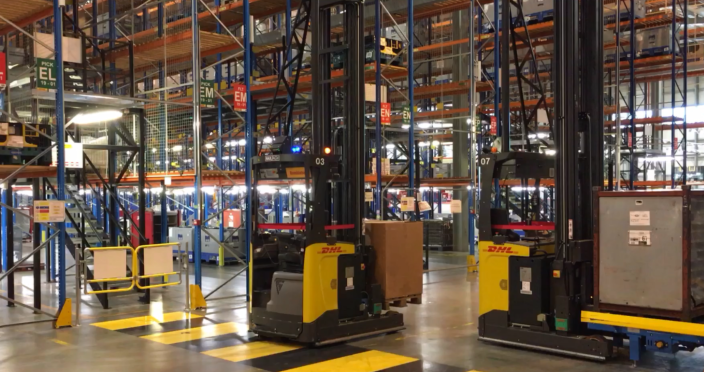 DHL Supply Chain has introduced its largest-ever single implementation of autonomous forklifts to date, with 15 embedded in its warehouse operations at Tyrefort in the West Midlands (UK).
The autonomous forklifts form part of DHL's operation for a major customer in the automotive sector, taking over picking, put-away and replenishment of products and empty media in the warehouse. The vehicles reduce the number of manual pallet transfers without requiring significant changes in warehouse infrastructure.
The indoor robotics transporters work safely up to 11.5m high – believed to be a first in the logistics industry – easily reaching the highest warehousing racks to handle a range of pallets, stillages and waste cages. Safety features including LIDAR and camera obstacle detection, bumper tip sensors and side bumper bars, all minimise interaction with manual trucks operating in the same facility. The forklifts are fully integrated with the Blue Yonder Warehouse Management System and charge autonomously when required.
Maintaining a high quality service to the customer throughout the implementation was critical, with DHL working closely with MAXAGV to ensure the deployment was completed without any interruption to just-in-time operations in the live warehouse.
The investment marks the next step in DHL Supply Chain's Accelerated Digitalization strategy, which seeks to roll out the most innovative technologies to benefit its customers and colleagues, while lowering the operation's carbon footprint.
Simon Woodward, Head of Accelerated Innovation and Digitalization, DHL Supply Chain UK & Ireland said: "Indoor robotics have the potential to bring huge benefits to our warehouse environments, and this is no exception. Autonomous forklifts can be safely deployed and make a difference immediately, creating capacity and increasing efficiencies. They are also helping us manage skilled worker shortages at a time when we are struggling to recruit."
"Working closely with MAXAGV we've been able to seamlessly deploy a fleet of significant size with no downtime for the customer, which is testament to the strength of our partnership and the hard work of the team.  Excitingly, we're already reaping the rewards and now plan to accelerate their rollout with more to follow in 2022."
With 24/7 operation, DHL calculates that a fleet of just a dozen autonomous forklifts can handle more than a million pallets per year in just one facility. Automated indoor robotic transport increases efficiency and improves workplace safety by taking over the repetitive task of driving pallets around. Improvements of this kind are helping DHL to increase operational excellence for its customers while making its operations more effective.