Dematic Northern Europe Opens State-of-the-Art HQ in UK
25th May 2017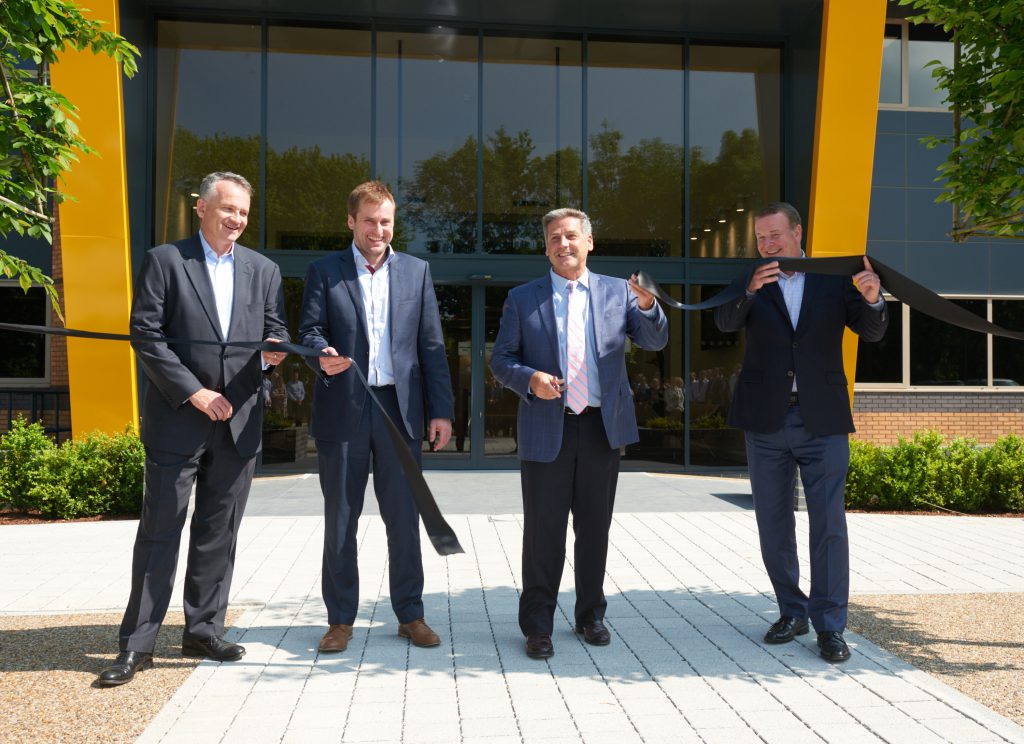 Dematic has opened a new state-of-the-art head office building for Northern Europe in Adderbury, Oxfordshire, England. The building, previously occupied by Vodafone, was originally constructed in the mid-1990s as two separate units. Following Dematic's extensive refurbishment programme the new office now provides outstanding employee amenities, a dedicated training academy, conference facilities, a 24/7 customer response centre, and a live exhibition showroom for demonstrating warehouse automation technology.
The move from Banbury, where the leading automated intralogistics solutions company was previously located, to an expansive 49,000 sq ft building just five miles away, provides Dematic with space to grow and offers the 150 office-based staff the very latest in advanced, hi-tech facilities.
Cutting the ribbon at a grand opening ceremony on the 25th May, John Baysore (pictured), President & CEO of Dematic, hailed the facility, "a strong confirmation of Dematic's continued commitment to the UK and North European markets."
He continued: "These are exciting times for Dematic. The warehouse automation sector is making great strides in developing the technology required to meet the challenges of the omnichannel revolution and Industry 4.0. Automation, artificial intelligence and robotics have pivotal roles to play in fulfilling those needs. Here, in this modern, state-of-the-art facility, we have committed wholeheartedly to the future demands of our customers in Northern Europe by building a hub that supports creativity, develops knowledge and delivers technical excellence."
At nearly double the space of the company's Banbury site, the new building is home to The Dematic Academy, a facility with fully equipped conference amenities for training engineers, customers and employees. Close by on the ground floor is a 'live' exhibition showroom showcasing Dematic's latest intralogistics solutions. There is also a spacious restaurant where employees and visitors can relax in an informal atmosphere, and outside there is The Courtyard with BBQ facilities which can be used for events.
The two-story building is designed to have a modern, contemporary feel with open-plan offices and glass-walled meeting rooms, creating a light and spacious interior. Technology features heavily throughout the building, particularly in the 23 meeting rooms and within the Academy, where touch screens, interactive boards and video conferencing facilities have been incorporated into the design.
To further enhance customer service, a 24/7 Customer Response Centre has been installed and fully equipped with interactive screens to enable faster response to customers. The customer response team can readily undertake remote problem solving and systems analysis.
A wealth of additional facilities for staff include an IT help desk, The Den for sports and social meetings, a relaxation area complete with pool table, table-tennis and games console, The Studio for activities such as yoga and pilates, as well as The Gym, showers and changing rooms.
Seen from left to right are: Frank Herzog – Executive Vice President Finance & CFO; Stuart Stables – Managing Director Northern Europe;John Baysore- President & CEO; Jeff Moss- Executive Vice President International