Dambach at ProMAT Chicago
13th February 2023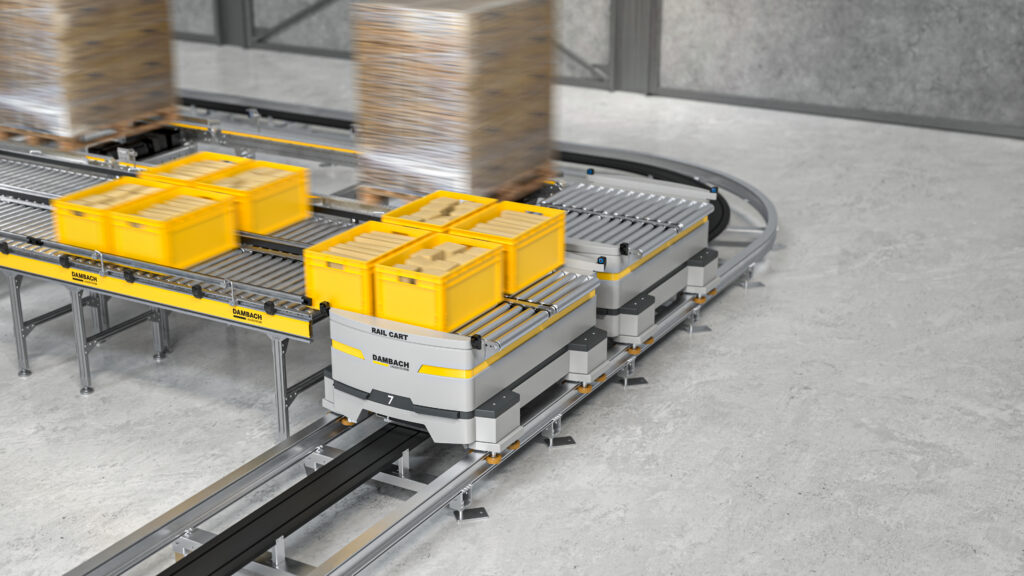 DAMBACH Lagersysteme is excited to participate in the upcoming ProMAT 2023 trade fair in Chicago, running from 20th to 23rd March 2023. The booth (S1518) will showcase the newest development in material handling for pallets and small parts – the advanced MONOFLEX rail guided vehicle with hybrid conveyor. This event offers a fantastic opportunity for visitors to learn about the latest industry advancements and to experience DAMBACH Lagersysteme's cutting-edge solutions first hand.
Where efficiency and high availability are critical, electrically driven rail guided vehicles are often the better alternative to classic continuous conveyors. In order to be able to offer maximum flexibility for intralogistics, DAMBACH Lagersysteme GmbH & Co. KG has optimized its proven MONOFLEX rail guided vehicle: The high-performance transport system is now also suitable for transporting several small load carriers. As a result, mixed transportation of mini-loads or unit-loads with the Rail Cart is possible. One of the many advantages is the sorting function of both pallet and small parts within the same subsystem. Thanks to special transfer stations, the delivery of the small load carriers takes place quickly and saves time in the picking process.
In order to dynamically accommodate highly versatile storage mediums, the MONOFLEX system can be modularly expanded with the new small parts materials handling technology. The on-board conveyor can be loaded with cardboard boxes or trays. In this way, a variety of material flows can be achieved by using decentralized controlled conveyor elements. In addition, the powerful material flow system (MFS) manages the rail guided vehicles as well as the overall transport strategies. With an easy interface to various ERP or warehouse management systems (WMS) it is the perfect fit to many systems.
DAMBACH invites attendees of ProMAT to visit booth at S1518 to learn more about MONOFLEX and all DAMBACH Lagersysteme products and how it will benefit your business. A team of experts will be available to discuss specific material handling requirements and how to tailor a solution to meet your needs. You are welcome to make an appointment in advance: sales@dambach-lagersysteme.com
DAMBACH Lagersysteme GmbH & Co. KG was founded in the 1970s and has developed into one of the leading international automated materials handling provider. The portfolio ranges from automatic storage and retrieval systems (ASRS), modern shuttle systems to rail guided vehicles and modular pallet and small parts materials handling technology. The product range is enhanced by flexible material flow systems integration.