Cobots.ie Becomes a Distributor for MiR in Ireland
15th January 2021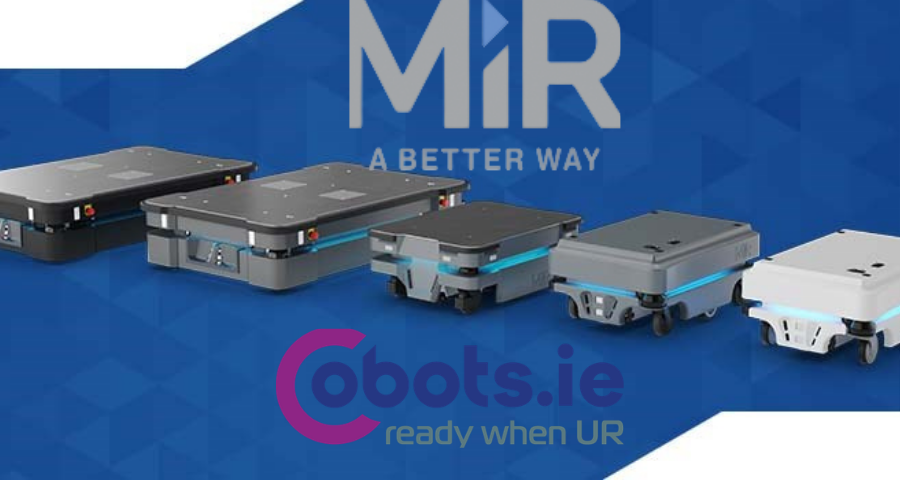 Cobots.ie, a leading distributor of collaborative robotic solutions, today announced its new partnership with Mobile Industrial Robots (MiR) which sees Cobots.ie become a distributor for MiR in Ireland. This new collaboration will enhance Cobots.ie long term growth strategy and will strengthen the deployment of advanced robotic solutions in Ireland. MiR is a leading global supplier of autonomous mobile robots (AMR's) in a growing international robotics market. MiR's fleet of flexible, easy to program and safe AMR's are a proven solution for companies looking to optimize their production and increase their competitiveness.
Cobots.ie is experiencing an increasing demand for flexible automation solutions. With their strong presence in the Irish market and excellent reputation, Cobots.ie are well placed to become the leading distributor for MiR in Ireland. "With the addition of the MiR range to our product portfolio, we are giving our customers not only the possibility of task-oriented automation but also the option of automating internal logistics," said Dan Buckley, CEO, Cobots.ie.
"MIR represents everything we look for in a partner, a global leader in terms of innovation and product development. We can ensure our customers are investing in quality products that have the flexibility to adapt to an evolving industrial landscape," Buckley added. The MiR range of products with its impressive handling capabilities and intuitive interface manage internal logistics easily and cost effectively often with a payback period of less than a year. "Often, we find the main block for companies when it comes to automation adoption is where to start the automation journey. When demonstrating our range of collaborative robotic solutions to customers, they are often surprised at the flexibility and ease of use. The MIR range offers the same level of flexibility and ease of use as the other collaborative solutions we offer, and we look forward to a very successful partnership," says Martin Buckley, CTO, Cobots.ie.
Cobots. ie will offer the entire fleet of MiR's flexible range of AMR's which are leading the way in terms of how businesses move goods within their facilities. Both the MiR1000 and MiR500 are both designed to automate the transportation of heavy loads and pallets. The MiR100, MiR200 and MiR250 are more suitable for the transportation of lighter goods. The MiR250 is the latest addition to the MiR family and is even more agile than its predecessors and the most adaptable to challenging environments particularly where space is restricted.   Customized top modules from the MiRGo range such as bins, racks, lifts, conveyors and even a collaborative robot arm are also available. "We are excited to partner with Cobots.ie to bring MiR solutions to more customers in Ireland. Cobots.ie is a leading collaborative automation solutions provider that offers a product range where MiR's collaborative and autonomous mobile robots are a good fit and will add value," says Jakob Møhl Bebe, Sales Director Scandinavia, UK & Ireland, MiR.