Case Study: Tooling Up with Storage and Picking System
4th July 2018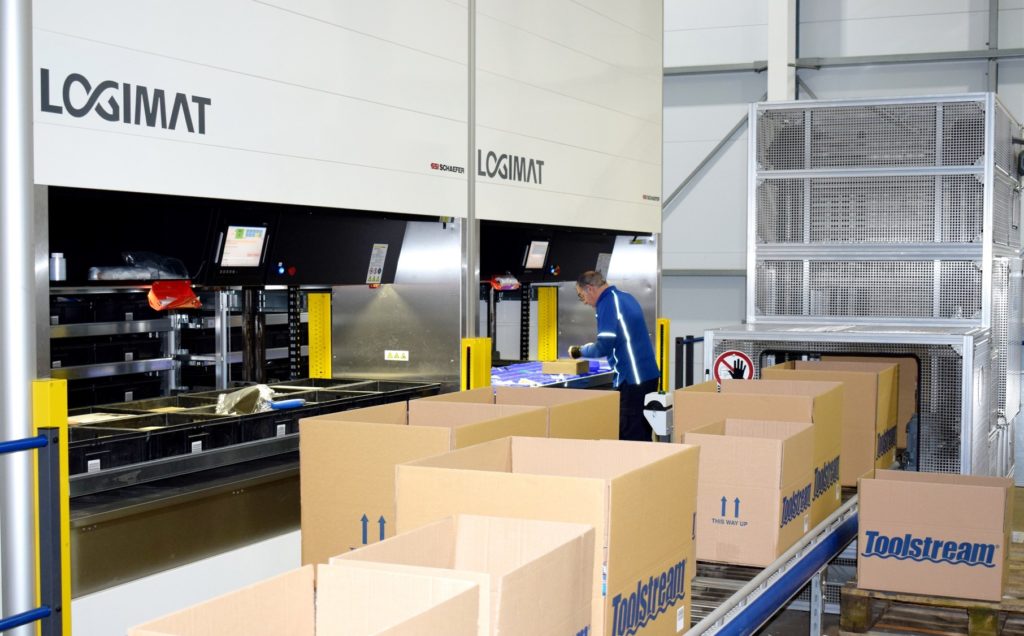 Toolstream is sole distributor of more than 6,000 branded hand tools, power tools, hardware & fixings, to retailers, wholesalers and merchants throughout Europe. Based in Yeovil, Somerset, the organisation operates from a purpose-built distribution centre and its philosophy of providing more than 6,000 tools ex-stock at low prices has earned the company an unrivalled industry reputation.
Making all tools available for immediate despatch and delivering transparency through the extensive use of the company's web-based service, is key to Toolstream's success and both are vital in keeping the organisation ahead of its many competitors.
Since its incorporation in 2001, the business has experienced year-on-year growth as its product range is constantly being renewed, tested and extended to meet the needs of today's tool buyers and their customers. With storage space at a premium, growth, along with increased customer demand, forced Toolstream to review its operational requirements and to rethink its intralogistics strategy.
In 2015, SSI Schaefer undertook an analysis of Toolstream's operation and devised a solution to satisfy the increasing demand for both storage space and faster order processing. Prior to this, picking was carried out using trolleys in very narrow aisle, adjustable pallet racking. While each trolley could accommodate up to ten orders simultaneously, pickers were walking in excess of 1.2 km per order and trolleys would face queueing at packing benches, forming bottlenecks and thereby slowing down despatch.
To overcome both issues, SSI Schaefer enabled more efficient space utilisation by installing a series of vertical lift LogiMat machines in a purpose-built warehouse extension. With four banks of three and one bank of two, there were fourteen machines in total, occupying the entire length of one wall of the distribution centre, to a height of just over ten metres.
This installation significantly increased Toolstream's storage capacity, providing over 10,000 bin locations for their medium and slower moving lines and as well as space efficiency, the main advantage is vastly improved picking efficiency. This is because as well as an effective storage system, the LogiMat is also essentially a goods-to-person picking system, improving picking accuracy and saving time by removing the need to walk and pick.
To further enhance the increased pick rate, a conveyor system was installed alongside, and parallel to, the 'LogiMat wall'. The conveyors are fed by three carton-erector machines, bringing shipping cartons, automatically pre-labelled with unique, order-related barcodes and pick lists automatically inserted, to pickers working at the LogiMats. This means that system-directed cartons and totes can be diverted from the conveyor to the correct LogiMat zone, at which individual operators can scan their barcodes to determine what products need to be picked into them, before returning them to the conveyor for transport to the next zone.
The shipping cartons are completed with faster moving items picked manually from shelving on a two-tier mezzanine before the cartons are run through automatic sealing and despatch label machines prior to despatch.
The whole process represents a considerable saving on packing by picking into the automatically created shipping cartons and this has enabled Toolstream to reduce more than thirty pack benches down to only two. It has also removed the backlog of picked orders awaiting packing. The system also helps a great deal with small orders and the order rush created by the offer of free delivery on a Friday.
The solution from SSI Schaefer has given Toolstream the flexibility it needed to relieve pressure on, and improve, its distribution processes. The LogiMAT vertical lift storage system now plays a vital role in Toolstream's operation, enabling the company to maintain its position at the forefront of the tool supply sector and positioning it strongly for further future growth.