Beumer Group introduces new pouch technology
4th June 2021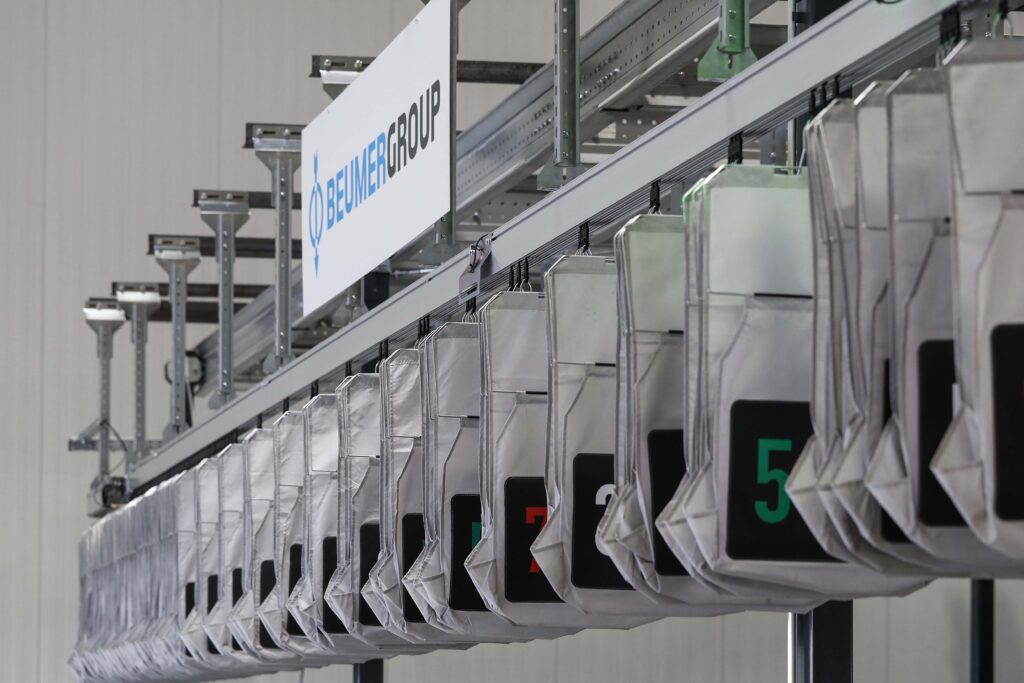 Beumer Group – a leading global supplier of automated material handling systems – has launched its own new BG Pouch System in response to rapid growth of interest from omnichannel and D2C operators.
This innovative system expands Beumer Group's offering for the warehouse and distribution industry with a pouch sortation solution that meets the escalating requirements felt by today's modern fulfilment and distribution operations. The BG Pouch System was developed to relieve the unprecedented pressure to deliver financial and logistical efficiency in the demanding e-commerce environment and fits perfectly into Beumer Group's existing end-to-end integration solutions to solve intralogistics challenges for fashion companies.
An Italian fashion brand with a tight product life cycle has become the first operation to invest in the BG Pouch System as a part of their fine-tuned worldwide distribution operation. This follows many of Beumer Group's other solutions that have proved effective in warehouse and distribution operations for re- and e-tailors such as NIKE, Foot Locker and ASOS.
The BG Pouch System enables the growing demand for fast, e-commerce driven cycle times to be met by warehouses and third-party logistic (3PL) providers. The persisting problem of reverse logistics is solved by effective and efficient handling of returns using built-in interim storage capacity for returned products. This avoids unnecessary manual handling as returned goods can be sent for shipment directly from the dynamic buffer, without ever being sent back to the main storage area and without having to be re-picked. In an omni-channel environment, the sort and sequence functions are invaluable to facilitate goods sortation for shop delivery to ensure products arrive to stores in a shop-friendly manner and expedite shelf replenishment.
The BG Pouch System has a capacity of 7kg which is ideally suited to fashion items from shoes to garments on hangers (GoH), as well as a wider product profile, including print & media, pharmaceuticals & beauty products and electronics. This versatility provides a high flexibility for handling diverse items, no matter the requirement for returns handling, peak seasonal demands or omni-channel performance pressure. Different types of items, held for different clients, destined for different types of shipping can be collated in one intelligent storage system. This will be of particular interest for 3PL players.
The BG Pouch System will be of interest to operations considering upgrading conventional, manual operations with a realistic and achievable approach to automation. The BG Pouch System can be mounted in the ceiling, representing a massive saving on space and allowing deployment when floor area is a limiting factor. Additionally, as a modular system, the BG Pouch System can also be scaled up easily when required with minimal installation time.
Each BG Pouch System module can handle more than 10,000 pouches per hour. The dynamic buffer reduces manual handling to dramatically speed up and smooth intralogistics flows, allowing predictive picking to significantly reduce handling peaks. The system runs on a contactless magnetic drive that gives friction-free operation. This means minimal wear on mechanical parts, cutting the operating costs through low maintenance, a reduced number of spares and a minimum of cleaning requirements.
Staff retention is another concern for logistics operators, and the BG Pouch System is designed with comfort and ease of use in mind. The height of each workstation is adjustable to suit each individual worker, and access to pouches and controls is ergonomically designed.
Stephan Heessels, Director for Beumer Group Logistic Systems: "We see a huge potential for a modern version of pouch technology, especially for our customers looking to refine their fulfilment and distribution chain by optimising processes to have faster goods-to-consumer cycles and a much, much lower need for operators touching the items."
Beumer Group can facilitate the entire process of installing the pouch sortation solution through every stage of operation from the selection of solution, through design, build, test, implementation, training, maintenance and growth. Beumer will not only operate independently with its own technology but will act as a full-service integrator throughout the process, working with third-party suppliers providing a complete solution to deliver a fully comprehensive system.