Arvato and NIMMSTA promote "freehand" operations
14th June 2021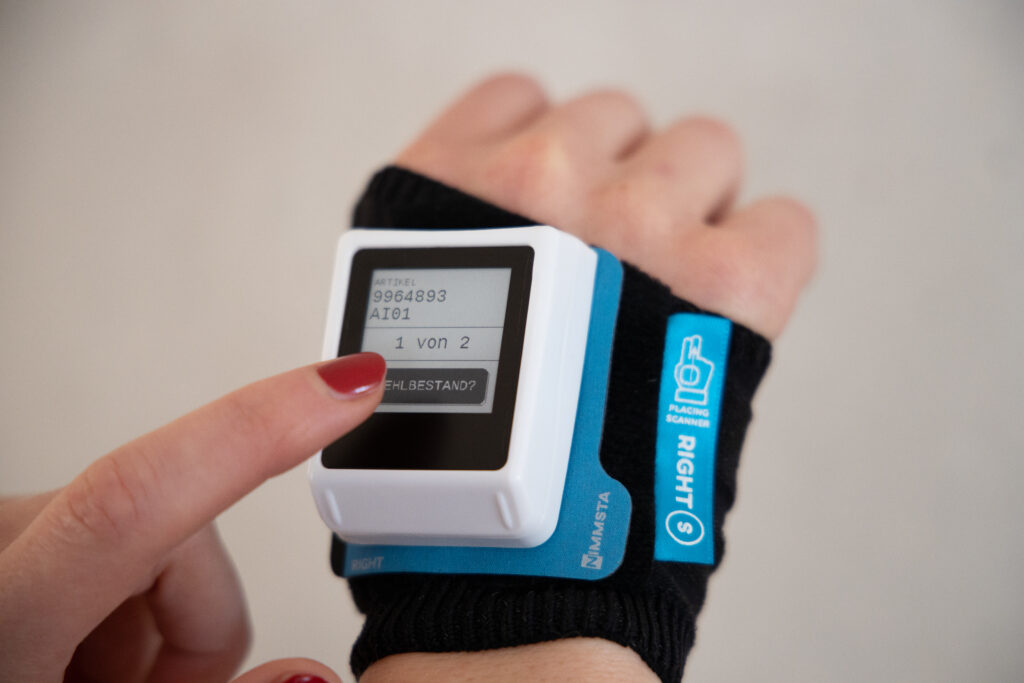 In the future, Arvato Systems will work with the innovative wearable manufacturer NIMMSTA. The joint partner Advantech, a leading provider of industrial computer solutions, saw potential in a cooperation between the two companies and initiated the partnership. From now on, Arvato Systems uses the back-of-hand scanner HS 50 developed by NIMMSTA in its cloud-based logistics platform platbricks, thereby expanding its Pick-by-X solutions for logistics.
Processes in assembly, order picking, replenishment or shipping can be carried out ergonomically and efficiently. This option represents an economical and pragmatic alternative to speech and image-based technologies.
Munich-based NIMMSTA developed the first back-of-hand scanner with a touch display and launched it on the market last year. Users are provided with information on switching on, placement, easy pairing and the scanning process through interactive operation on the Paperwhite touch display and can also make entries and confirmations themselves. With the cloud-based logistics platform platbricks, Arvato Systems offers a modular system for digitising logistics processes. For order picking, a process with high added value in logistics, platbricks already has a large selection of different methods (Pick-by-X) ready.
By integrating the NIMMSTA HS 50 into the platbricks mobile Solutions module, Arvato Systems is expanding its range of solutions for order picking. Individually designed and intuitively operable app dialogues guide employees through the process, who can carry it out efficiently with their hands free. Meanwhile, the NIMMSTA 50 HS communicates in real time with the platbricks logistics platform, which checks the plausibility of the data and processes it further.
"With the back of the hand scanner from NIMMSTA, we have found a robust and very ergonomic alternative for our Pick-by-X picking methods, which usefully complements our portfolio of mobile solutions for the cloud-based logistics software platbricks," explains Bernd Jaschinski-Schürmann, Head of Digital Supply Chain Management at Arvato Systems. "In particular, the powerful scan engine, the robust design and the low weight create important prerequisites for efficient process handling in order picking."
"The partnership with Arvato Systems enables our mutual customers to use NIMMSTA PRO without any integration effort. This enables an enormous increase in efficiency to be achieved very quickly," adds Florian Ruhland, Managing Director Sales and Technology at NIMMSTA. "The companies can display and edit all processes on our touch display. I look forward to all successful projects with Arvato Systems, which, thanks to our two products, will always be innovative and process-optimising."