AGVs help Austrian insulating panel firm with upstream logistics
1st April 2021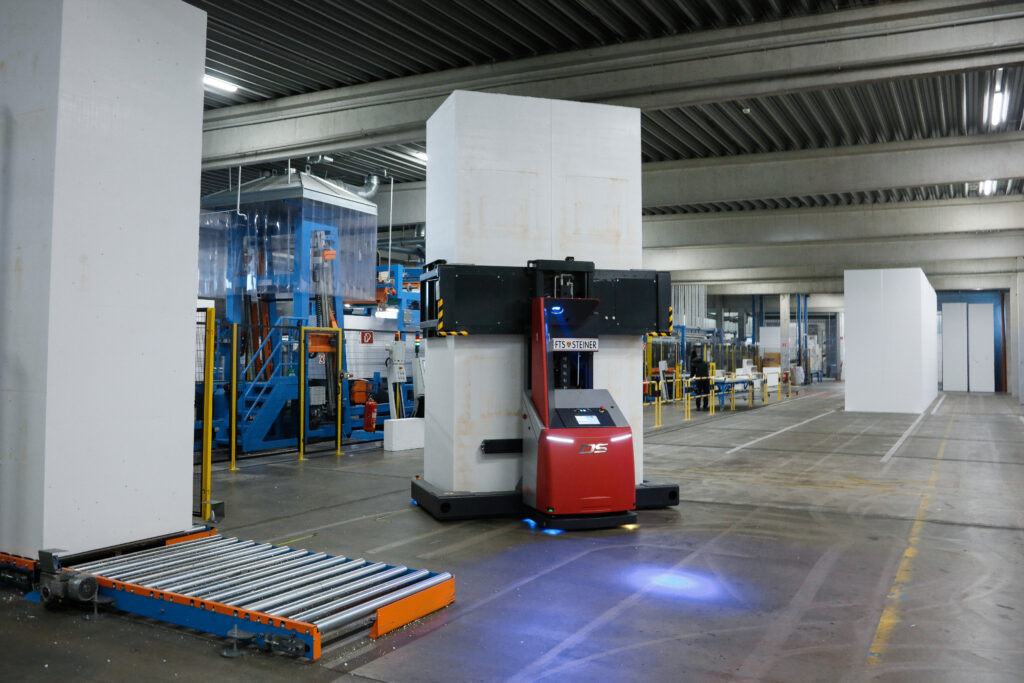 At its production site in Pinkafeld, Austria, Austrotherm produces energy-saving insulating panels. An automatic guided vehicle (AGV) system from DS Automation with four driverless Amadeus Grip forklifts takes care of the transport, storage and retrieval of the upstream product, Styrofoam blocks as big as 5 sq m. This enabled Austrotherm to optimise internal procedures, enhance process stability and mobilise capacity reserves, as well as reassign former transport workers to perform more demanding tasks.
Austrotherm GmbH is a leading European manufacturer of energy-saving building insulation made of expanded polystyrene (EPS; Styrofoam) and extruded polystyrene foam (XPS). In its Pinkafeld plant near the Hungarian border, the company mainly produces EPS panels.
The upstream products – Styrofoam blocks measuring 4080 by 1040 by max. 1290mm – need to be left to dry for several days before they can be cut into panels and bundled into packs. Up to 90 blocks per hour need to be moved in a three-shift operation, around the clock every day of the year. This requires observing the required drying periods. Transport by hand pallet truck limits reached capacity limits and workers were less than enthusiastic about this work. Using manual lists for storage management also hampered production planning optimisation.
Following a suggestion by Fraunhofer Austria Research, a co-operation partner for logistics and production management, Austrotherm automated the transport and storage management of the Styrofoam blocks utilising an AGV solution from DS Automation. This Austrian manufacturer, which boasts more than 35 years of experience in developing and manufacturing AGVs, implemented a system that ensures particularly economic operations at low investment costs.
Four driverless Amadeus Grip forklifts equipped with bracket-shaped lifting gear each transport two hard foam blocks. The vehicles need to use single lane aisles in controlled bi-directional traffic, share traffic zones with manned forklifts and cross fire doors. As laser navigation is not an option for transporting 4.08m tall EPS blocks in a hall with 4.30m headroom, the vehicles utilise magnetic reference points in the floor for free navigation.
The DS Navios AGV control software optimises storing and retrieving the blocks, taking the required drying periods into account. As a step towards the smart factory, the DS Automation AGV system is deeply integrated with Austrotherm's enterprise IT. In close co-operation with DS Automation, the Austrotherm IT department created the software interfaces across which machines and transfer stations communicate with DS Navios and the AGVs.
"The tireless Amadeus Grip have become an indispensable part of our production facility and the former transport workers are now performing more demanding and more attractive tasks," says Dr. Heimo Pascher, Technical Director Austria at Austrotherm. "We are therefore planning to automate the upstream products intralogistics using DS Automation AGVs in other production facilities as well."