9 tips for running a successful warehouse in 2021
9th June 2021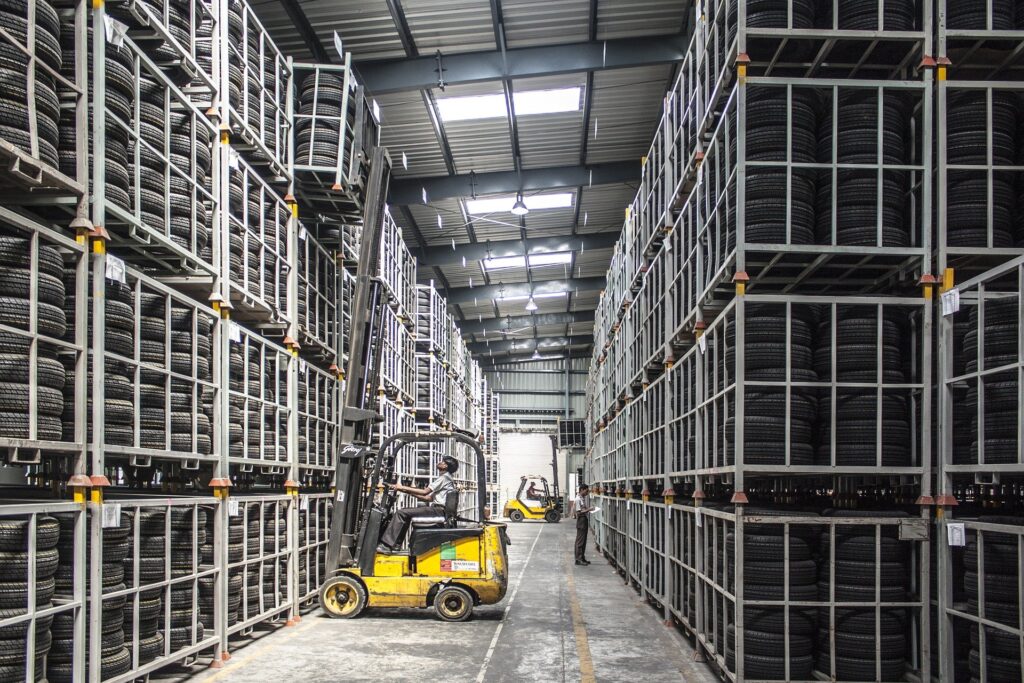 Setting up and running an efficient warehouse may not seem very complicated at first.  However, it is one of the biggest challenges warehouse managers face these days. The number of different areas to pay attention to when setting up a warehouse design often stands in the way of warehouse managers being able to run their operations successfully.
As an extension of Meili Robots' warehouse robots guide and warehouse automation guide, the company will now share nine tips that managers must keep in mind in order to run a successful warehouse in 2021.
1 – Maximise Operating Space
The first step to optimal warehouse management is setting up your warehouse's layout. This will help you to avoid bottlenecks, missing items, pickers walking in each other's way, etc. The goal is to create a single flow of goods through the warehouse. This includes worker stations organised efficiently to minimise the distance your employees have to travel between different stations.
Even though the size of warehouses is increasing, so are the prices for warehouse space. It is therefore important to become more inventive with your space capacity. And in many cases, this means looking up.
As long as you have the correct manual handling equipment for product retrieval, there is a wide variety of products and stock that can be stored at great heights. Many bulk and slow-moving products can be held at high pallet racks. Making use of vertical space can reduce the square foot of your facility, thereby keeping your fixed costs down.
Even though it is often overlooked by warehouse managers as they focus on maximising the facility's square footage, traffic flow regulation is a critical component of getting the goods out of the facility and transported to the correct location so they can be sold as quickly as possible. Time is of the essence, and you must ensure that the traffic can receive, offload, and dispatch the goods as quickly as possible. This can be done by making a proper assessment of the inbound traffic volume and fleet configuration. Based on this information, you can configure and incorporate a mix of different loading docks.
2 – Implement a Warehouse Management System
Warehouse Management Systems (WMS) are a great addition to any warehouse environment these days. Traditional paper picking lists and spreadsheets with stock locations will not meet the desired efficiency levels that are needed to live up to today's customer demands on delivery speed and order accuracy.
Considering the wide variety of benefits that come with a WMS, it is no surprise that the market is increasing. In 2020, the WMS market was valued at €2.16B and is now expected to grow at a compound annual growth rate (CAGR) of 15.3% from 2021 to 2028.
When it comes to implementing a WMS, it is crucial to find the WMS that is the perfect fit for your specific operational needs. Therefore, before deciding on a particular solution, you should assess and specify the following:
Interface: make sure that the WMS of your choice can be integrated into your existing management systems without requiring manual data entry and the like.
Core capabilities: assess the WMS's activity requirements such as packing, kitting, shipping, putaway, customisation, stock management, and returns.
Outputs: specify the requirements regarding labelling, the documentation of despatches, KPI capturing, and management reports.
What is most important is that you choose a WMS solution that comes with the core functionality that you need. It does not matter whether or not the solution is complicated, as long as it fulfils your requirements.
Recommended reading: "Robotics 102: A Complete Guide to Warehouse Automation"
3 – Optimise Accuracy
Playing a crucial role in the supply chain, warehouses are responsible for receiving, storing, and shipping the right goods to the right customers at the right time. As you can probably tell already, accuracy is playing a huge role in this. However, with the increasing pressure on fulfilment centres to move goods more quickly and less costly, accuracy is affected in a negative way — e.g. goods being shipped to the wrong customers or customers receiving the wrong goods.
Luckily, technological advances allow managers to optimise and maintain their accuracy levels in their warehouses. Some great examples of this are warehouse management systems and robotic solutions — such as inventory robots and drones — that can scan and track inventory by using barcode scanners and RFID technology.
Note that just optimising your accuracy levels with the use of technology will not be enough to ensure successful warehouse management. Along with these solutions comes a need for process and labour management, employee training, and a number of other factors that will be discussed in the rest of this article.
4 – Increase Efficiency Levels
If you have been following the tips mentioned above, you will probably have a pretty good system in place that can help you spot inefficiencies in your operations. It is crucial to keep track of these and address them to optimise your overall performance.
This is another way in which warehouse automation could benefit your business. Not only will it allow workers to focus on more important tasks, but it also has a huge impact on your productivity and efficiency levels. According to a survey from Vanson Bourne, many of the root causes of downtime — as illustrated below — can be avoided by implementing the appropriate solutions. Evidently, automation makes an invaluable contribution to running a successful warehouse.
Warehouse automation comes in all shapes and sizes, but let's look at some of the most common ways to optimise efficiency:
Improving picking, receiving, and labelling
Implementing a warehouse management system
Integrating shipping and inventory management systems
Automating inventory management and shipping using barcode scanners
Adopting automated conveyor belts
Using automatic box builders and pallet wrappers
Deploying mobile robots
Implementing a universal fleet management system
These are just a few examples of how warehouses can automate their operations and there are many more.
Recommended reading: "Robotics 102: A Complete Guide to Warehouse Automation"
5 – Enhance Visibility
It is becoming increasingly important for warehouse managers to be able to accurately predict inventory, supply, and demand. Warehouse visibility relates to having access to data about inventory levels and inbound and outbound shipments as well as specific information regarding orders — such as at what time and day the order was received, picked, or shipped, whether or not the products were in stock, and so forth.
These days, visibility is driving innovation in the warehousing industry. The growing demand for warehouse robots and other types of warehouse automation indicates that companies are becoming more invested in what is happening inside their warehouses in real-time by adopting robotic solutions to their facility.
With the increasing demand for robots in warehouses, it is becoming increasingly difficult for manufacturers to keep up with the demand. As a result, manufacturers focus on one or more specific types of robot. This means that warehouses — especially the bigger ones — are likely to buy their robots from various manufacturers. There is, however, a big issue: each manufacturer supplies their robots with their own, individual operating system.
Imagine a warehouse with mobile robots doing picking and packing, drones taking care of inventory levels, other robots for cleaning, others for security purposes, and so forth. As these robots will most likely come from different manufacturers, they will not be able to communicate with each other's operating system. This can cause collisions and other work floor accidents, which, in turn, can lead to unnecessary downtime and productivity losses.
One way to address this problem is to implement a universal fleet management system that lets you control your entire fleet on one platform. Not only will this provide you with an overview of all of your robots and their tasks, but you will also be able to control traffic flows, edit the map/layout of your warehouse, assign tasks to the individual robots, and analyse their data. This solution allows you to easily improve your warehouse's overall productivity and efficiency levels while simultaneously creating a safer working environment.
6 – Manage Your Labour and Processes
In order to see the highest productivity levels, it is crucial to hire the right amount of workers and manage their schedule in a way that optimises the output. This includes optimising the warehouse's layout, choosing the most efficient picking paths and methods, and anticipating peak seasons.
In addition, collecting data on your warehouse operations can give you insight into the efficiencies of workflows, time spent on specific tasks, unnecessary travelling back and forth between workstations, and so forth. Having access to such metrics allows you to make changes where needed, thereby optimising both your costs and productivity.
It is also of great importance to train your employees well and provide them with key skills that can help them work more efficiently. Even though you might need to free a part of your budget for this, the training will repay itself over time with more accurate, efficient, and faster workflows.
Areas you can focus on to improve the efficiency of your employees:
Decide on the most efficient picking method and make sure your employees are being taught how to carry out tasks based on this method.
If you use any types of robots in your workplace, train your employees to drive and/or control them so that they can carry out more flexible tasks.
Teach your employees about proper quality control in relation to receiving, picking, and packing tasks.
Make your employees aware of how to efficiently manage inventory, including scanning and labelling tools (e.g. with the use of barcode scanners)
Your inventory counts tend to be incorrect
Finally, always make sure that there is clear communication between you and your employees. Not only can this avoid accidents on the work floor — think of slippery floors or chemical exposure —  but it also helps to achieve organisational alignment as well as increased engagement, which in turn leads to higher productivity levels.
7 – Manage Your Costs
As mentioned before, the role of the warehouse is to receive and ship goods to customers. Besides sending it to the right customers at the right time, it is also important that the goods are stored and shipped at the right price. That's why it is important to have an overview of your operating costs.
Your operating costs are mainly determined by your labour, storage, equipment, and utilities. This includes costs associated with the rental or purchase of a warehouse to store goods as well as labour-related costs — which depend on the job role, skill set, and location of the warehouse. Keep in mind that the cost of equipment can also run very high — depending on the type of equipment you choose. Not only do some of them ask for a very high initial investment, but installing and repairing the equipment can also be costly.
On another note, today's customers seem to increasingly want lower volume and quicker delivery. If your order profile goes through such a change while you have implemented a costly high-density bulk storage system, you may be facing a big challenge. Make sure you avoid such risks by properly analysing and predicting SKU proliferation as well as order profiles and forecast volumes.
8 – Optimise Safety
Even though worker health and safety is often neglected by small-sized warehouses, it is, in fact, one of the most important factors in running a successful warehouse. According to the Occupational Safety and Health Administration (OSHA), "the fatal injury rate for the warehousing industry is higher than the national average for all the industries".
To avoid work-related injuries, mishaps, and damaged goods, make sure to assess your warehouse's layout, accessibility, and inspection. Not only is optimising safety on the work floor the right thing to do for your employees, but it will also benefit your business in the long run. Especially considering the fact that reducing downtime due to injury or illness will help you optimise your productivity and efficiency levels. To give some perspective, workplace injuries cost the US roughly €44.3m to €51.1bn per year.
Recommended reading: "4 Reasons Why Mobile Robots Are the Solution to Operational Safety"
9 – Have Security Protocols in Place
Considering how many goods are stored in warehouses, it is no surprise that warehouses see one of the highest theft rates in the supply chain. To run a profitable business and maintain a good reputation in the industry, it is important to have a number of security protocols in place.
Basic security protocols:
Physical security
IT security
Standard operating procedures
Personnel security and training
Visitor identification and registration
Customer evaluation
Final Thoughts
As with most warehouse automation solutions, please be aware that they mostly depend on your specific project, type of operations and needs as well as the layout of your facility. The tips Meili Robots has shared above are therefore merely suggestions and should always be taken into careful consideration. The company always recommend speaking with an automation specialist or your robotic supplier before making any big decisions.