AR increases capacity by 40% for AZA Logistics
18th November 2021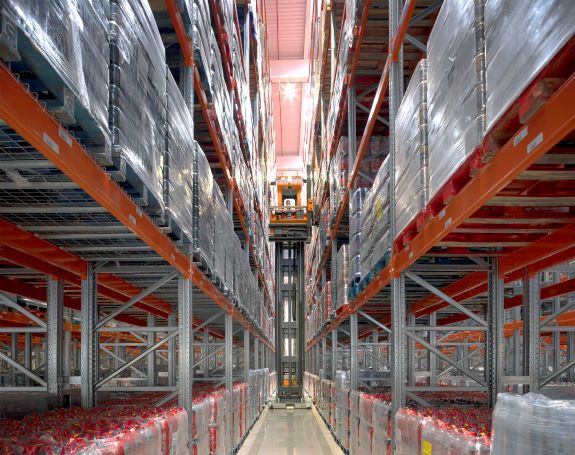 The AZA Group, which has been strengthening the logistics strategy of its subsidiary AZA Logistics, has opened an ambitious logistics warehouse in Sagunto (Valencia) with a capacity for 45,000 pallets thanks to AR Racking's industrial storage solutions.
The 25,000 sq m warehouse will be fully optimised with VNA racking designed, manufactured and installed by AR Racking. This type of racking is a high-density storage solution that can increase warehouse capacity without having to increase the space. Greater compaction is mainly created by narrowing the work aisles, which can reduce the width by up to 1.85m and save up to 40% in space. The industrial racking installed is 19m high.
During a second phase which will be completed in the coming months, another storage area will be installed with a capacity for a further 6,000 pallets. An area of the warehouse that will be adapted to maintain a controlled temperature from 10°C to 25°C in Phase 1 and from 5°C to 10°C in Phase 2 for the planned storage of pharmaceutical and food sector products.
The new logistics platform confirms the group's firm commitment to its comprehensive logistics operator AZA Logistics. "Undoubtedly this warehouse represents a major milestone in AZA Logistics' history," commented Juan Zamorano, CEO of the AZA Group. "We are very satisfied with the quality of the installation and strict completion of deadlines provided by AR Racking."
In addition to AR Racking's storage solutions, the warehouse includes the latest technology for the preparation of pallets and other unit loads, positioning AZA Logistics as a leading 4PL logistics operator.
Vicente Marin, AR Racking's Sales Representative in the Levante region, added: "After initial conversations with the AZA team, we immediately identified that we needed an agile warehouse. VNA racking allows a loading and unloading operation with direct and immediate access to the goods, minimising times."
This type of racking which is also operated by turret trucks (Combi) makes great use of the available height in the warehouse, optimising the storage space to the full.
The project was executed with a perfect coordination in the delivery of materials and assembly of the structure, strictly meeting the deadlines.
CLICK HERE to watch the video.