Altra expands virtual exhibition stand
6th April 2022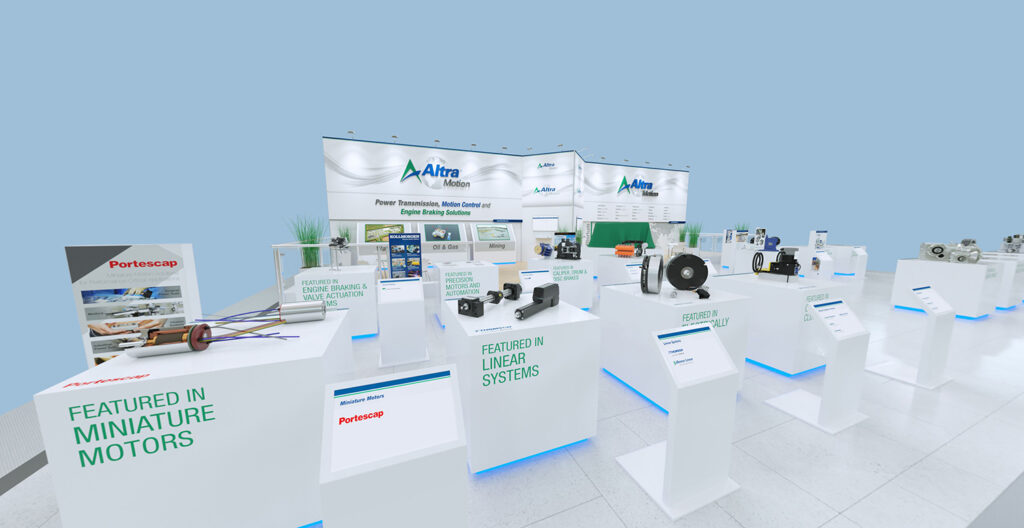 Altra Industrial Motion Corp. has expanded its virtual exhibition with new explorable 3D application environments, booths, event areas and products.
Viewable from a web browser at any time, the Altra virtual exhibition stand offers visitors the chance to engage with market-leading power transmission products, 3D models, videos, literature and downloads. The stand features bearings, brakes, clutches, couplings, drives, engine braking solutions, gearing, limit switches, linear actuators, motors and more for a wide variety of challenging applications. Users can navigate products via hotspots, which offer easy access to content and quick contact with experts if required.
New additions to the stand include detailed 3D virtual application environments for the water, mining, oil and gas sectors. Places to explore include an oil rig and surface ship; a surface mine, an underground mine and processing area; as well as a complete wastewater treatment plant. By clicking on highlighted installations, visitors can instantly view relevant brands and products, as well as all associated media. This allows quick filtering of suitable solutions for each application, speeding up specifying.
Also new is Innovation Spotlight, which will be updated monthly with a technically advanced product. In the recently added Auditorium, visitors can sit and watch an extensive library of Altra webinars and presentations in a virtual room. Furthermore, the user interface for the stand has been refreshed.
Leading brands represented at the virtual exhibition include Ameridrives, Bauer Gear Motor, Bibby Turboflex, Boston Gear, Delroyd Worm Gear, Formsprag Clutch, Guardian Couplings, Huco, Kilian, Kollmorgen, Lamiflex Couplings, Marland Clutch, Matrix, Nuttall Gear, Portescap, Stieber, Stromag, Svendborg Brakes, TB Wood's, Thomson, Twiflex, Warner Electric and Wichita Clutch.
Showcasing innovative power transmission solutions from the leading brands of Altra,
CLICK HERE to visit the stand.